International Congress :

CESA 2022
7 & 8 December 2022
10 Rue de la Chancellerie, 78000 Versailles
Introduction

Automotive Electronics as featured in Mechatronics Powertrain Controls, Vehicle Connectivity, Driving Assistance and Automation and the embedded Artificial Intelligence supported by "Big data" and Cloud architectures have long contributed to improvements in safety and performances and to reduce the environmental footprint of the automobile. They will have an even greater impact on sustainable mobility over the next few years.

More than ever the Electronic (including Consumer Electronics) and Automotive industries have to face strategic challenges and better prepare for our future. This congress will focus on how Automotive Electronics can further integrate sustainability and efficiency into the car itself, into new mobility and services, while the Electronics industry will continue its efforts to be fully sustainable. This focus will position CESA as the Key event on these subjects in 2022.
SIA CESA is organized by the SIA (French Automotive Engineers Society) with the support of the PFA (the Platform representing the whole French Automotive Industry), working in close relationship with the French Electronics industry. This deliberate industrial strategy underlines the strength of cooperation and convergence required of both over several years.
SIA CESA will take place on December 7/8, 2022, an important date after the two major storms our organizations and industries have had to face since 2018: a shortage of components in different sectors in the last few years and the globally disruptive COVID-19 pandemic and its impacts on product development, production, and the supply chain.

Keynote Speakers, Roundtable discussions and technical sessions will alternate in order to discuss the subjects listed on the next slide, and give opportunities to capture, share and consolidate important information from VIP's and trend setters


Take a look to the previous editions:
Organizing and program committee
Keynotes

Wolfgang BERNHART
Roland Berger // Senior Partner


Geoffroy BOUQUOT
Valeo // Group CTO & SVP Strategy

Luc JULIA
Chief Scientific Officer, RENAULT GROUP

Gilles LE BORGNE
Groupe RENAULT // EVP, Engineering & President of CTA
Gilles Le Borgne is a graduate of the École Nationale Supérieure des Céramiques industrielles.
After more than thirty years with the PSA Group, Gilles Le Borgne is recognized as one of France's leading and most comprehensive experts in vehicle engineering and design.
After eight years of research and development on materials and technologies, he became chief engineer of the Citroën C3 phase I platform. He then took responsibility for advanced vehicle concepts for seven years. In 2010, he was appointed head of the Pre-Projects Department, before becoming Director of Research and Development in April 2013 and then Quality and Engineering Director of the PSA Group from September 2016 to May 2019.
From January 2015 to May 2018, he was also Chairman of the Automotive Technical Committee (CTA) within the PFA (Platform of the Automotive Sector). In 2018, he received the "Eurostar" prize awarded by Automotive News Europe in the "Product Development Executive" category.
As of January 6th, 2020, Gilles Le Borgne is appointed Executive Vice President, Engineering, Groupe Renault. He is a member of the Groupe Renault Executive Committee. He will report to Clotilde Delbos, Chief Executive Officer for an interim period.

Frédérique LE GREVES
President & CEO, STMicroelectronics
FREDERIQUE LE GREVES
Executive Vice President, Europe & France Public Affairs
President and CEO, STMicroelectronics France

Frédérique Le Grevès is STMicroelectronics' Executive Vice President, Europe and France Public Affairs. She has also held the position of President and CEO of STMicroelectronics France since March 2021.
In 1990, Le Grevès started her career in marketing and communication for various international companies in Europe and in the US. From 1995 to 2003, she worked at Aptiv (ex-Delphi Automotive) as EMEA Communication Director. In 2003, Le Grevès joined Nissan Motors as VP Communication for Europe and in 2004, she moved to Los Angeles as VP Communications for Nissan Americas. Le Grevès returned to France in 2008 and joined the Renault Group as Global VP for Corporate Communication. Two years later, she expanded her role to Global VP of Communications and Deputy to the Chief Marketing and Communication officer. In 2011, Le Grevès was appointed Chief of Staff for the Renault Nissan Mitsubishi Alliance Chairman and CEO. More recently, she worked as senior advisor for several companies helping on corporate effectiveness, operations efficiency, and brand reputation.
Le Grevès has sat at the Supervisory Board of TRIGO Holding as an independent board member since May 2021 and at the Strategic Board of Clinatec since October 2021. She is part of the Business Angels network, WeLikeAngels.
Born in Suresnes, France, in 1967, Frédérique Le Grevès graduated with a master's degree in business management from the Paris School of Business (1991) and graduated from the Senior Executive Program at the London Business School (2019).
Updated February 2022

Marc MORTUREUX
PFA // General Manager

Christophe PERILLAT
Valeo // CEO

Dirk WALLISER
Senior Vice President Corporate Research & Development , ZF
Dr. Dirk Walliser studied physics at the Universities of Würzburg, Albuquerque and Hanover. This was followed by scientific work and a doctorate at the "Deutsche Elektronen-Synchrotron" (German Electron Synchrotron) in Hamburg, at the Fermi National Accelerator Laboratory in Chicago and at the University of Illinois.
In 1993, Walliser joined Daimler AG and managed projects in the fields of microsystems technology, driver assistance systems and international R&D management. After working in the Group's technology strategy office, he became Head of Fuel Cell Technology and Business Development in the Mercedes-Benz Car Group's Fuel Cell Project House. In this function he managed the projects "Fuel Cell APU" and "Next Generation Fuel Cell Electric Vehicle."
In 2003, Dr. Dirk Walliser was appointed to the MBtech Group Executive Board and was responsible for the globally operating Electronics Solutions & Electromobility Business Unit.
In 2014, he was appointed Managing Director Automotive Controls of the Eberspächer Group, where he last held the position of Chief Innovation Officer.
Since 2018, Dr. Dirk Walliser has been Senior Vice President Corporate R&D, Innovation & Technology and Digital Products & Services at ZF Friedrichshafen AG.
Program
08:00
Welcome coffee in the exhibition
08:50
Welcome introduction


Jochen LANGHEIM, president of the congress, STMicroelectronics
Frédéric CHARON, General Manager, SIA
Automotive Electronics: towards new mobilities and sustainability
09:00
Keynote

Christophe PERRILLAT, CEO; VALEO

09:20
Keynote

Frédérique LE GREVES, CEO & PRESIDENT; STMICROELECTRONICS FRANCE

09:40
Keynote

Steve ROBER, Head of Automotive Research and Advanced Engineering; STELLANTIS
Automotive Electronics supporting sustainable Mobility and new usages: 360 view
10:00
Introduction to Automotive Electronics supporting Sustainable Mobility and new usages: 360 view
Rémi BASTIEN, NEXTMOVE
10:15
Roundtable: Impacts of new mobility and usages in electronic design
Moderator: Rémi BASTIEN, NEXTMOVE
Heiko CARRIE, BOSCH FRANCE
Geoffrey BOUQUOT, VALEO
Christophe AUFRERE, FORVIA
Jean-Luc BEYLAT, NOKIA
Eric LEBEAU, VEDECOM
11:00
Coffee break in the exhibition
SW defined vehicle
Automated / HAD
Energy Conversion

11:45

How to successfully shift from a software-driven to a software-defined vehicle

Juergen MEIER, ETAS


11:45

Gamification of ADAS-Algorithm Testing – Using Reinforcement Learning to find Edge Cases

Alexander FAUL, VECTOR

11:45

Charging efficiency

Raul IGLESIAS, WATT & WELL

12:15

Stellantis - STLA BRAIN introduction

Aldric LOYER, STELLANTIS



12:15

Creating safe and robust automated driving systems for future vehicles is a complex task.

Sven LEITSCH, KEYSIGHT

12:15

On-board charger system approach for a robust control law development.

Jérôme LACHAIZE, VITESCO
12:45

New EE architectures & Software As a Service solutions applied for automotive

Jean-Baptiste LAURENT, FORVIA

12:45

Traffic Lights Fusion for Highly Automated Vehicles

Thomas HEITZMANN, VALEO

12:45

Reliability of bi-directionnal chargers (120 000 hours); testing, desing validation…)

Damien-Pierre SAINFLOU, STELLANTIS

13:15
Lunch break in the exhibition
SW defined vehicle 2
Sensors, ADAS…
Small Data and Edge

15:00

Vehicle OS –Enabling the Software Defined Vehicle

Benjamin RAMEL, VECTOR
Marc WEBER, VECTOR


15:00

Intelligent cars: how AI is revolutionizing the way we move

Alessandro MORCELLI, STMICROELECTRONICS


15:00

Vehicle Data Collection - Enable Data-Driven Customer Experience Improvements

Birgit HILLEBRECHT, VECTOR
15:30

A Safety-oriented DevOps Framework

Paul DUBRULLE, ALKALEE

15:30

Setting a new standard for ultrasonic near-field perception

Harald BARTH, VALEO

15:30

Trustworthy AI for critical systems

David SADEK, THALES
16:00

Together, apart: using hypervisor technology in automotive ECUs

Darren BUTTLE, ETAS

16:00

A lightweight Steering Algorithm for Smart Scanning Sensor

Aurélien FRESNEAU, CEA

16:00

Confiance.AI

Rodolphe GELIN, RENAULT GROUP

16:30
Coffeee break in the exhibition
Big data and Artificial intelligence in a trustable and sustainable environment: 360 view
17:15
Introduction to Big data and Artificial intelligence in a trustable and sustainable environment: 360° view

Luc JULIA, Chief Scientific Officer; RENAULT GROUP

17:45
Round-table: Big data and AI in a sustainable environment
Moderator: Frédéric CHARON, Director, SIA
Joachim Mathes, Valeo
Paul Labrogère, SystemX,
Eric Feunteun, Renault Software République
Azzedine Gati, Orange
TBA, Google
18:30
Keynote
Jean-Philippe HERMINE, Coordinator Mobility in Transition Initiative, IDDRI
19:00
Cocktail in the exhibition
Inscription
• Registration fees include participation in the conference, abstracts book and PDF presentations.
• Where it is not possible to send the payment together with the form, each registration should be accompanied by an official purchase order. Failing reception of an official purchase order or payment on the day of the congress, we regret that you will not be allowed entry to the congress.
• When we have received the registration form, we will send you a confirmation message and an invoice. Please indicate the accounts department address when necessary.
• Cancellation conditions (in addition to the GTC): in view of the current constraints linked to the COVID health crisis. If the congress has to be postponed or cancelled, you will be automatically reimbursed or offered a credit note for a future edition.
Prices VAT excluded (+20%)
Exhibition // Advertising opportunities
Access & Accomodation
conference venue
PALAIS DES CONGRES DE VERSAILLES
10 rue de la Chancellerie
78000 Versailles, France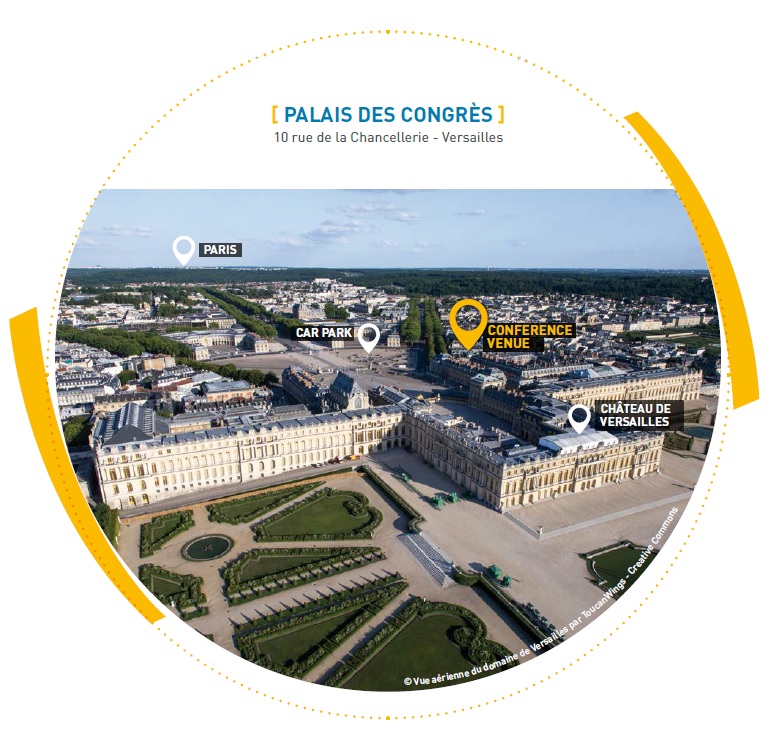 public transportation
From Roissy CDG Airport, take RER B towards Paris and stop at "Saint-Michel Notre-Dame".
Then, take another train RER C towards Versailles Rive-Gauche. Stop at "Versailles Rive-Gauche".
The Palais des Congrès is 5 min by foot.
From Saint-Lazare station (Paris), take a SNCF train towards Paris "Versailles Rive-Droite".
The Palais des Congrès is 20 min by foot.
recommended hotels