International Congress :

SIA CESA Automotive Electronics **DIGITAL EDITION**
28 Janvier 2021
Digital edition
SIA CESA A SUCCESSFUL DIGITAL 10TH EDITION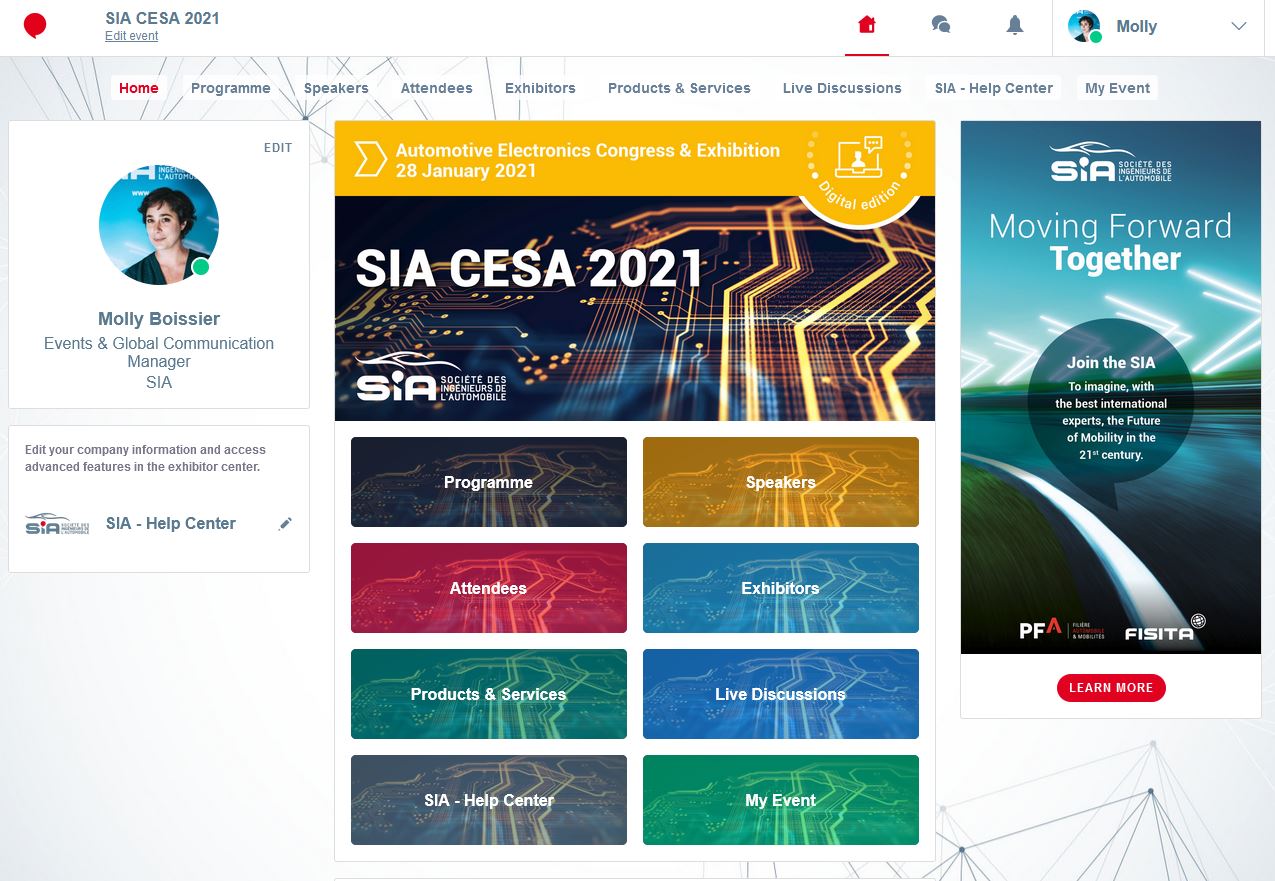 Thank you to all the speakers, exhibitors, committee members and our attendees for playing the digitalisation game for this 10th edition of our SIA CESA Congress.
Despite its particular format, SIA CESA was a success with nearly 180 participants, and 17 pre-recorded interventions that allowed exchanges between speakers and participants throughout the interventions.
Much of your feedback on this new platform has been positive, however there is always room for improvment!
THE EVENT IN FIGURES :
+700 messages exchanged
245 discussions launched
Dozens of video appointments
30% of the participants indicated that they had made new strategic contacts
A special thanks to the 5 exhibitors who trusted us during this premiere:

Electric Mobility, Mechatronics, Connectivity, Driver Assistance, Motor control, Infotainment - today everything relies today on Electronic Components and Systems.
This makes SIA CESA the most important conference for Automotive Electronics in France and Europe, gathering as it does, the Executives, Experts and Trend Setters from all regions of the globe.
More than ever the Electronic (in particular Consumer Electronics) and the Automotive industries must work cooperatively to face strategic challenges and better prepare for our future. Together we must design and develop optimum package integrations, create mechatronic technologies which are reliable, efficient and sustainable solutions for connectivity, combine Artificial Intelligence, Cloud and Big Data management including transfer and processing.
SIA CESA is organized by the SIA (Association of French Automotive Engineers) with the support of the PFA (the sole Platform to represent the whole Fench Automotive Industry), working in close with the French Electronics industry. This deliberate industrial strategy underlines the strength of cooperation and convergence required of both over multiple years.
SIA CESA will take place on January 28th, 2021, an importante date after the two major storms our organizations and industries have had to surmount since 2018: a shortage of passive components in 2018 and in 2019, then more recently the globally disruptive COVID-19 pandemic.
SIA CESA will therefore be your unique opportunity to hear the best presenters and trend setters and to share and exchange with your peers as to know we can take our first steps into the challenges of our post-coronavirus Electronic world.
Keynote Speakers will open and close the seminar presenting their visions on:
Market recovery: threats and opportunities from the eco-transition,
Electronics in the new automotive industry: cooperation, innovation and competitiveness,
R&D/Industrial technologies and processes: agility and competences,
Challenges in all fields of the Electronic Industry in future Automotive Mobility solutions.
Trend setters of the different domains will present key challenges for the future:

View on Electronics:

Electronics and vehicle Electrical and electronics architectures, what trends?
Electronic and supply-chain as seen by OEMs.

Automation and connectivity for new services and mobility:

ADAS trends, what in China?
Artificial Intelligence, Connectivity, Cloud and Big data,
Embedded functional safety in electronic Smart components.

Electrical Vehicles and Power Electronics:

Power Electronics and mechatronics: Package integration and efficiency: how can Europe lead the game?
Electronics and e-mobility,
Embedding the Electric Vehicle in the Smart Energy Grid,
Charging infrastructures.
Breaks will give you the opportunity of networking and discovering technologies, thus enhancing your understanding of Electronics eco-system in automotive industry.
This Symposium is organized by a team of experts widely recognized by the domain and highly honored by the presence of trend setters from French OEMs, global suppliers, Academics and Institutes such as VEDECOM.

A look back on the 2018 edition
COMMITTEE MEMBERS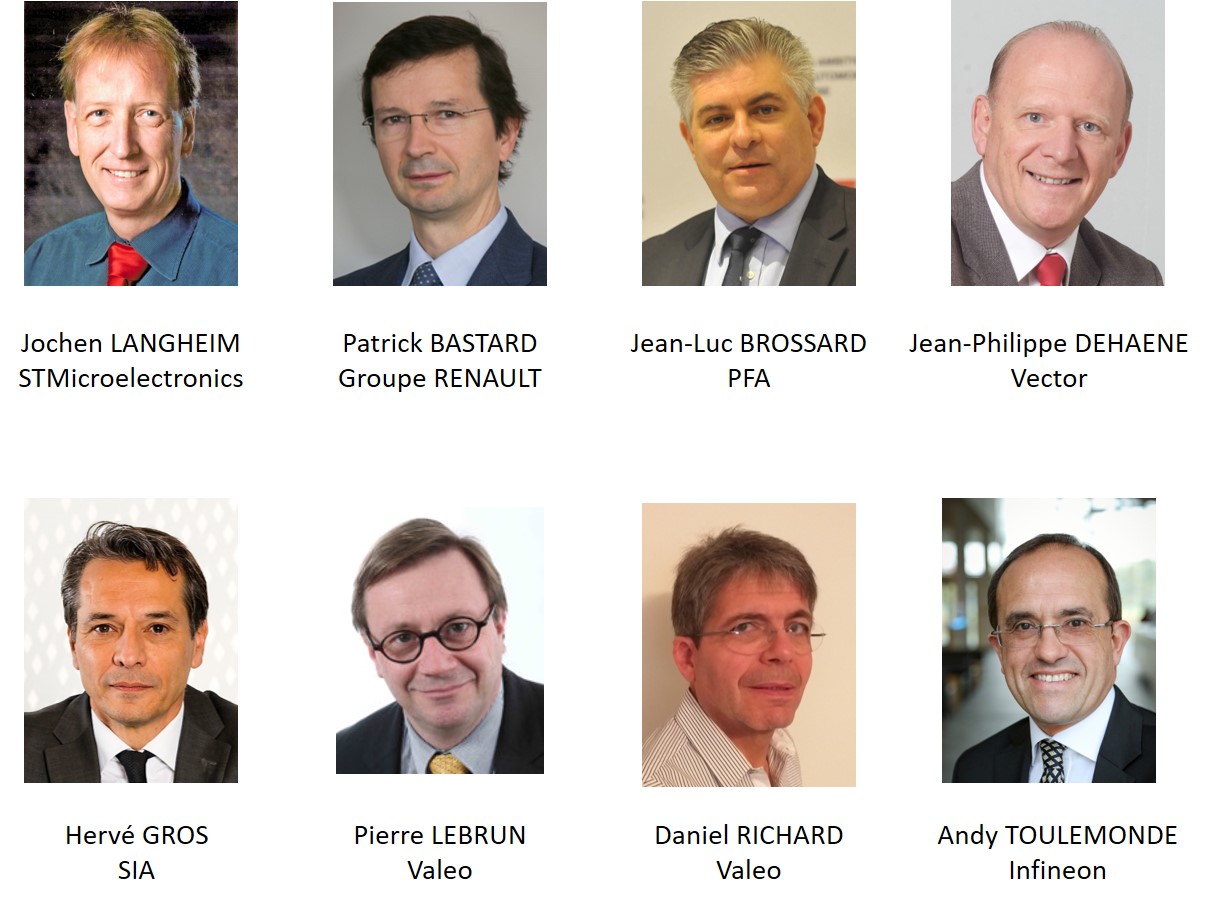 PRACTICAL INFORMATION
A 100% DIGITAL & LIVE EDITION
Our platform will allow you to:
Create your profile
Book the conference & demonstration sessions you'd like to attend
Select the exhibitors you want to exchange with
Schedule and manage your One-to-One business meetings
Connect to the platform remotely
Exchange in real-time with key experts & players from around the world
Experience the live conference and demo programs of your choice
Interact with speakers
Programme
08:00
OPENING SESSION

Chairman: Jochen LANGHEIM - Congress Chairman
08:50
Welcome Introduction
Luc MARBACH, President | Société des Ingénieurs de l'Automobile
Keynote & Discussion

Moderator: Jochen LANGHEIM | SIA CESA Congress Chairman
09:00
The challenge and the opportunities for Auto & Electronics - New Technologies, Market & Business
Jean-Luc BROSSARD | PFA - French Automotive Industry and Mobilities
09:10
Recovery plan for automotive & Cooperation with electronics
Luc CHATEL, President | CSF Automobile & PFA, Former French Minister
09:20
Competitivity in electronics & Cooperation with Automotive
Thierry TINGAUD, President | CSF Electronics
09:30
Key-Address from German Automotive
Joachim DAMASKY, Managing Director | VDA
10:00
Virtual Coffee > take some time to exchange with the speakers, exhibitors & participants (chat rooms & one-to-one meetings)
Challenges in the car industry

Chairman: Daniel RICHARD | SIA
10:30
Electronics seen by an OEM
Yvan AGLIANY | PSA
10:45
Renault challenges in the domain of automotive electrics and electronics
Sophie SCHMIDTLIN | Renault Nissan Alliance
11:00
Future Car Architecture
Antoine VUILLAUME | GROUPE RENAULT

11:15
Future R&D to respond to market needs
Tony JAUX | VEDECOM
12:00
Virtual Lunch > take some time to exchange with the speakers, exhibitors & participants (chat rooms & one-to-one meetings)
ADAS, HAD & AI

Chairman: Jean-Philippe DEHAENE | Vector
13:30
Three waves and a Tsunami

Joachim MATHES | Valeo
13:45
Adas/ad Modeling and Validation, View of a tier 1
Jean-François SALESSY | APTIV
14:00
Vehicle Automation: No Edge AI Without Cloud AI
Ralf HERRTWICH | NVIDIA
14:15
ADAS, AI, Manycore, Functional safety form the semiconductor side
André ROGER | Infineon
15:00
Virtual Coffee > take some time to exchange with the speakers, exhibitors & participants (chat rooms & one-to-one meetings)
e-Mobility

Chairman: Pierre LEBRUN | Valeo
15:30
EV Charging of the Future
Christel GALBRUN-NOEL | Schneider Mobility
15:45
Smart Grids and the complementarity between Electric Vehicles and Electricity Generation-Transport-Distribution Systems
Stéphanie JUMEL | EDF
16:00
Charging Infrastructure & standards protocols (incl. CharIn) ISO 15118
Dirk GROSSMAN | Vector
16:15
LCA in automotive industry; focus Electronics
Jean-Philippe HERMINE | GROUPE RENAULT
17:00
Virtual Coffee > take some time to exchange with the speakers, exhibitors & participants (chat rooms & one-to-one meetings)
CLOSING SESSION

Chairman: Jochen LANGHEIM - Congress Chairman
17:30
Power Electronics - An opportunity for Europe's Industry - Cooperation Automotive & Electronics
Rémi BASTIEN | GROUPE RENAULT
Summary of the congress and closing remarks
Jochen LANGHEIM, Congress Chairman SIA CESA 2021
18:00