International Congress :

SIA CESA 5.0
5 & 6 December 2018
Palais des Congres, Versailles
A look back on SIA CESA 2018

Our congress was a major opportunity to understand how the automotive business will evolve over the next five years, with a focus on products and services that are likely to transition from other markets into use-cases for automotive.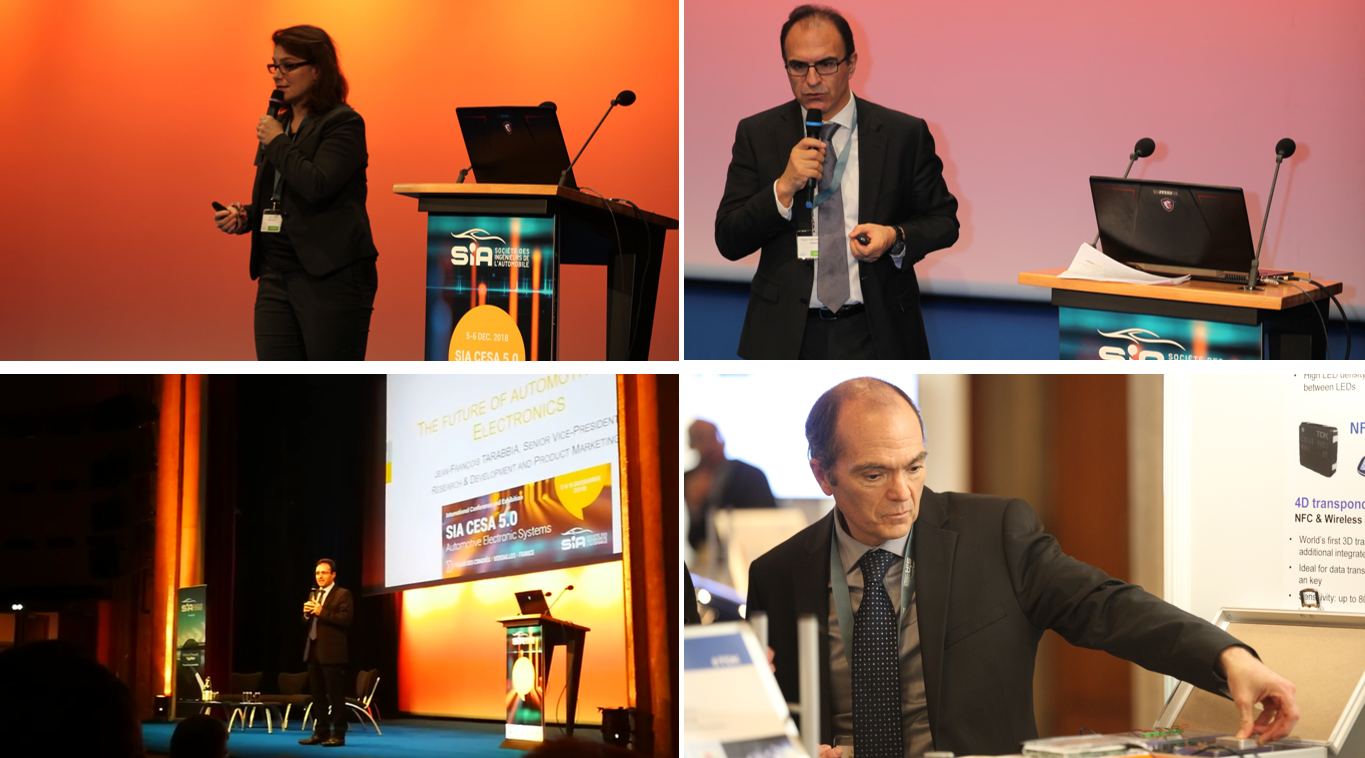 Electronics content is growing in every product thanks to miniaturization of circuits, new business models, new actors and beyond this a changed perception of the environment which has consequences for industry in general, not only for the automotive one.SIA CESA is an event that explains the technological breakthroughs, technical barriers and other influencing factors for our industry such as standards, rules and laws.
300 Engineering and business unit managers as well as technical experts from the automotive world gathered to exchange on these subjects with colleagues from adjacent domains such as infrastructure, communication, Telco providers, insurance, consumer electronics and law.
Once again, the congress highlighted the importance of electronics in the coming developments of the automotive industry.
Thank you very much for your participation, and see you very soon in our next events!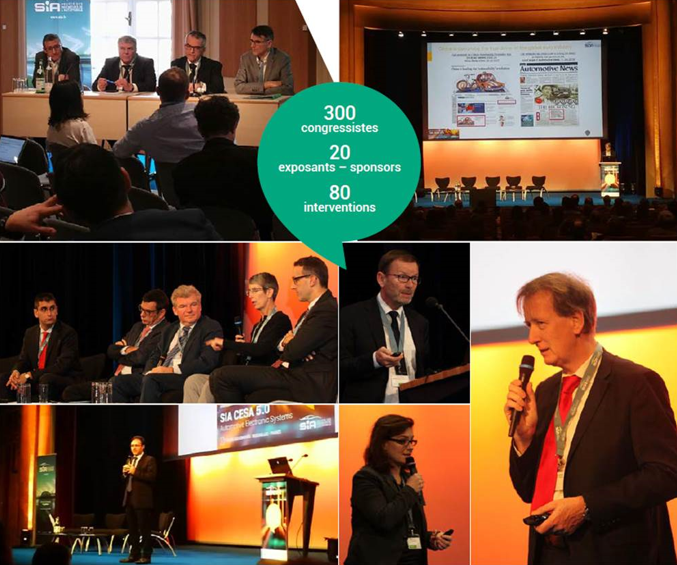 COMMITTEES
Conference chair

Jochen LANGHEIM - STMicroelectronics

EXECUTIVE COUNCIL


AUFRERE Christophe - Faurecia
BASTIEN Rémi - Renault
CARRIE Heiko - BOSCH
DEVAUCHELLE Guillaume - Valeo
GOHIN Carla - Groupe PSA
GROS Hervé - SIA
MARBACH Luc - VEDECOM

Program Committee

RIBOT Pascal - STMicroelectronics
ALVAREZ Ignacio - Faurecia
GUILLAUME Anne - LAB
RICHARD Daniel - Valeo
AUMONT Philippe - SIA
LEBRUN Pierre - Valeo
RIZZO Gillez - ACSIEL
BASTARD Patrick - Renault
LE CALVEZ Gilles - Vedecom
ROINE David - Valeo
BROSSARD Jean Luc - PFA
LEE Carlos - Phontonics Cluster
RUNGE Wolfgang - ELIV Baden Baden
DEHAENE Jean-Philippe - Vector
MEYER Gereon -VDI/VDE
SENCERIN Jean-François – Renault
EL KHAMIS Kadiri- Groupe PSA
PERRIN Jérôme –Renault
TOULEMONDE Andy - Infineon
FISCHER Francois - ERTICO
PICRON Vanessa - Valeo
VALETTE Michel - Elmos
FRANCHINEAU Jean-Laurent – VEDECOM
PRINCE Ladimir - Groupe PSA
VRIGNAUD Louis-Claude - Continental
GEELS Pierre-Yves - Segula Matra Automotive
REILHAC Patrice - VALEO
YAHIAOUI Gérard - Nexyad
Programme
08:30
Welcome coffee in the exhibition
Welcome
09:00
Hervé GROS, General Manager SIA
Change the industry : Automotive electronics

Jochen LANGHEIM, CESA's chairman
09:05
CESA opening by the chairman of CESA
Jochen LANGHEIM; STMicroelectronics


09:10
Electronics, a key technology for the car of tomorrow
Marc MORTUREUX; General Manager - PFA
09:30
The car of tomorrow, a key application for electronics
Thierry TINGAUD; President Strategic Committee Electronics & President STMicroelectronics France
10:00
Innovation, cooperation in connected, autonomous e-mobility
Rémi BASTIEN; VP Renault and Presidentn - MOVEO & VEDECOM
Roundtable

animated by Rémi Cornubert, Advancy
10:30
Round Table
François GAILLARD, Head of autonomous and connected cars innovation - Groupe PSA
Gilles MABIRE; Président - Continental France
Colette MALONEY; Head of Unit - European commission DG CNCT
Jean-Louis PECH, CEO ACTIA

11:15
Cofee break in the exhibition
Mobility Disruptions: E-Mobility in general

Pierre LEBRUN, Valeo

Mobility Disruption: Highly Automated Driving

Antoine LAFAY, Valeo

Mobility Disruption: Services

Louis-Claude VRIGNAUD, Continental

11:45

Contribution of light and heavy vehicles to reducing energy demand and CO2 emissions by 2035 worldwide
Jean Luc BROSSARD - PFA
Gabriel DUQUESNOY - BIPE


11:45

Getting ahead with the French Program on Autonomous Vehicles
Jean-François SENCERIN - PFA / REnault


11:45

New mobility services
El Khamis KADIRI - Groupe PSA
12:00

Batteries and BMS Industrialisation of batteries - what is needed in France and Europe
Marianne CHAMI - CEA
Jean Bernard LEPAGE - Faurecia

12:00

Easymile, a French Success Story - where is it going from here ?
Benoit PERRIN - Easymile




12:00

A safe and energy efficient driving with the cloud vision of the route ahead using an in vehicle eHorizon client.
Bruno COUDOIN - Continental


12:15

An economic view on Electromobility in China
Peter GRESCH, Jochen SIEBERT, PGUB & JSC

12:15

Autonomous driving & mobility in general (with look on intermodality)
Patricia VILLOSLADA - Transdev

12:15

How IOT based Autonomous Driving can help cities to reduce Air Pollution
Ralf WILLENBROCK - T-Systems
12:30

Infrastructure needed to implement electric mobility
Joseph BERETTA - Avere
Yuhui XIONG - Bipe

12:30

HAD experiments
Laurent TAUPIN, Groupe Renault
Veronique BERTHAULT - RATP



12:30

Exploitation of road infrastructure and traffic management:integrate the connected car
Jean Laurent FRANCHINEAU - Vedecom
| | | |
| --- | --- | --- |
| 12:45 | 12:45 | 12:45 |
13:00
Lunch break in the exhibition
Organisation & Competence Disruptions in E-Mobility: Charging, Infrastruture, Engineering

Jean-Luc BROSSARD, PFA

Autonomous Driving Challange: AI and SAFETY

Jean-François SENCERIN, Renault

Mobility Disruption: V2X & Infrastructure / Architecture

El Khamis KADIRI, PSA

14:15

Trends in electric vehicle design: Insights on best practices for paving the road for mass-market electric vehicles
Thomas MOREL - McKinsey & Company
Mauro ERRIQUEZ - McKinsey & Company
Pierre-Yves MOULIERE - A2Mac1

14:15

Using AI to remove the roadblocks for AV
Amir KLUG - STMicroelectronics

14:15

Europe Prepares for Mass Deployment of C-ITS
Onn HARAN - Autotalks
14:30

From ICE to EV: the competition is also about competences and engineering approach
Patrick BASTARD - Groupe Renault

14:30

Towards safe, robust and secure AI
Eric DALLA VECCHIA - Bosch

14:30

Building a 5 G network serving the automotive needs
Maxime FLAMENT - 5GAA
14:45

AllCharge - an User-Centric Solution for Traction and Charging
Christophe MARECHAL - Continental
Friedrich GRAF - Continental
Martin BRULL - Continental

14:45

Safety and automated planning
Christophe GUETTIER - Safran

14:45

Empowering the Future of Autonomous Driving
Aleksandar MOMCILOVIC - Huawei
15:00

High power charging a source of value for customers, how to make it happen
Christian GIRARDEAU - BP

15:00

Applicability of Airborn and Train safety processes to Automotive AD
Julien FOUTH - Segula Matra Automotive



15:00

Making sense of V2X: Communications industry vs. automotive industry vs. DSRC vs. C-V2X vs. USA vs. Europe vs. China
Kevin THOMPSON - Keysight
| | | |
| --- | --- | --- |
| 15:15 | 15:15 | 15:15 |
15:30
Coffee break in the exhibition
Autonomous Driving Challenge: Human factors and road SAFETY

Anne GUILLAUME, Renault

Technology Disruptions in E-Mobility: Semiconductors, Packaging

Andy TOULEMONDE, Infineon

Mobility Disruption: Connected Car, Data usage & HPC

Paul SCHIMMERLING, SIA

16:00

Introduction aboat road safety and ADAS & comparison with aeronautics
Anne GUILLAUME - LAB

16:00

Wide Bandgap semiconductors in xEV applications
Laurent BEAURENAUT - Infineon



16:00

Multi-source 3D capture and reconstruction of road environments for autonomous navigation : results, locks and trends from a geospatial data infrastructure point of view
Nicolas PAPARODITIS - IGN
16:10
Vedecom experiments on taking control back
Mercedes BUENO-GARCIA - Vedecom

16:20

Benefits and limits of autonomous vehicles
Jeremy VERGNAUD- UTAC CERAM
Pierre-Jean LE BEC - UTAC CERAM



16:20

Trends in Power Electronics impacting E-Mobility
Manuel GAERTNER - STMicroelectronics


16:20

Combined Optimal Control and Machine Learning technics, for Connected Hybrid Electrified Vehicles
Mariano SANS - Continental
Christophe MARECHAL - Continental
16:30
Holistic HMI architecture for Adaptive and Predictive car interiors
Frederic FONSALAS - Faurecia

16:40

16:40

Powering up Electronics- latest developments and concepts for packaging of electronics in automotive systems"
Hannes STAHR - AT&S

16:40

Future of car insurance: AI assessing driving risk based on real time data from ADAS sensors and digital maps
Gerard YAHIAOUI - Nexyad
17:00

17:00

Packaging as Enabler for Next Generation Power Electronics
Eckart HOENE - Fraunhofer IZM


17:00

Embeded High Performance Computing
Philippe NOTTON - Atos

| | | |
| --- | --- | --- |
| 17:20 | 17:20 | 17:20 |
18:00
Keynote "Automotive & New Mobility Solutions"
Patrick PELATA former COO of Renault and EVP of Nissan
In charge of a mission on automotive industry and new mobilities for the French Government
Meta Strategy Consulting's CEO


Access & Accomodation
conference venue
PALAIS DES CONGRES DE VERSAILLES
10 rue de la Chancellerie
78000 Versailles, France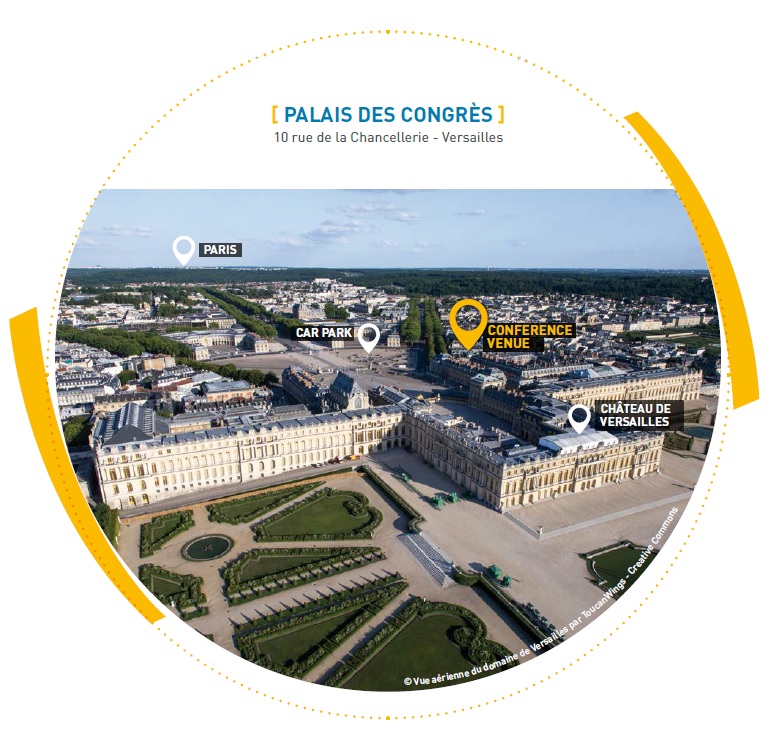 public transportation
From Roissy CDG Airport, take RER B towards Paris and stop at "Saint-Michel Notre-Dame".
Then, take another train RER C towards Versailles Rive-Gauche. Stop at "Versailles Rive-Gauche".
The Palais des Congrès is 5 min by foot.
From Saint-Lazare station (Paris), take a SNCF train towards Paris "Versailles Rive-Droite".
The Palais des Congrès is 20 min by foot.
recommended hotels