International Congress :

SIA VISION Digital 2021
17 & 18 MARCH 2021
Digital Edition
SIA VISION - A SUCCESSFUL CHALLENGE
More than 320 attendees gathered virtually for the SIA VISION 2021 Conference.
The SIA VISION has been a huge challenge for all of us. Initially planned for October 2020, the pandemic forced a change of plans. But the ambition remains the same, even though the congress was shifted from an in-person event to an online event happening the 17th and 18th of Mars. So how did it work? How did we keep our targets and goals despite such a major shift?
Here is how: we carefully adjusted the time schedule of the program to allow participants all over the world to follow the congress as conveniently as possible—we started later in the morning and stopped earlier in the afternoon, from the European perspective. Finally, we made the conference in two parallel sessions.
We have enticed Marie Gautier-Melleray, the French Interministerial Delegate for Road Safety, to open the congress together with future Valeo CEO Christophe Perillat. On the second day, Stéphane Buffat, Director of Le Lab Stellantis- Renault made a retrospective of 50 years of Safety.

We also organised a panel discussion to talk about challenges, benefits, and drawbacks of sensor integration into headlamps and front ends, with four top experts: Stellantis ADAS research and innovation expert Matthieu Dabek; Valeo ADAS CTO Joachim Mathes, Volvo Cars Exterior Lighting Technical Leader Paul-Henri Matha, and Marelli Automotive Lighting's Andrea Stella, VP of Research and Development.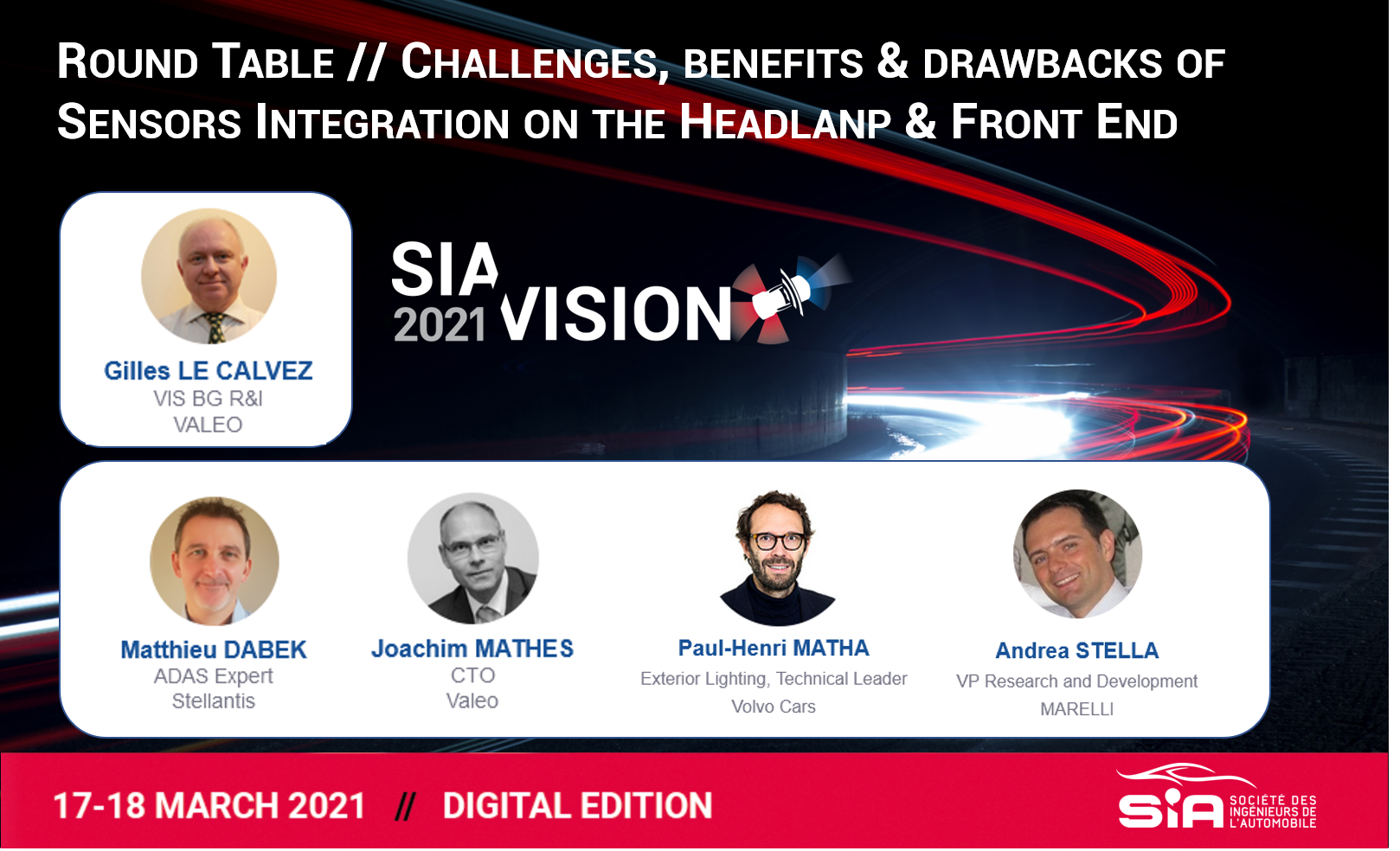 And—best of all—we convinced all the originally-scheduled speakers to present their lectures as expected!
THE EVENT IN FIGURES :
+3000 messages exchanged
934 discussions launched
Nearly 70 video calls
99.99% of respondents would recommend this event to their colleagues
66% of the participants indicated that they had made new contacts
91% have a favourable opinion of this edition (of which 38% excellent)
93% had a positive digital experience (45% excellent) and 90% found the platform "Users Friendly"
We are glad to annonce that the following Technical papers have been selected as Best Papers of the Congress. Congratulation to them!
These 2 will be available in our magazine "Ingénieurs de l'Auto" issue of May 2021:
Hybrid Objects Sensors Fusion // Thomas HEITZMANN | Valeo
Digital light for safety and communication // Dr. Michael KRUPPA | AUDI
The 3 here under are available on our website :
WHAT THEY SAY ABOUT OUR CONGRESS
The feedback we received are very positive with 100% of satisfaction especially on the format of the programme and on the networking possibilities offered by our new digital platform!
Some of the quote from the attendees: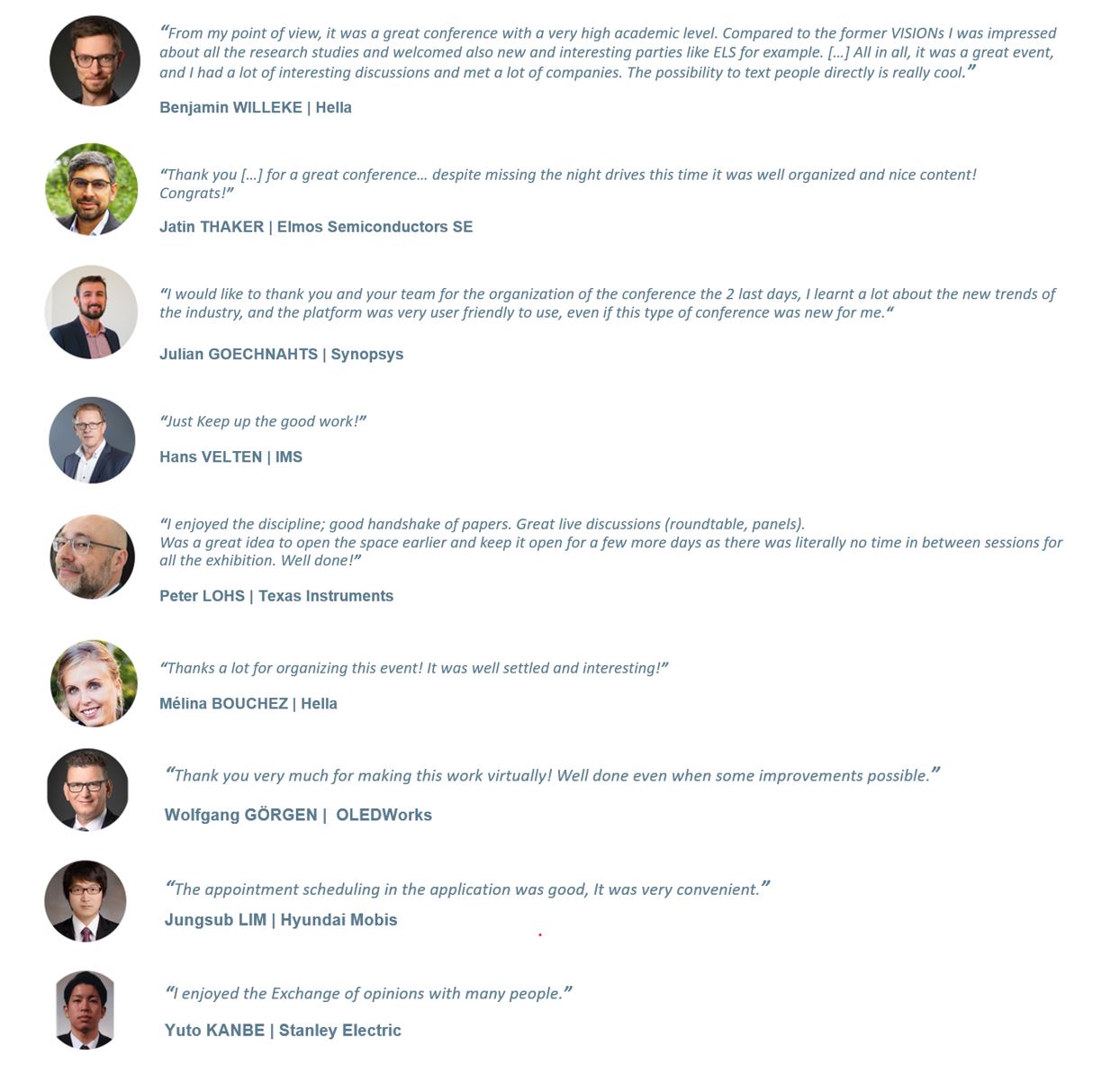 We would like to thank all the speakers, exhibitors, committee members and our attendees for joining us on this 2-days despite its particular format.
And a special thanks for their support and trust to our 19 exhibitors:


COMMITTEES
Conference chair: Hector FRATTY - Driving Vision News

Organisation Committee

Molly BOISSIER - SIA

Luc BOURGEOIS - Groupe Renault

Matthieu DABEK - Stellantis

Jean-François DACQUAY - Groupe Renault

Whilk GONCALVES - Stellantis

Michael HAMM - Audi

Antoine LAFAY - Valeo
Gilles LE CALVEZ - Valeo

Sébastien LEFRANC - Continental

Christophe LE LIGNE - Valeo

Paul-Henri MATHA - Volvo Cars

Jean-Paul RAVIER - Consultant

Caroline ROBERT-LANDRY - Groupe ZF

Gérard YAHIAOUI - NEXYAD

Scientific Committee

Lighting

Claus ALLGEIER – OSRAM

François BEDU - Groupe Renault
John BULLOUGH - Rensselaer Polytechnic Institute
Jean-Paul CHARRET - JPConsulting
Hector FRATTY - Driving Vision News
Whilk GONCALVES - Stellantis

Wolfgang HUHN – Audi

Tran Quoc KHANH - TUD Darmstadt

Michael KLEINKES - Hella
Motohiro KOMATSU - Koito Manufacturing

Paul-Henri MATHA - Volvo Cars

Rainer NEUMANN - Varroc Lighting Systems

Benoit REISS - Valeo

Ralf SCHAEFER - RS Consult

Ingolf SCHNEIDER - Adam Opel

Dirk VANDERHAEGHEN - Lumileds

Scientific Committee

ADAS

Benoît BESNAULT - Groupe ZF

Benazouz BRADAÏ - Valeo

Matthieu DABEK - Stellantis

Laurent DAZIN - Robert Bosch

Hector FRATTY - Driving Vision News

Gil GONCALVES - Michelin

Gilles LE CALVEZ - Valeo

Sébastien LEFRANC - Continental

Marc PAJON - Groupe Renault

Caroline ROBERT-LANDRY - Groupe ZF
Programme // new digital format
08:00
Opening of the platform // few tips for the attendees

Opening Plenary Session
09:45
Welcome Introduction
Frédéric CHARON, Chief Executive | Société des Ingénieurs de l'Automobile
09:50
Opening address by the SIA VISION Conference Chair
Hector FRATTY | Driving Vision News
09:55
KEYNOTE SPEECH
Marie GAUTIER-MELLERAY - Interministerial Delegate for Road Safety | French Government
10:10
KEYNOTE SPEECH
Christophe PERILLAT - Associate CEO | Valeo
Session 1 // Headlamp Technologies

Chairman: Paul-Henri MATHA | AB Volvo
10:30
How the expansion of lighting and the integration of sensors will change vehicles perception and near field communication
Benoit REISS & Benoist FLEURY | Valeo
10:50
High definition pixelated-LED-based headlamp modules: major challenges and state-of-the-art development methods
Reza LARIMIAN | ZKW Group
11:10
Dynamic Laser Matrix Beam, the headlamp concept of the new BMW 5 series
René ÜBLER | BMW
11:30
Freeform micro-optics for automotive applications
Benjamin WILLEKE | HELLA
11:50
RENAULT LED Front Lighting for Economic Vehicles
François BEDU | Groupe RENAULT
12:10
PANEL DISCUSSION // SESSION 1

12:40
Session 2 // ADB TECHNOLOGIES

Chairman: Christophe LE LIGNE | Valeo
14:00
Mockup and Demonstrator of a High Resolution Active Pixel-LED headlamp with 100k Pixel Performance
Stefan GROETSCH | OSRAM
14:20
PSA Group strategy for the integration of ADB headlamps and HD headlamps
Whilk GONCALVES | Stellantis
14:40
MEMS Laser Head Lamp
Yuto KANBE | Stanley Electric Co.

15:00
Detection rate of projected light signals by lighting condition and activation modes
Yuichi SHIBATA | Koito
15:20
PANEL DISCUSSION // SESSION 2

15:40
Round Table
16:10
Challenges, benefits and drawbacks of Sensors integration in the Headlamp & Front End
Moderator: Gilles LE CALVEZ | VALEO
Matthieu DABEK - ADAS Expert Research & Innovation Department | Stellantis
Joachim MATHES - CTO | Valeo
Paul-Henri MATHA - Technical leader Exterior lighting | Volvo Cars

Andrea STELLA - VP Research and Development | Marelli Automotive Lighting

CLOSING SESSION DAY 1

Chairman: Hector FRATTY | SIA VISION Conference Chairman
16:55
Closing remarks Day 1 by the Conference Chairman
Hector FRATTY | Driving Vision News
17:05
END OF DAY 1 LECTURES // NETWORKING AFTERNOON