International Congress :

SIA VISION **New format, more opportunities**
17 & 18 MARCH 2021
Digital Edition
New format, More Opportunities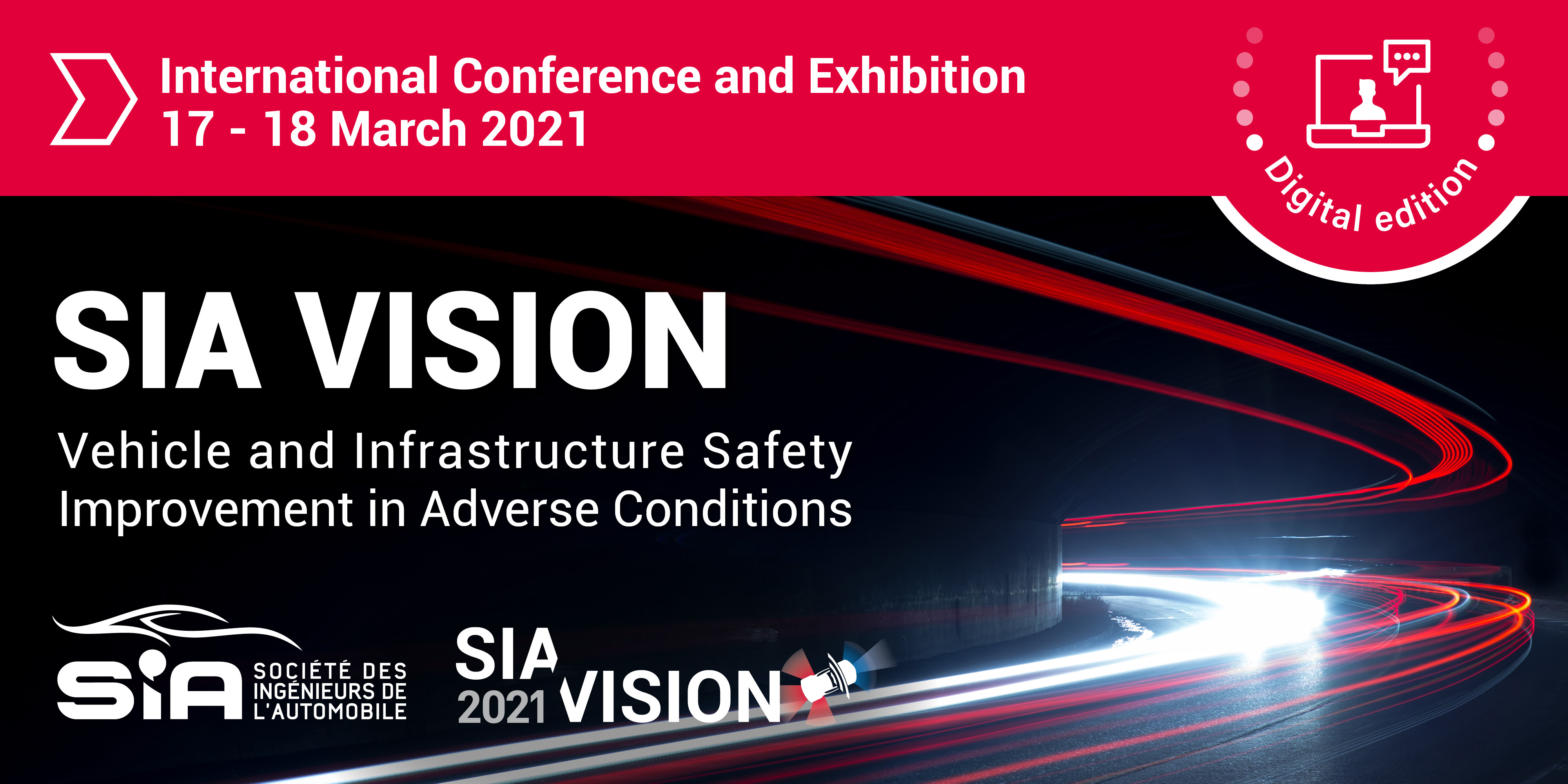 SIA VISION GOES DIGITAL!
We are very glad to announce you that the 10th edition of our Lighting & ADAS conference will be up and running with a new format via the SIA x Swapcard Platform.
We are dedicated in carrying our great Lighting & Adas event on March 17th & 18th, 2021, offering this year again great possibilities to learn, network, meet exhibitors, speakers and attendees via video calls and easy meetings.
The programme of this SIA VISION 10th edition has been be adjusted to digital remote attendance - and especially our friends from all time zone - with parallel lectures sessions, possibility to access replays during the 2-days congress and few days after and a special fare with a 50% discount. No travel arrangement needed, you will be able to follow us directly from work or home!
Today, the SIA organisation team backed up by the Steering and Scientific Committees of SIA VISION wants to ensure you that we take into great deal the importance of this congress for our scientific communities: the digital tool we have already used for SIA conference is well adjust to such an event with live sessions of Q&A, possibility to network and the highlight of our partners with a special area to inform you about their new products and services.
---
---
Baring in mind the Europe-wide challenges and R&D programmes relative to road safety, and in the light of the success of the first V.I.S.I.O.N. congress in September 2002, the SIA and its partners - vehicle and equipment manufacturers, research organisations and public authorities - have decided to organize the 10th edition of SIA VISION on 17 & 18 March, 2021 in Paris, France.
Considering the number and severity of accidents occurring at night and/or in poor weather conditions, it is now necessary to re-examine their causes and the possible ways of improving safety, with the support of the world's top authorities in the field.
The International SIA VISION Congress will also attempt to promote methods of bringing about significant reductions in the risks faced and to improve driver and pedestrian safety in such poor conditions.
This 10th Congress organised by the French Society of Automotive Engineers (SIA) will be held online and will bring together the major players in the fields affected by such problems.
We look forward to welcoming you on our special digital platform next March 2021 for a new edition of our great congress!
Yours sincerely,
Hector Fratty
Chairman of SIA VISION International Congress

COMMITTEES
Conference chair: Hector FRATTY - Driving Vision News

Organisation Committee

Molly BOISSIER - SIA

Luc BOURGEOIS - Groupe Renault

Matthieu DABEK - Stellantis

Jean-François DACQUAY - Groupe Renault

Whilk GONCALVES - Stellantis

Michael HAMM - Audi

Antoine LAFAY - Valeo
Gilles LE CALVEZ - Valeo

Sébastien LEFRANC - Continental

Christophe LE LIGNE - Valeo

Paul-Henri MATHA - AB Volvo

Jean-Paul RAVIER - Consultant

Caroline ROBERT-LANDRY - Groupe ZF

Gérard YAHIAOUI - NEXYAD

Scientific Committee

Lighting

Claus ALLGEIER – OSRAM

François BEDU - Groupe Renault
John BULLOUGH - Rensselaer Polytechnic Institute
Jean-Paul CHARRET - JPConsulting
Hector FRATTY - Driving Vision News
Whilk GONCALVES - Stellantis

Wolfgang HUHN – Audi

Tran Quoc KHANH - TUD Darmstadt

Michael KLEINKES - Hella
Motohiro KOMATSU - Koito Manufacturing

Paul-Henri MATHA - AB Volvo

Rainer NEUMANN - Varroc Lighting Systems

Benoit REISS - Valeo

Ralf SCHAEFER - RS Consult

Ingolf SCHNEIDER - Adam Opel

Dirk VANDERHAEGHEN - Lumileds

Scientific Committee

ADAS

Benoît BESNAULT - Groupe ZF

Benazouz BRADAÏ - Valeo

Matthieu DABEK - Stellantis

Laurent DAZIN - Robert Bosch

Hector FRATTY - Driving Vision News

Gil GONCALVES - Michelin

Gilles LE CALVEZ - Valeo

Sébastien LEFRANC - Continental

Marc PAJON - Groupe Renault

Caroline ROBERT-LANDRY - Groupe ZF
Practical Information
A 100% DIGITAL & LIVE EDITION
Our platform will allow you to:
Create your profile
Book the conference & demonstration sessions you'd like to attend
Select the exhibitors you want to exchange with
Schedule and manage your One-to-One business meetings
Connect to the platform remotely
Exchange in real-time with key experts & players from around the world
Experience the live conference and demo programs of your choice
Interact with speakers
You will have access to the platform on March 8th to prepare your participation, the sooner you register, the sooner you can create your agenda and network with other attendees.
Programme // new digital format
08:00
Opening of the platform // few tips for the attendees

Opening Plenary Session
09:45
Welcome Introduction
Frédéric CHARON, Chief Executive | Société des Ingénieurs de l'Automobile
09:50
Opening address by the SIA VISION Conference Chair
Hector FRATTY | Driving Vision News
09:55
KEYNOTE SPEECH
Marie GAUTIER-MELLERAY - Interministerial Delegate for Road Safety | French Government
10:10
KEYNOTE SPEECH
Christophe PERILLAT - Associate CEO | Valeo
Session 1 // Headlamp Technologies

Chairman: Paul-Henri MATHA | AB Volvo
10:30
How the expansion of lighting and the integration of sensors will change vehicles perception and near field communication
Benoit REISS & Benoist FLEURY | Valeo
10:50
High definition pixelated-LED-based headlamp modules: major challenges and state-of-the-art development methods
Reza LARIMIAN | ZKW Group
11:10
Dynamic Laser Matrix Beam, the headlamp concept of the new BMW 5 series
René ÜBLER | BMW
11:30
Freeform micro-optics for automotive applications
Benjamin WILLEKE | HELLA
11:50
RENAULT LED Front Lighting for Economic Vehicles
François BEDU | Groupe RENAULT
12:10
PANEL DISCUSSION // SESSION 1

12:40
Session 2 // ADB TECHNOLOGIES

Chairman: Christophe LE LIGNE | Valeo
14:00
Mockup and Demonstrator of a High Resolution Active Pixel-LED headlamp with 100k Pixel Performance
Stefan GROETSCH | OSRAM
14:20
PSA Group strategy for the integration of ADB headlamps and HD headlamps
Whilk GONCALVES | Stellantis
14:40
MEMS Laser Head Lamp
Yuto KANBE | Stanley Electric Co.

15:00
Detection rate of projected light signals by lighting condition and activation modes
Yuichi SHIBATA | Koito
15:20
PANEL DISCUSSION // SESSION 2

15:40
Round Table
16:10
Challenges, benefits and drawbacks of Sensors integration in the Headlamp & Front End
Moderator: Gilles LE CALVEZ | VALEO
Matthieu DABEK - ADAS Expert Research & Innovation Department | Stellantis
Joachim MATHES - CTO | Valeo
Paul-Henri MATHA - Technical leader Exterior lighting | AB Volvo
Andrea STELLA - VP Research and Development | Marelli Automotive Lighting

CLOSING SESSION DAY 1

Chairman: Hector FRATTY | SIA VISION Conference Chairman
16:55
Closing remarks Day 1 by the Conference Chairman
Hector FRATTY | Driving Vision News
17:05
END OF DAY 1 LECTURES // NETWORKING AFTERNOON

17 March 2021
18 March 2021
Registration
Rates are in €
French VAT of 20% excluded
PLEASE TAKE INTO CONSIDERATION OUR REGISTRATION TERMS & CONDITIONS
Registration fee includes participation in the conference, the book of abstracts, Proceedings and the PDF of the presentations.

If it is not possible to send the payment together with the registration form or to pay directly by credit card, please send an official

Purchase Order

. Failing reception of an official document or payment on the day of the congress, you will unfortunately not be allowed access to the conference.
After reception of the registration form, we will send you a confirmation message and an invoice. Please indicate your Invoicing address and/or Accounts Department address and VAT number for EU companies.
Cancellation Policy: please take into consideration our Registration Terms and Condition
Registered participants who are not able to attend may nominate a substitute. Written notice must be provided.
Exhibition & Visibility
vIRTUAL BOOTH PACKAGES
ASK FOR A DEMO! Contact martin.pierrelee@sia.fr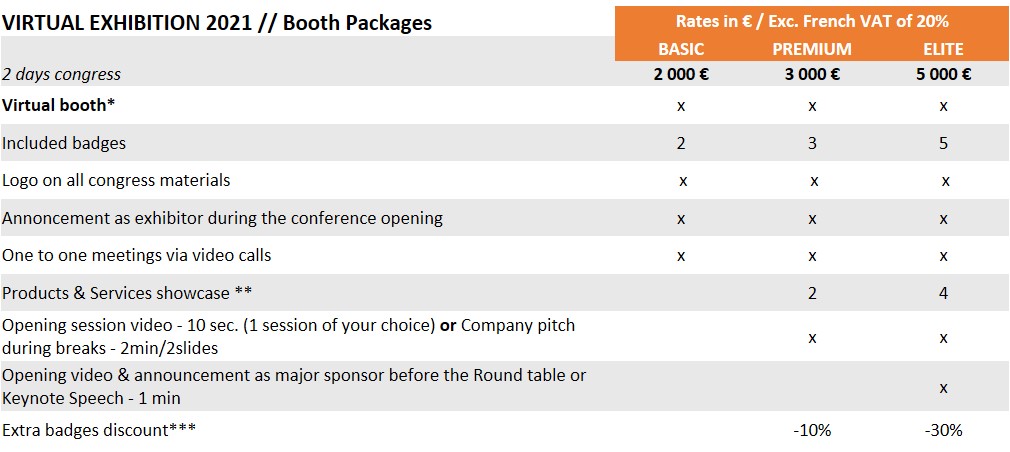 * Virtual Exhibitor Booths via the SwapCard platform

Features included:
Video banner: Both exhibitors and organizers can add a video as the banner of the exhibitor profile. The video can be live or pre-recorded.
Company details, information and social media accounts.
Meetings: Attendees can request meetings and video calls with the exhibitor page or directly with an exhibitor member.
Sessions: Exhibitors sponsoring or speaking in a session will have the sessions attached to their profile.
Documents: Exhibitors can add documents and links to their profile (pdf, doc, docx, ppt, pptx, png, jpg or external links) // 2 for BASIC - 3 for PREMIUM & 5 for ELITE
Team members: Attendees can see and contact the team members of each exhibitor company.
**Products & Services Showcase: the exhibitor profile page showcases & highlight the products and services the company offers and redirect to a special page
ADVERTISING & VISIBILITY OFFERS

>> TELECHARGEZ LES CGV EXPOSANTS 2020