International Congress :

SIA VISION 2018
9 & 10 October 2018
Cite des Sciences et de l'Industrie, Paris
Review of the Congress
This 2018 edition of the SIA VISION Congress has been a huge success!
More than 610 international Lighting and ADAS experts from 24 European, American and Asian countries, 29 vehicles equipped with the latest technological innovations for the Night Drive Tests at Mortefontaine UTAC-CERAM's tracks, 35 speakers who have come one another for great speeches at the Cité des Sciences and Industry of la Villette in Paris and all of which have created many discussions and business with 27 exhibitors.
Hector Fratty, Chairman of the VISION congress and organizer on behalf of Driving Simulation News and Hervé Gros, Executive Director of the SIA will take stock and draw a first assessment for the SIA review «Ingénieur de l'Automobile" to be published mid November 2018.
In the meantime, have a glimpse of the congress through some pictures.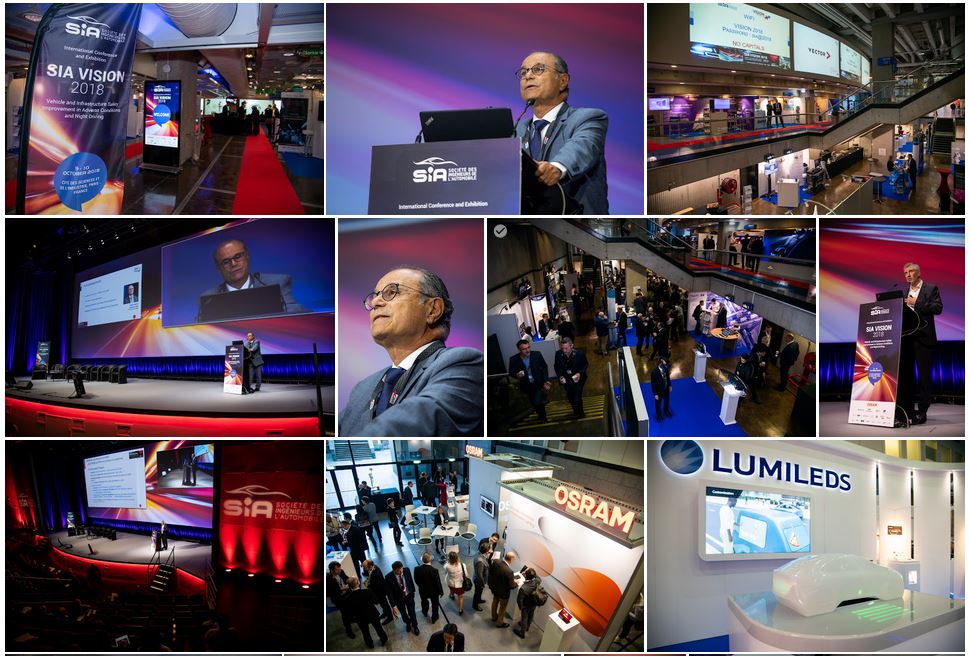 THANK YOU AND SEE YOU IN 2020 FOR THE NEXT EDITION OF SIA VISION!
Presentation

In the light of the growing success of the SIA VISION congresses, SIA (French Society of Automotive Engineers) have again host this event which was held on the 9 and 10 of October in La Cité des Sciences de la Villette, Paris.

SIA VISION is an International Congress created in 2002 and held on a biyearly basis and a unique platform for top-level scientists and engineers from universities, research centers and industries, represented by directors, managers, department leaders and experts.
It offers you a great networking opportunity with exchanges between all lighting/DA players around an exhibition covering a wide range of products and services in the field of lighting and detection systems for ADAS.

It is now a strongly growing event, with record participation this year of more than 610 attendees from all over the world and characterized by night drive tests at Mortefontaine private track.
The event has brought together the most relevant worldwide experts in the lighting and ADAS fields to address key topics for vision and road safety.
In addition, an exhibition and night drive tests with 30 prototype vehicles took place as to demonstrate many recent innovations in lighting and driver assistance systems.
We were very pleased to see so many of you in Paris in October either as a conference speaker, exhibitor or participant.
THANK YOU FOR JOINING US AND MAKE SIA VISION SUCH AN AMAZING EVENT FOR LIGHTING & ADAS COMMUNITIES!


COMMITTEES
Conference chair:

Hector FRATTY - Driving Vision News

Steering Committee

Vincent ABADIE - Groupe PSA

Molly BOISSIER - SIA
Jean-François DACQUAY - Renault
Laurent EVRARD - Valeo
Kamislav FADEL - Hella

Hervé GROS - SIA
Michael HAMM - Audi

Gilles LE CALVEZ - Vedecom
Vanessa PICRON - Valeo
Jean-Paul RAVIER - Consultant
Laurent SEREZAT - Groupe PSA
Dirk VANDERHAEGHEN - Lumileds





Scientific Committees

Lighting

Claus ALLGEIER – OSRAM

Christian AMANN - BMW
Gerd BAHNMÜLLER - Automotive Lighting
Jy BHARDWAJ - Lumileds
John BULLOUGH - Rensselaer Polytechnic Institute
Jean-Paul CHARRET - JPCONSULTING
Laurent EVRARD - Valeo
Kamislav FADEL - Hella
Hector FRATTY - Driving Vision News
Whilk GONCALVES - Groupe PSA

Wolfgang HUHN – Audi

Tran Quoc KHANH - TUD Darmstadt
Paul-Henri MATHA - Renault

Rainer NEUMANN – Varroc

Masaru SASAKI - Koito
Ralf SCHAEFER - RS Consult

Ingolf SCHNEIDER - Adam Opel

ADAS

Vincent ABADIE - Groupe PSA

Benoît BESNAULT - ZF
Franck CAZENAVE - Robert Bosch

Guillaume EURIN - Renault
Hector FRATTY - Driving Vision News
Philippe GOUGEON - Valeo

Gilles LE CALVEZ - Vedecom

Sébastien LEFRANC - Continental
Programme
07:30
Attendees Registration & Coffee in the Exhibition
Opening Plenary Session
08:20
Welcome Introduction
Jacques GRAIZON, President & Hervé GROS, Chief Executive | Société des Ingénieurs de l'Automobile
08:30
Opening address by the Conference Chair
Hector FRATTY | Drive Vision News
08:40
KEYNOTE
Jacques ASCHENBROICH, CEO/President | Valeo Group
General Topics

Chairman: Michael HAMM | Audi
09:00
Future Light Performance Requirements - Visibility, Comfort, Information
Rainer NEUMANN | Varroc Lighting Systems
09:20
Full Led headlamp gen3 : How Renault continues to reduce cost and increase performance?
Paul-Henri MATHA & Annie BLONDEL | Renault
09:40
Assistance System for Vehicle-Pedestrian-Interaction
Johannes RESCHKE & Stephan BERLITZ | AUDI
10:00
How Much Does Glare Affect Naturalistic Driving Crash Risk?
John D. BULLOUGH | Lighting Research Center, Rensselaer Polytechnic Institute
10:20
Research of LED Headlamp Module for Cost Innovation
Gil-won HAN, Emmanuel KUREK | HYUNDAI MOBIS
10:50
Coffee break IN THE EXHIBITION // DEMO-CARS SHOWCASE
SIGNAL TECHNOLOGY

Chairman: Jean-François DACQUAY | Groupe Renault
11:20
Influence of New Signal Lamps for Automated Vehicles on 0ther Road Users – Can Virtual Reality be Used to Investigate the Behaviour of Pedestrians?
Timo SINGER | TU Darmstadt
11:40
Merging Lighting & Sensing, a new path toward more automated vehicles
Benoit REISS & Joachim MATHES | Valeo

12:00
An OLED Tailight Revolution - From Point Light Sources to Area Light Sources
Michael KRUPPA | AUDI
12:30
LUNCH BREAK IN THE EXHIBITION // DEMO-CARS SHOWCASE
HEAD-LAMP TECHNOLOGY

Chairman: Kamislav FADEL | Hella
13:30
Invisible headlamps - micro lens array based front lighting
Benjamin WILLEKE | HELLA
13:50
Micro-optical Headlamp
Peter SCHREIBER | Fraunhofer IOF
14:10
Technological and physiological analysis of novel projection systems in automotive
Christopher BREMER | BMW
14:30
Illumination vs. Visualization in Headlamps: Way towards HD light source requirements
Stefan GRÖTSCH | OSRAM Opto Semiconductors
14:50
Active Moisture Condensation Removal Puts Headlamp Protection on a New Level
Hassan KOULOUH | AML Systems SE & Ulrike GEISSLER | W.L. GORE & Associates

15:20
COFFEE BREAK IN THE EXHIBITION // DEMO-CARS SHOWCASE
ADB

Chairman: Laurent EVRARD, Valeo
15:50
New Systems for Safety and Comfort Improvement by High Resolution Flexibility
Ernst-Olaf ROSENHAHN | Automotive Lighting Reutlingen
16:10
Optical Systems for HD Lighting: new paradigms and new methods
Pierre ALBOU & Marie PELLARIN | Valeo
16:30
Next generation high resolution headlamp in a Jaguar Land Rover with a ZKW development
Gerald BÖHM | ZKW Group
16:50
Trends in High Resolution Headlamps
Jeff FARRIS | Texas Instruments
17:10
Headlamp DMD-Technology with High Resolution on the Road
Ulrike SCHLÖDER | Automotive Lighting Reutlingen
17:40
END OF DAY 1
SOCIAL EVENT >> PLEASE SELECT YOUR ACTIVITY WHEN REGISTERING
NIGHT DRIVE TESTS AT MORTEFONTAINE
NIGHT IN PARIS - CRUISE ON THE CANAL
Exhibition & Sponsoring
A WARMLY THANKS FOR THE EXHIBITORS WHO MADE THE SUCCESS OF SIA VISION 2018 POSSIBLE!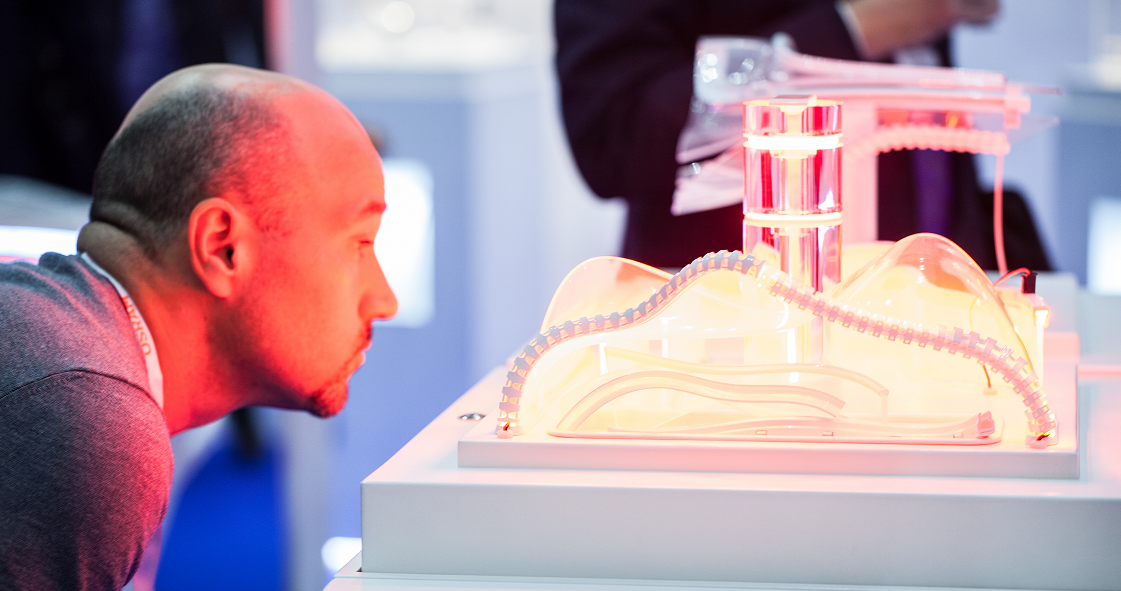 This unique event has brought together more than 610 participants: directors, managers, heads of department, engineers, researchers and technicians. An exceptional line-up of guests and speakers will be present for the occasion. The exhibition has allow companies to showcase their company, present their latest products and make privileged contacts at this unique gathering of targeted decision-makers.