International Congress :

SIA VISION **New format, more opportunities**
17 & 18 MARCH 2021
Digital Edition
New format, More Opportunities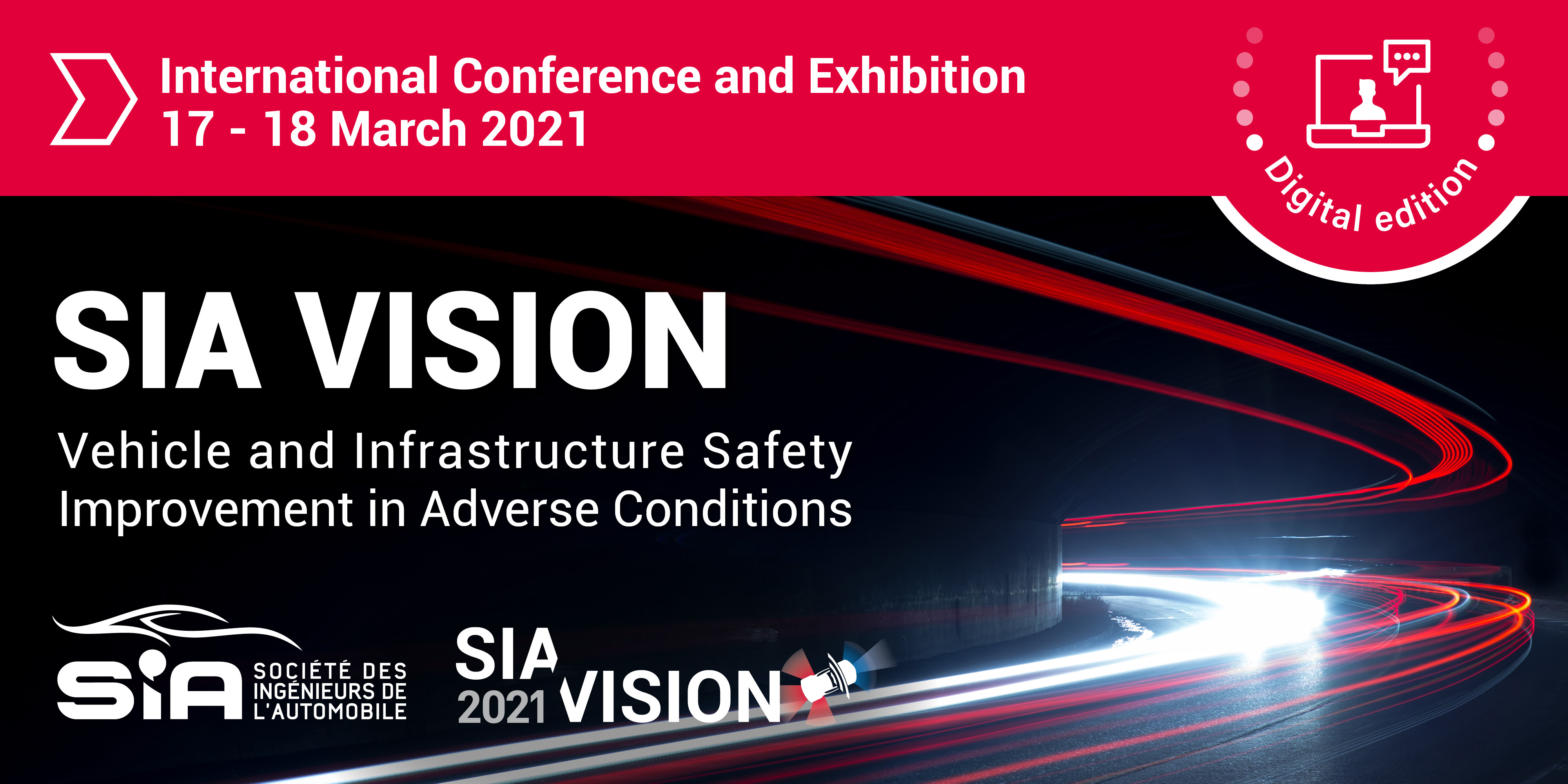 SIA VISION GOES DIGITAL!
We are very glad to announce you that we keep the 10th edition of our Lighting & ADAS conference up and running with a new format via the SIA x Swapcard Platform that offers great possibilities to learn, network, meet exhibitors, speakers and attendees via video calls and easy meetings.

We are more than confident in carrying our great Lighting & Adas event on March 17th & 18th, 2021 and we would like to reassure you of our total dedication to the realization of such an important congress for the experts' communities.
The 10th edition programme of SIA VISION will be adjusted to fit at the most all time zone - with parrallel lectures sessions and a special fare with a 50% discount, no travel arrangement needed, you will be able to follow us directly from your work or home!
The new version of the programme will be available soon.
Today, the SIA organisation team backed up by the Steering and Scientific Committees of SIA VISION want to ensure you that we take into great deal the importance of this congress for our scientific communities and that the digital tool we are using is well adjust to such an event with live sessions of Q&A, possibility to network, highlighting of our partners with a special area to inform you about the new products, services and test-drive videos.
---
---
Bearing in mind the Europe-wide challenges and R&D programmes relative to road safety, and in the light of the success of the first V.I.S.I.O.N. congress in September 2002, the SIA and its partners - vehicle and equipment manufacturers, research organisations and public authorities - have decided to organize the 10th edition of SIA VISION on 17 & 18 March, 2021 in Paris, France.
Considering the number and severity of accidents occurring at night and/or in poor weather conditions, it is now necessary to re-examine their causes and the possible ways of improving safety, with the support of the world's top authorities in the field.
The International SIA VISION Congress will also attempt to promote methods of bringing about significant reductions in the risks faced and to improve driver and pedestrian safety in such poor conditions.
This 10th Congress organised by the French Society of Automotive Engineers (SIA) will be held online and will bring together the major players in the fields affected by such problems.
We look forward to welcoming you on our special digital platform next March 2021 for a new edition of our great congress!
Yours sincerely,
Hector Fratty
Chairman of SIA VISION International Congress

COMMITTEES
Conference chair: Hector FRATTY - Driving Vision News

Organisation Committee

Molly BOISSIER - SIA

Luc BOURGEOIS - Groupe Renault

Gabriel CLEMENT - Groupe ZF

Matthieu DABEK - Groupe PSA

Jean-François DACQUAY - Groupe Renault

Whilk GONCALVES - Groupe PSA

Hervé GROS - SIA

Michael HAMM - Audi

Antoine LAFAY - Valeo
Gilles LE CALVEZ - Vedecom

Sébastien LEFRANC - Continental

Christophe LE LIGNE - Valeo

Paul-Henri MATHA - AB Volvo

Jean-Paul RAVIER - Consultant

Gérard YAHIAOUI - NEXYAD

Scientific Committee

Lighting

Claus ALLGEIER – OSRAM

François BEDU - Groupe Renault
John BULLOUGH - Rensselaer Polytechnic Institute
Jean-Paul CHARRET - JPConsulting
Hector FRATTY - Driving Vision News
Whilk GONCALVES - Groupe PSA

Wolfgang HUHN – Audi

Tran Quoc KHANH - TUD Darmstadt

Michael KLEINKES - Hella
Motohiro KOMATSU - Koito Manufacturing

Paul-Henri MATHA - AB Volvo

Rainer NEUMANN - Varroc Lighting Systems

Benoit REISS - Valeo

Ralf SCHAEFER - RS Consult

Ingolf SCHNEIDER - Adam Opel

Dirk VANDERHAEGHEN - Lumileds

Scientific Committee

ADAS

Benoît BESNAULT - Groupe ZF

Benazouz BRADAÏ - Valeo

Matthieu DABEK - Groupe PSA

Laurent DAZIN - Robert Bosch

Hector FRATTY - Driving Vision News

Gil GONCALVES - Michelin

Gilles LE CALVEZ - Vedecom

Sébastien LEFRANC - Continental

Marc PAJON - Groupe Renault

Caroline ROBERT-LANDRY - Groupe ZF
Programme // new digital format version available soon!
07:30
WELCOME COFFEE IN THE EXHIBITION
08:00
KEYNOTE SPEECH
Stéphane BUFFAT, Director | Le LAB

SIGNAL LAMP TECHNOLOGIES

Chairman: Jean-François DACQUAY | Groupe Renault
08:20
LED surfaces; a difficulty an opportunity
Carlos ELVIRA AVILA | SEAT
08:40
Research on the effect of road surface projection signal lighting on visibility improvement
Yuji TSUCHIYA | Honda
09:00
Floating light sculptures
Thorsten HORNUNG | ODELO
09:20
Behaviour of automated vehicles in critical situations with pedestrians - Accident prevention through additional light signals
Timo SINGER | TU Darmstadt
SYSTEM ADAS

Chairwoman: Caroline ROBERT-LANDRY | ZF Group
09:50
Remote sensing techniques to recognize road surface conditions for autonomous vehicles
Hongyi ZHANG | ELS Chair / ESTACA
10:10
Hybrid Multisensor Objects Fusion for Automated Vehicles
Thomas HEITZMANN | Valeo
10:30
Improving AEB detection capability using visible and Far-Infrared image tracking and fusion
Emmanuel BERCIER | Lynred
11:00
COFFEE BREACK IN THE EXHIBITION // DEMO-CARS
STYLING & SAFETY

Chairman: Jean-Paul RAVIER | Driving Vision News
11:30
Hip but Risky? New studies about the influence of small light emitting areas on headlamp glare
Christian SCHMIDT | Hella
11:50
Visionary technology for new possibilities in headlight styling
Gerald BOEHM | ZKW Group
12:10
How thin can a lighting module be VS. eye safety?
Arnaud PERROTIN | Valeo
12:30
A Study on New MLA Design Method for Headlamps
Hyunsoo LEE | Hyundai Mobis
13:00
LUNCH BREACK IN THE EXHIBITION // DEMO-CARS
RATING SYSTEM

Chairman: Tran Quoc KHANH | TUD Darmstadt
14:20
Headlamp Safety Performance Rating
Ernst-Olaf ROSENHAHN | Marelli Automotive Lighting
14:40
Fleet Performance Check with the New Headlamp Safety Performance Rating System
Michael HAMM | AUDI
15:00
Inclusion of distance-dependent detection contrasts in current and future headlamp rating systems
Anil ERKAN | TU Darmstadt
DEVELOPMENT & ARCHITECTURE

Chairman: Matthieu DABEK | Groupe PSA
15:30
The road to driving automation: potential integration of sensors in headlamps and impact on E/E architecture
Pierrick BOULAY | Yole Development
15:50
Automated validation toolchain for autonomous driving functions
Franck DESAULTY | ELEKTROBIT
16:10
Tackle challenges of automated driving development with versatile software tools
Nicolas DU LAC | Intempora
16:30
Real-time Multi Task Network based Object Detection, Semantic Segmentation and Soiling Detection for Automated Driving Applications
Flora DELLINGER | Valeo
17:00
CLosing Remarks by the Conference Chairman
Hector FRATTY | Driving Vision News
17:10
END OF THE SIA VISION CONGRESS 2020
17 March 2021
18 March 2021
Registration
Rates are in €
French VAT of 20% excluded
PLEASE TAKE INTO CONSIDERATION OUR REGISTRATION TERMS & CONDITIONS
Registration fee includes participation in the conference, abstracts book and proceedings.

If it is not possible to send the payment together with the registration form or to pay directly by credit card, please send an official

Purchase Order

. Failing reception of an official document or payment on the day of the congress, you will unfortunately not be allowed access to the conference.
After reception of the registration form, we will send you a confirmation message and an invoice. Please indicate your Invoicing address and/or Accounts Department address and VAT number for EU companies.
Cancellation Policy: please take into consideration our Registration Terms and Condition
Registered participants who are not able to attend may nominate a substitute. Written notice must be provided.
Exhibition & Visibility
vIRTUAL BOOTH PACKAGES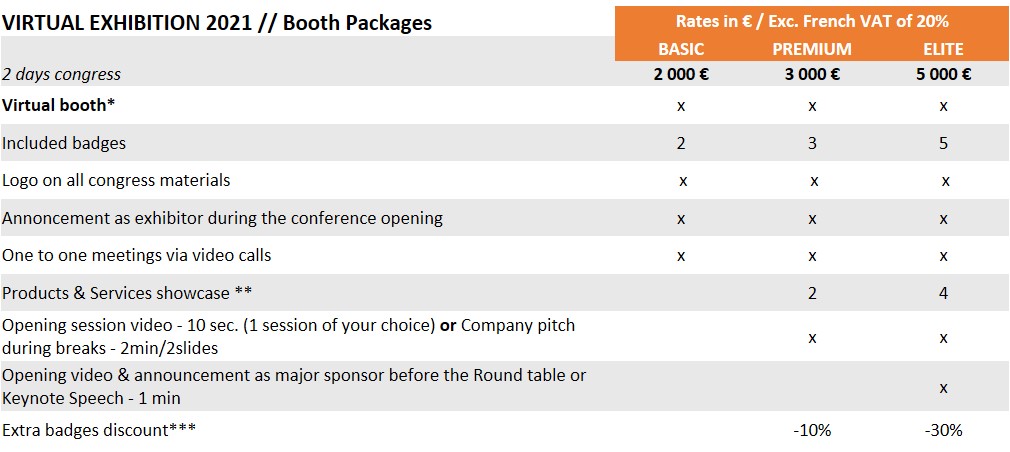 * Virtual Exhibitor Booths via the SwapCard platform

Features included:
Video banner: Both exhibitors and organizers can add a video as the banner of the exhibitor profile. The video can be live or pre-recorded.
Company details, information and social media accounts.
Meetings: Attendees can request meetings and video calls with the exhibitor page or directly with an exhibitor member.
Sessions: Exhibitors sponsoring or speaking in a session will have the sessions attached to their profile.
Documents: Exhibitors can add documents and links to their profile (pdf, doc, docx, ppt, pptx, png, jpg or external links) // 2 for BASIC - 3 for PREMIUM & 5 for ELITE
Team members: Attendees can see and contact the team members of each exhibitor company.
**Products & Services Showcase: the exhibitor profile page showcases & highlight the products and services the company offers and redirect to a special page
ADVERTISING & VISIBILITY OFFERS

>> TELECHARGEZ LES CGV EXPOSANTS 2020