International Congress :

NVH 2023

18-19 October 2023
Le Mans, France
Introduction

In a context ever growing number of questions concerning the next mobility, car manufacturers are facing many challenges with even more constraints and the enhanced need to deliver emotional products that make sense. And this has to be done while managing supply chain, lowering carbon footprint, dampening cost variation of raw materials, as we are going through health crisis, conflicts and climate change.
Let's look forward and imagine what should be the next steps for automotive NVH
The idea of a fully autonomous vehicle is by now embodied by various levels of automation, that are gradually changing the driving experience, and EV are not exactly perfectly quiet vehicles. This experience is at the focal points of many research and development, and within it, the "sonic journey" is taking more and more space.
Audio HMIs are more and more developed and must provide clear information with no cognitive overload and in coherence with the global acoustic balance and vibe. Audio systems are going to be used for other things than just playing music : Active sound design , active noise cancelling, along with enhanced telephony and superior audio, all within constrained physical space and available CPU and memory.
Energy management system in a hybrid electric vehicle is not going to set operating point of the powertrain accordingly to drivers needs only, as alien intelligence is working for optimized fuel economy. The powertrain NVH feedback of the driver need is therefore modified and must be done in a right way…welcome to the NVH of systems.
NVH engineering is shifting from noise control to life on board acoustic comfort enhancement, as sound perception in a car is one of the dominant emotional and sensorial experience.
And the questions raised in our last conference "automotive in soundscape" about the external noise impact are still the object of many similar efforts, from regulatory compliance to brand image sound signature and noise pollution control.
Come and join us for this next edition of the SIA NVH Conference where we will focus on four major axis :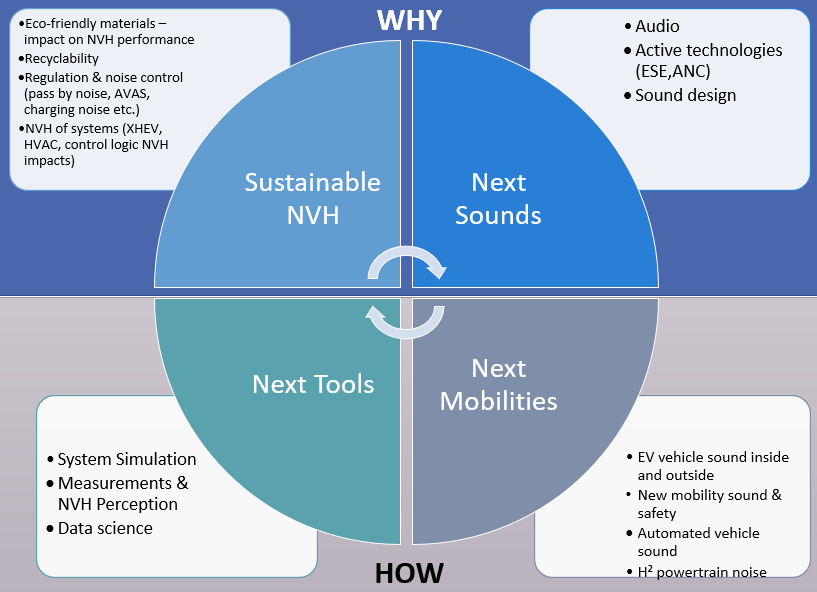 Program
08:30
Welcome coffee in the exhibition
OPENING PLENARY SESSION
09:00
Welcome / Intro
Hervé PICHON - CTTM, Luc MARBACH - SIA, Thomas ANTOINE - RENAULT GROUP

09:10
Keynote: Electrification impact on automotive design

Damien PIRANDA - STELLANTIS
09:45
Keynote: NVH in the digital audio era
Laurent GAGLIARDINI - ACOUSTICS IN THE LOOP
10:20
Keynote: New Electronic Architectures, what does that mean for the sound?

Cyril LAURY - FORVIA
10:55
Coffee Break and Networking in the exhibition
11:40
Keynote: Sound Quality Metrics using Psychoacoustic Standards
Rolland SOTTEK - HEAD ACOUSTICS
12:00
Exhibitors Presentation

2 mm - 2 slides / exhibitors
Next Sound
sustainable nvh

14:10

A Software Defined Audio Architecture applied to Noise Cancellation and Sound Design.

Lawrence IVIANI - BLACKBERRY QNX

14:10

Metrics and benchmark recommendations for HVAC airflow noises

Olivier CHERIAUX - VALEO
14:35

Active vibration control on a tire wheel assembly using sliding mode control and piezoelectric transducers


Antoine CARVALHO - INSA LYON

14:35

E-motor noise: topology optimization and damping optimization

Fabien MAUGAN - MMT
15:00

Active airborne noise control in off-road cabs

Michel BESOMBES - CETIM

15:00

Characterization and modelling of the radiation of automotive engine encapsulation materials

Alexandre WILKINSON - UTC
15:25

Real-time Synthesis in an NVH Simulator: Combine Live Powertrain Test Bench Data with TPA vehicle model

Marius DUTE - HEAD ACOUSTICS

15:25

Optimization of a silencer using Helmholtz resonator array under turbulent grazing flow

Rita MOUSSA - VALEO
15:50
Coffee Break and Networking in the exhibition
Next mobilities
Next tools

16:45

TE computation: comparison between MASTA and pure finite elements approach.

Alexandre RENAULT - VALEO

16:45

Advance simulation method for aero-acoustic vehicle design

Philippe MORDILLAT - RENAULT GROUP
17:10

Multiobjective and robust NVH optimization of automotive ePowertrain including gearbox and emotor excitations

Adrien PARPINEL - VIBRATEC

17:10

Evaluation of the impact of glazing on the acoustic comfort in cars submitted to aerodynamic excitations

Sylvain GERMES - SAINT-GOBAIN
17:35

Contribution of machine learning and deep learning to the inspection of automotive parts.

Charfeddine MECHRI - CTTM

17:35

Using simulation models for virtual road noise improvement, with combined TEST-CAE virtual vehicle assemblies

Markus BRANDSTETTER - SIEMENS
18:00

Tonal noise generated by Valeo eDrive electric powertrains: a methodology to keep it under control

Yannick LEFEBVRE - VALEO

18:00

Modular NVH development for road noise using complex power and component TPA

Eric PASMA - VIBES TECHNOLOGY
18:30
Cocktail in the exhibition
19:15
Registration
If you are a main speaker, an exhibitor or a chairman please register on our website.
For any other inscription, please download the PDF form below.
-------------