International Congress :

NVH 2023
18-19 October 2023
Le Mans, France
Introduction

In a context ever growing number of questions concerning the next mobility, car manufacturers are facing many challenges with even more constraints and the enhanced need to deliver emotional products that make sense. And this has to be done while managing supply chain, lowering carbon footprint, dampening cost variation of raw materials, as we are going through health crisis, conflicts and climate change.
Let's look forward and imagine what should be the next steps for automotive NVH
The idea of a fully autonomous vehicle is by now embodied by various levels of automation, that are gradually changing the driving experience, and EV are not exactly perfectly quiet vehicles. This experience is at the focal points of many research and development, and within it, the "sonic journey" is taking more and more space.
Audio HMIs are more and more developed and must provide clear information with no cognitive overload and in coherence with the global acoustic balance and vibe. Audio systems are going to be used for other things than just playing music : Active sound design , active noise cancelling, along with enhanced telephony and superior audio, all within constrained physical space and available CPU and memory.
Energy management system in a hybrid electric vehicle is not going to set operating point of the powertrain accordingly to drivers needs only, as alien intelligence is working for optimized fuel economy. The powertrain NVH feedback of the driver need is therefore modified and must be done in a right way…welcome to the NVH of systems.
NVH engineering is shifting from noise control to life on board acoustic comfort enhancement, as sound perception in a car is one of the dominant emotional and sensorial experience.
And the questions raised in our last conference "automotive in soundscape" about the external noise impact are still the object of many similar efforts, from regulatory compliance to brand image sound signature and noise pollution control.
Come and join us for this next edition of the SIA NVH Conference where we will focus on four major axis :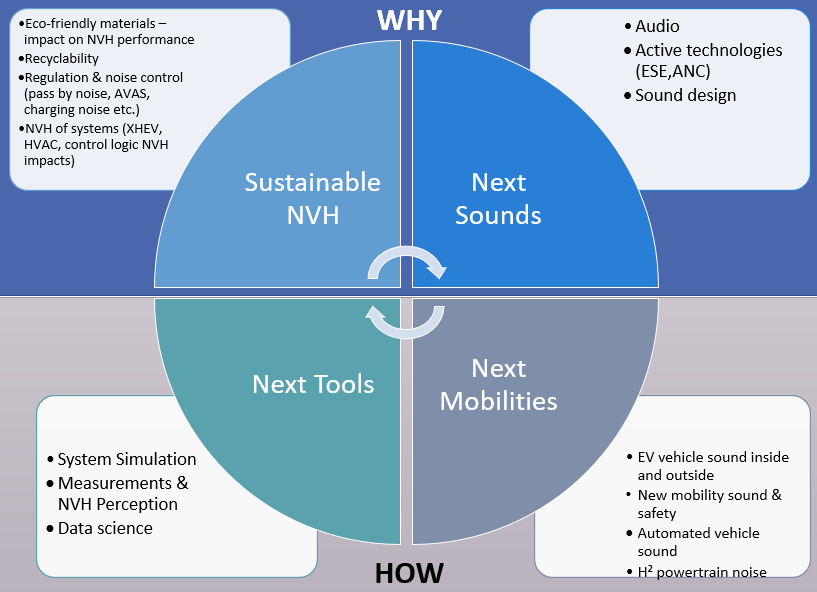 Program
Plenary
09:00
Keynote: ROAD NOISE POLLUTION; a Breakthrough approach
Thomas ANTOINE - RENAULT GROUP
09:20
Keynote Bruitparif

David BERNFELD - BRUITPARIF



09:40
10:00
Coffee Break and Networking in the exhibition
next sound
Sustainable nvh

10:30

Combining Ray Acoustics simulations and higher order ambisonics for immersive vehicle interior noise auralization

Eddie MUNSON - SIEMENS

10:30

Tire sound emission modelling and its impact on vehicle compliance to pass-by noise regulation

Yannick DENOUAL - RENAULT GROUP
10:55

Tailored sound design: simulations and biometric data for a better sound experience.

Antoine CHARON - SOUND TO SIGHT
Giorgio ADRIANO - VI-GRADE
Marco MANDOLFO - PHEEL LAB, de POLITECNICO MILANO


10:55

Holistic approach for the design of a sustainable sound package for tire noise

Johan GREBERT - AUTONEUM
11:20

Immersive smart trims design using linear inertial transducers for a better audio sound quality and easier vehicle integration

Arnaud DUVAL - TREVES

11:20

Sustainability applied in the domain of the transmissions

Eric RUMEAU - VALEO
11:45

Private sound zones created by actuator-based headrests

Philipp NEUBAUER - CONTINENTAL

11:45

Characterization and modeling of the elastic behavior of heterogeneous materials made of recycled foams

Fabien MARCHETTI - MATELYS
Next mobilities
Next tools

14:00

NVH assessment of new thermal embedded systems within the electrification trend

Saad BENNOUNA - VALEO

14:00

Hybrid method for characterization of NVH performance of axle system on test rig

Shanjin WANG - RENAULT GROUP
14:25

INTERIOR ROAD NOISE - A simplified source modeling approach

Christophe THEVENARD - RENAULT GROUP

14:25

Optimizing damping pad designing and positioning through frequency response mapping

Marcelo DONATTI GUBERT - AUTONEUM
14:50

Acoustic Stealth of Armoured Vehicles - Test, Modelling and Parametric Analysis

Akli KHELIFI - NEXTER SYSTEMS

14:50

The use of the irrotational intensity field to investigate the transmission paths of vibration energy

Frédéric BORNET - STELLANTIS
15:15

NVH integration of electric powertrains in tomorrow's mobilities

Stéphan MAGNE - VALEO

15:15

3D noise source reconstruction using the m-IPTF method: application on an E-Powertrain

Sandra FORGET - RENAULT GROUP
15:45
conclusion of the congress
Registration
If you are a main speaker, an exhibitor or a chairman please register on our website.
For any other inscription, please download the PDF form below.
-------------