International Congress :

SIA VISION 2018
9 & 10 October 2018
Cite des Sciences et de l'Industrie, Paris
Review of the Congress
This 2018 edition of the SIA VISION Congress has been a huge success!
More than 610 international Lighting and ADAS experts from 24 European, American and Asian countries, 29 vehicles equipped with the latest technological innovations for the Night Drive Tests at Mortefontaine UTAC-CERAM's tracks, 35 speakers who have come one another for great speeches at the Cité des Sciences and Industry of la Villette in Paris and all of which have created many discussions and business with 27 exhibitors.
Hector Fratty, Chairman of the VISION congress and organizer on behalf of Driving Simulation News and Hervé Gros, Executive Director of the SIA will take stock and draw a first assessment for the SIA review «Ingénieur de l'Automobile" to be published mid November 2018.
In the meantime, have a glimpse of the congress through some pictures.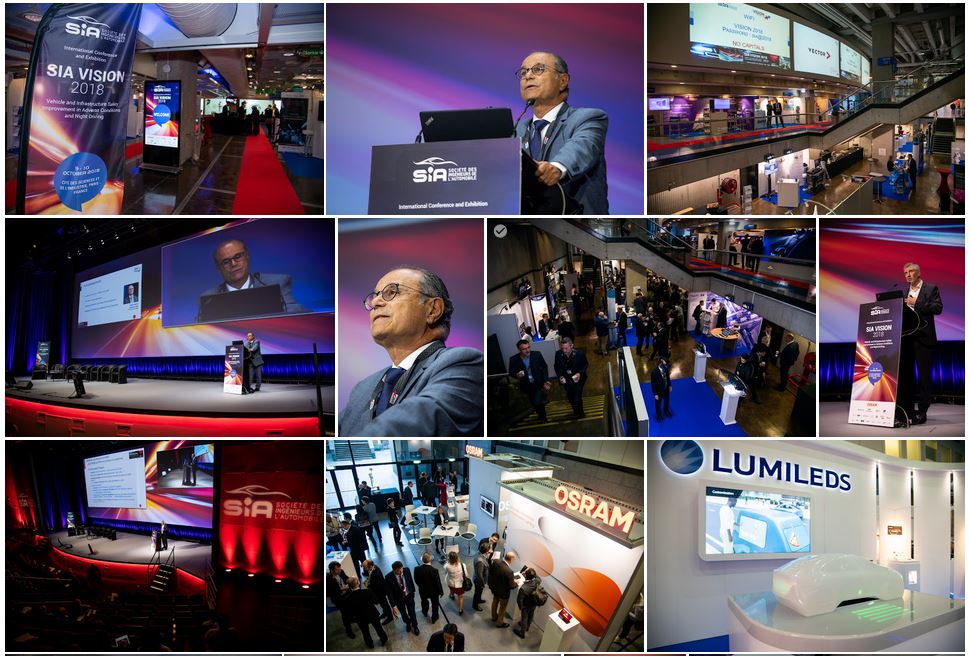 THANK YOU AND SEE YOU IN 2020 FOR THE NEXT EDITION OF SIA VISION!
Presentation

In the light of the growing success of the SIA VISION congresses, SIA (French Society of Automotive Engineers) have again host this event which was held on the 9 and 10 of October in La Cité des Sciences de la Villette, Paris.

SIA VISION is an International Congress created in 2002 and held on a biyearly basis and a unique platform for top-level scientists and engineers from universities, research centers and industries, represented by directors, managers, department leaders and experts.
It offers you a great networking opportunity with exchanges between all lighting/DA players around an exhibition covering a wide range of products and services in the field of lighting and detection systems for ADAS.

It is now a strongly growing event, with record participation this year of more than 610 attendees from all over the world and characterized by night drive tests at Mortefontaine private track.
The event has brought together the most relevant worldwide experts in the lighting and ADAS fields to address key topics for vision and road safety.
In addition, an exhibition and night drive tests with 30 prototype vehicles took place as to demonstrate many recent innovations in lighting and driver assistance systems.
We were very pleased to see so many of you in Paris in October either as a conference speaker, exhibitor or participant.
THANK YOU FOR JOINING US AND MAKE SIA VISION SUCH AN AMAZING EVENT FOR LIGHTING & ADAS COMMUNITIES!


COMMITTEES
Conference chair:

Hector FRATTY - Driving Vision News

Steering Committee

Vincent ABADIE - Groupe PSA

Molly BOISSIER - SIA
Jean-François DACQUAY - Renault
Laurent EVRARD - Valeo
Kamislav FADEL - Hella

Hervé GROS - SIA
Michael HAMM - Audi

Gilles LE CALVEZ - Vedecom
Vanessa PICRON - Valeo
Jean-Paul RAVIER - Consultant
Laurent SEREZAT - Groupe PSA
Dirk VANDERHAEGHEN - Lumileds





Scientific Committees

Lighting

Claus ALLGEIER – OSRAM

Christian AMANN - BMW
Gerd BAHNMÜLLER - Automotive Lighting
Jy BHARDWAJ - Lumileds
John BULLOUGH - Rensselaer Polytechnic Institute
Jean-Paul CHARRET - JPCONSULTING
Laurent EVRARD - Valeo
Kamislav FADEL - Hella
Hector FRATTY - Driving Vision News
Whilk GONCALVES - Groupe PSA

Wolfgang HUHN – Audi

Tran Quoc KHANH - TUD Darmstadt
Paul-Henri MATHA - Renault

Rainer NEUMANN – Varroc

Masaru SASAKI - Koito
Ralf SCHAEFER - RS Consult

Ingolf SCHNEIDER - Adam Opel

ADAS

Vincent ABADIE - Groupe PSA

Benoît BESNAULT - ZF
Franck CAZENAVE - Robert Bosch

Guillaume EURIN - Renault
Hector FRATTY - Driving Vision News
Philippe GOUGEON - Valeo

Gilles LE CALVEZ - Vedecom

Sébastien LEFRANC - Continental
Programme
07:30
Welcome Coffee in the exhibition
08:00
Keynote Speech
Vincent ABADIE | PSA & Marc PAJON | Renault
LASER AND HB LED

Chairman: Hitoshi NAKAGAKI | Nissan
08:30
LASER scanning lighting systems – optimization of contrast and further challenges
Philip STROOP | HELLA
08:50
New approaches for laser scanning headlamps
Marcel BURSY | L-LAB, Research institute for automotive lighting and mechatronics
09:10
Efficient usage of high current LEDs on ADB systems
Whilk GONCALVES | Groupe PSA
LIGHTING AND AV

Chairman: Gilles LE CALVEZ | VEDECOM
09:40
Quantitative Safety Evaluation for ADB Systems Using a Virtual Traffic Simulator
Tatsuma KITAZAWA | Koito Manufacturing
10:00
Advanced lighting functions with high-resolution road projection
Shéhérazade AZOUIGUI & Basile KHATIR | IOGS - ELS Chair
10:20
Lighting for Automated Driving: Functional application, regulatory requirements and their future opportunities
Helmut TIESLER-WITTIG | LUMILEDS
10:50
Coffee break IN THE EXHIBITION // DEMO-CARS SHOWCASE
VISION SYSTEMS

Chairman: Benoist BESNAULT | ZF
11:20
Camera Based Lost Cargo Detection for Automated Driving
Dieter KRÖKEL | Continental Corporation
11:40
Deep Multi Task Learning based Object Detection and Semantic Segmentation Network for Autonomous Driving applications
Isqabelle LEANG, Senthil YOGAMANI & Ganesh SISTU | Valeo
12:00
Far-Infrared thermal camera: an effortless solution to improve ADAS detection robustness
Emmanuel BERCIER | ULIS
12:20
Major steps towards vision processing for automated vehicles
Oliver SBANSKI | Robert Bosch
12:50
LUNCH BREAK IN THE EXHIBITION // DEMO-CARS SHOWCASE
OTHER TECHNOLOGIES & SIMULATION

Chairman: Matthieu DABEK | Groupe PSA
14:00
Addition of perturbances on ideal values of a target
Stéphanie AMBROISE | Renault
14:20
Simulation of Detection Performance by LiDAR Location in Automated Vehicles
Hiroto IKADAI, Misako KAMIYA | Koito Manufacturing
14:40
A breakthrough in Automotive Radar with Infineon Radar Signal Processing Unit
André ROGER | Infineon Technologies
15:00
Ensure Sensors Vision, a Challenge for Vehicles Automatization Safety
Frédéric GIRAUD |`Valeo Wipers Systems
15:20
3D mapping and localisation using high-resolution radar and lidar
Johan DEGERMAN | SafeRadar Research
15:50
ROUND TABLE "How Lighting can support ADAS?"
Moderator - Gilles LE CALVEZ | VEDECOM
Vincent ABADIE – Groupe PSA

Benoît BESNAULT – ZF

Laurent EVRARD - Valeo

Wolfgang HUHN – Audi

Michael KLEINKES – Hella

Joachim MATTES – Valeo

Marc PAJON – Renault
16:20
Closing Remarks by the Conference Chairman
Hector FRATTY | Driving Vision News
16:30
Exhibition & Sponsoring
A WARMLY THANKS FOR THE EXHIBITORS WHO MADE THE SUCCESS OF SIA VISION 2018 POSSIBLE!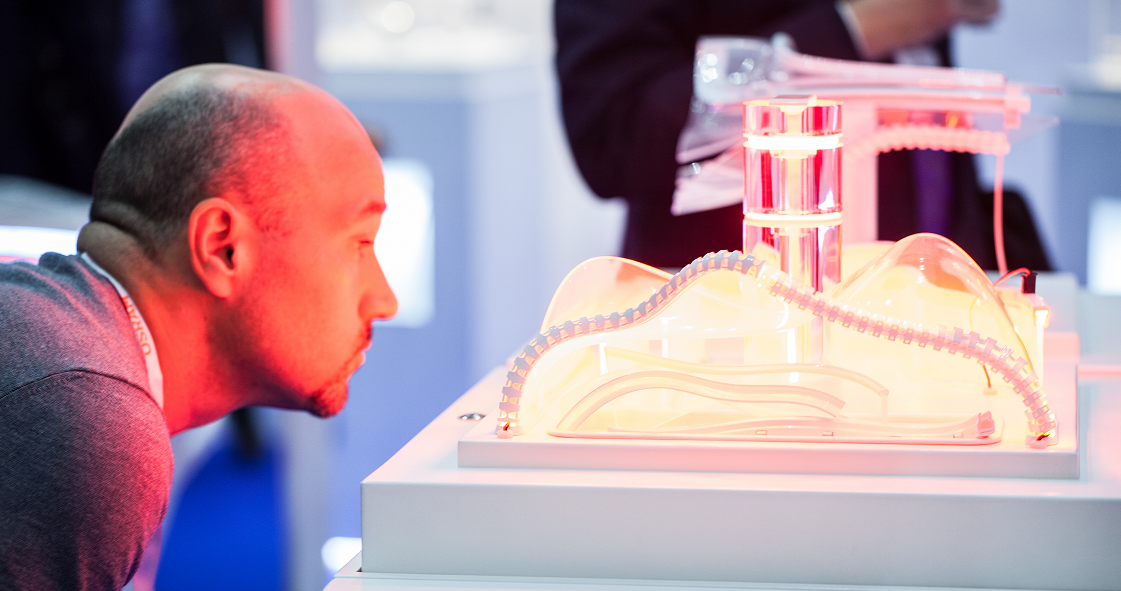 This unique event has brought together more than 610 participants: directors, managers, heads of department, engineers, researchers and technicians. An exceptional line-up of guests and speakers will be present for the occasion. The exhibition has allow companies to showcase their company, present their latest products and make privileged contacts at this unique gathering of targeted decision-makers.