International Congress :

SIA POWERTRAIN & POWER ELECTRONICS // Digital Edition 2021
9 & 10 June 2021
Digital Edition
SIA PWTE 2021 Congress is going digital!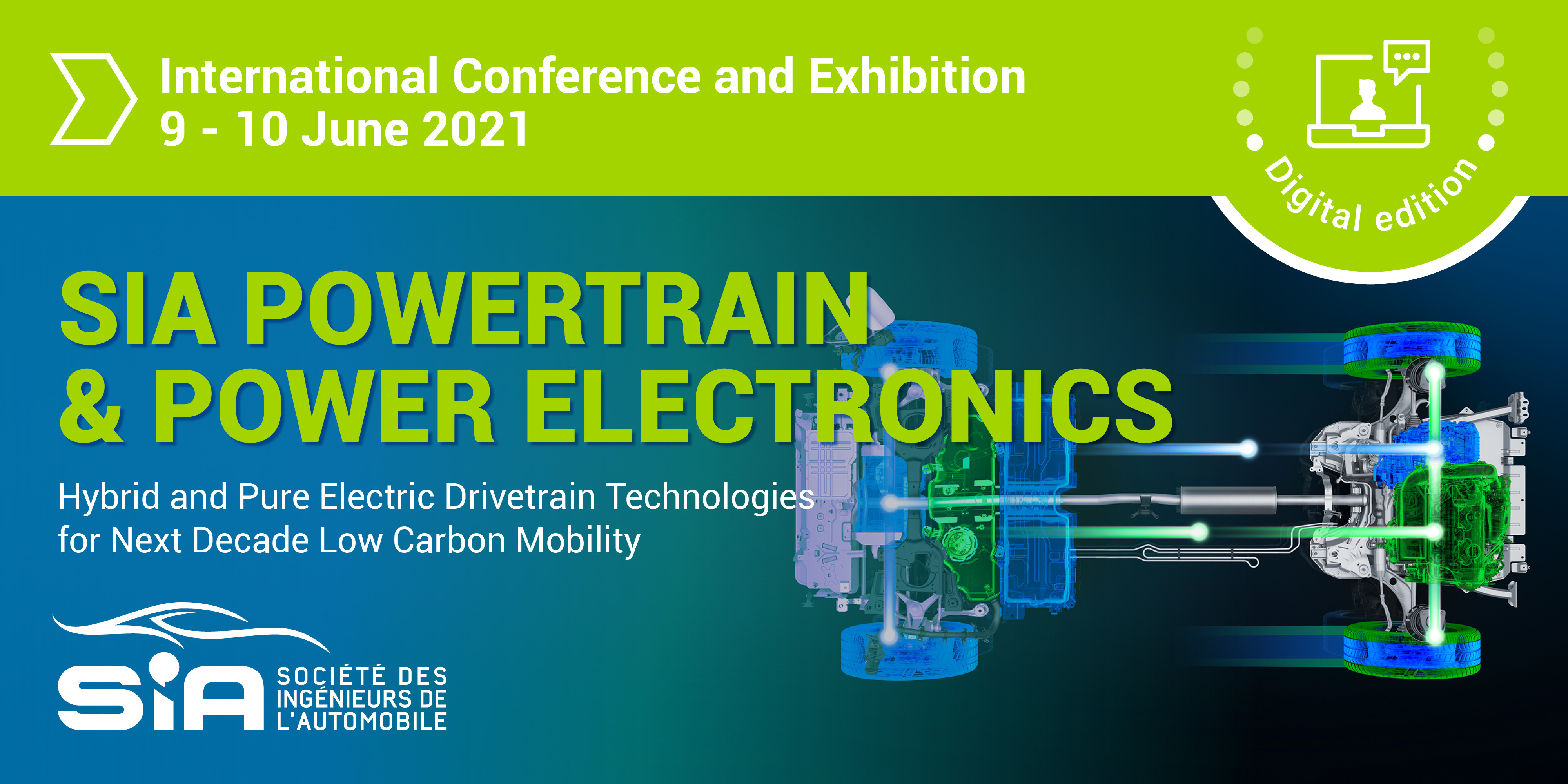 The SIA Powertrain Organising Committee and the SIA Automotive Power Electronics (APE) Organising Committee consolidate their successful cooperation to prepare next year SIA POWERTRAIN & POWER ELECTRONICS // Digital Edition 2021 conference.
SIA POWERTRAIN & POWER ELECTRONICS conference will address the full spectrum of electric and hybrid drivetrain technologies paving the way of mobility decarbonization.
Electrified Thermal Engine & Energy Recovery
Power Electronics & Electric Technologies
Electrified Propulsion Systems
Fuel Cell Systems
Along with drivetrain technologies, special focus will be put on two important emerging topics:
Life Cycle Assessment and Eco-responsible design covering entire product life cycle from emission, energy and resources viewpoint.
Electromobility ecosystem with charging infrastructure as a key factor for low and zero carbon technologies widespread.
Many collaborative initiatives in drivetrain research field are undertaken to support industry recovery. Our conference is aiming at being a forum for them and for Automotive and Electronics industry sectors joint initiative in particular.
The last edition of SIA POWER TRAIN & ELECTRONICS conference in Paris held on June 2019 was again a great success, with 770 participants from 17 countries.
2021 SIA POWER TRAIN & ELECTRONICS conference will be 100% digital for the first time. This will be a great opportunity to extend international participation and networking. The digital platform is aiming at reproducing as closely as possible the conditions of the live congress with live conferences, interaction with speakers, chat possibilities with experts and one-to-one virtual business meeting with exhibitors.
We look forward to welcoming you in virtual in June 2021!

Conference Chair

Frédéric DUBOIS
Advanced Powertrain & Energy - ICE & Transmission manager // Stellantis

Denis GRIOT
Chairman Emeritus Freescale EMEA

Philippe SCHULZ
Advanced Powertrain Engineering VP // Groupe RENAULT
COMMITTEES
CONFERENCE Chair

Frédéric DUBOIS, Stellantis

Denis GRIOT, Freescale EMEA

Philippe SCHULZ, GROUPE RENAULT

Steering committee

Philippe BERNET, SIA PWTE 2021 General Secretary

Christophe CALLENS, Valeo

Nourredine GUERRASSI, BorgWarner

Emmanuel JEAN, Faurecia
Jochen LANGHEIM, STMicroelectronics
Bertrand LARGY, SIA Experts' Community EVEE

Gaëtan MONNIER, IFPEN
Joël OP DE BEECK, Plastic Omnium

ORGANISATION committee

Nadim ANDRAOS, FEV

Molly BOISSIER, SIA

Jean-Marc BOULARD, AVL

Pierre DURET, IFP School

Omar HADDED, Drive System Design

Dominique MARTINEAU, Vitesco Technologies

Geoffroy MARTIN, Mov'eo

Jean-Michel MORELLE, Valeo

Sébastien POTTEAU, Emitech

Ralph SALIBA, IAV

Rémy SCHMITT, Robert Bosch

Scientific COMMITTEE

Session 1. Electrified Thermal Engine Technologies

Chairman - Gaëtan Monnier, IFPEN
Philippe DE ARAUJO, Garrett Advancing Motion
Frédéric DUBOIS, Stellantis

Victor GASTE, AVL
André JARASSE, GROUPE RENAULT
Ali MOHAMMADI, Toyota Motor
Virginie MOREL, ARAMCO

Joël OP DE BEEK, Plastic Omnium
Daniel ROETTGER, Ford
Marc SENS, IAV
Philippe SOUHAITE, Stellantis
Matthias THEWES, FEV


Session 2. Electric Machines & Power Electronics

Chairman - Jochen Langheim, STMicroelectronics
Olivier COPPIN, Faurecia
Manuel GÄRTNER, STMicroelectronics
Eric GIMET, Stellantis
Denis GRIOT, Freescale EMEA
Kimimori HAMADA, APE Japan
Thomas HARDER, ECPE
Gilles LE CALVEZ, Valeo
Petra MÖNIUS, Vitesco Technologies
Jean-Michel MORELLE, Valeo
Mark MUNZER, Infineon
Sophie PERSONNAZ, Valeo
Olivier PLOIX, GROUPE RENAULT
Olivier POLA, Vitesco Technologies

Session 3. Electrified Propulsion Systems

Chairman -Christophe Callens, Valeo
Clément DUMAND, Stellantis

Pierre GAUDILLAT, AVL
Denis LEVASSEUR, GROUPE RENAULT
Dominique MARTINEAU, Vitesco Technologies
Jean-Philippe MERCIER, GROUPE RENAULT
Steffen MEYER, BorgWarner
Jérôme MORTAL, Valeo

Luc MÜLLER, Schaeffler
Sébastien POTTEAU, Emitech
Yannick RAYNAUD, Plastic Omnium
Cédric ROUAUD, Ricardo
Erwann SAMSON, Stellantis


Session 4. Electric Mobility Ecosystem

Chairman - Bertrand LARGY, SIA CE EVEE

Thierry BRINCOURT, EDF

Nicolas LECLERE, Stellantis
Pascal MALAVERGNE, GROUPE RENAULT

Masato ORIGUCHI, GROUPE RENAULT

Olivier PATURET, Charing - Ionity


Session 5. Eco-Responsible Design

Chairman - Emmanuel JEAN, Faurecia
Philippe CHINA, Total
Catherine GIRARD, GROUPE RENAULT
Vincent HEURTIER, IAV
Marc LEJEUNE, Volvo
Hans NUGLISCH, Vitesco Technologies
Sophie RICHET, Stellantis
Vincent ROSENSTIEHL, AVL
Rémy SCHMITT, Robert Bosch
Cyprien TERNEL, IFPEN

Jules-Joseph VAN SCHAFTINGEN, Plastic Omnium
Why you should attend SIA PWTE 2021?
Philippe BERNET - Save the Date for SIA PWTE 2021
Philippe SCHULZ - The place to be to have a full review of the latest developments on the Electrification technologies
Only SIA members can watch this video.
Please sign in before watching.
PRACTICAL INFORMATION
A 100% DIGITAL & LIVE EDITION
Our platform will allow you to:
Create your profile
Book the conference & demonstration sessions you'd like to attend
Select the exhibitors you want to exchange with
Schedule and manage your One-to-One business meetings
Connect to the platform remotely
Exchange in real-time with key experts & players from around the world
Experience the live conference and demo programs of your choice
Interact with speakers
You will have access to the platform on May 31ST to prepare your participation, the sooner you register, the sooner you can create your agenda and network with other attendees.
Programme
OPENING OF THE CONGRESS
08:00
Day 1 // few tips from SIA team on the digital platform
08:15
Welcome Introduction
Frédéric CHARON, Chief Executive | Société des Ingénieurs de l'Automobile
08:20
Opening address by Conference Chairmen
Frédéric DUBOIS | Stellantis

Denis GRIOT | Freescale EMEA
Philippe SCHULZ | Groupe Renault
INTRODUCTIVE PANEL DISCUSSION

Chairman: Philippe BERNET | SIA PWTE 2021 General Secretary
08:30
KEYNOTE #1
Powertrain mix of light duty vehicles in Europe from 2020 to 2040
Stephen MARVIN, R&D Director | PFA
09:00
THEMATIC PANEL SESSION
Electrification targets for 2030 : How industry and mobility ecosystem will address them?
Moderator: Stephen MARVIN - PFA
Matthias BRENDEL, SVP Electrification | AVL
Stéphane FREGOSI, CEO | Vitesco Technologies France
Luc HOVAN, VP Operational Excellence | NorthVolt
Matthias JANZEN, Head of Global Sales Automotive | Semikron Power Electronics

Philippe MONTANTEME, SVP Strategy Marketing Research | Total
10:15
BREAK // VIRTUAL NETWORKING
Session 1.1 - Electrified Thermal Engines Technologies // Emission next challenges

Chairmen: Victor GASTE | AVL & Denis LEVASSEUR | Groupe RENAULT

Session 2.1 - Electric Machines & Power Electronics // Power Electronics System Design

Chairmen: Olivier POLA | Vitesco & Thomas HARDER | ECPE

Session 3.1 - Electrified Propulsion Systems // Electrified Drivetrains

Chairmen: Christophe CALLENS | Valeo & Dominique MARTINEAU | Vitesco

Session 4.1 - Electric & Hydrogen mobility // Hydrogen & Fuel Cells

Chairmen: Olivier COPPIN | Faurecia & Christian MAUGY | Stellantis

11:30

Electrical heated catalyst product and system: the answer for hybrid gasoline clean engine

Mathieu CAPIRCHIA | FAURECIA Clean Mobility

11:30

Power Electronics 2026 - Wide Band Gap Semiconductors - Implementation / Impacts

Olivier PLOIX | Groupe RENAULT

11:30

No System Engineering? No electric drivetrain!

Moctar COULIBALY | Valeo Siemens eAutomotive


11:30

Driving profile influence on fuel cell range extender vehicle performance and global warming impact

Ricardo NOVELLA | Universitat Politècnica de València, CMT - Motores Térmicos
12:00

Impact of Different Hybrid-Electric Architectures on CO2 and NOX Emissions of a Diesel-Powered LCV: a Simulation Study

Emanuele SERVETTO | POWERTECH

12:00

Power GaN FET technology in high power applications including traction Inverters

Dilder CHOWDHURY | NEXPERIA

12:00

PlugIn for all – Cost efficiency for PHEV powertrain based on dedicated hybrid transmission

Kiarash SABZEWARI | Vitesco Technologies

12:00

Thermal Management of Fuel Cells for Medium and Heavy Duty Architectures

Christian MOESER | SCHAEFFLER
12:30

Integration of an Electrically Heated Catalyst in a 48V System: Technologies, Impact and System Balancing

Damien VERDIER | Vitesco Technologies

12:30

Compact GaN Charger with Wide Output Voltage Range for the Universal Usage in Electrical Vehicle with Battery Voltages from 200 to 1000 V

Cornelius ARMBRUSTER | Fraunhofer ISE

12:30

P4 Systems an alternative to AWD Mechanical Systems?

Pierre CHOLVY | Valeo

12:30

Fuel Cell Behavior and Energy Balance onboard a Hyundai Nexo

Jules SERY | IFPEN
13:00
LUNCH BREAK // VIRTUAL NETWORKING
Session 1.2 - Electrified Thermal Engines Technologies // Lubrification & System Management

Chairmen: Daniel ROETTGER | Ford & Ali MOHAMMADI | Toyota

Session 2.2 - Electric Machines & Power Electronics // Wide Band Gap Applications

Chairmen: Manuel GÄRTNER | STMicroelectronics & Mark MÜNZER | Infineon

Session 3.2 - Electrified Propulsion Systems // New Mobility

Chairmen: Jérôme MORTAL | Valeo & Cédric ROUAUD | Ricardo

Session 4.2 - Electric & Hydrogen mobility // Electric Mobility Ecosystem

Chairman: Bertrand LARGY | SIA CE VEEE

14:30

In-cylinder pressure sensor (ICPS) a powerfull approach to lower CO2 emissions for gasoline and hybrid engines

Bertrand VAROQUIE | Vitesco Technologies

14:30

Enhancing SiC Trench MOSFET performance by advanced gate control

Martin GLEICH | INFINEON Technologies

14:30

e-Drive 48V concept for Urban Mobility

Guillem ENJALBERT | Valeo

14:30

Smart Grid, necessary support and opportunities for the massive electrification of automotive industry

Damien-Pierre SAINFLOU | Stellantis
15:00

Impact of Lubricating oil on Particle Emissions

Marcus GOHL | APL Group

15:00

Robust PowerGaN devices for high performance dc-dc and OBC converters

Eric MOREAU | EXAGAN-ST

15:00

The era of 'skateboard' EV platforms : energy storage modularity addressing various use cases and driver profiles

Joël OP DE BEECK | Plastic Omnium

15:00

Charging infrastructures modelling, using long distance trip database

Hugo BASSET | EP Tender
15:30

Optimal ICE operation and independent EV mode : how the fuel system contributes to the overall xHEV powertrain efficiency in a world of geofencing, OBFCM, RDE

Yannick RAYNAUD | Plastic Omnium

15:30

Thermally optimized High Speed Drive Inverter Design using Surface Mount Silicon Carbide Devices

Niklas LANGMAACK | TU Braunschweig, IMAB

15:30

Cross-platform electric powertrain optimisation for developing modular product families

Bence FALVY | Drive System Design

15:30

E-Vehicle and Charging Station – Charging station: Charge and energy control

Eric SEMA | Vector
16:00
BREAK // VIRTUAL NETWORKING
PANEL DISCUSSION

Chairman: Philippe BERNET | SIA PWTE 2021 General Secretary
17:00
EXECUTIVE PANEL SESSION
Moderator: Frédéric CHARON | SIA
Michel FORISSIER, Chief Engineering & Marketing Officer | Valeo
Martin KRUEGER, SVP Engineering Market Segment Passenger Cars | Robert Bosch
Alain RAPOSO, ECP Powertrain Tecnologies Unit | HYUNDAI
Thierry TINGAUD, CEO France | STMicroelectronics
Yann VINCENT, CEO | ACC
18:30
End of 1st day // Attendees can stay logged in for virtual networking
Registration
Rates are in €
French VAT of 20% excluded
PLEASE TAKE INTO CONSIDERATION OUR REGISTRATION TERMS & CONDITIONS
Registration fee includes participation in the digital conference, abstracts book and proceedings (PDF format)
If it is not possible to send the payment together with the registration form or to pay directly by credit card, please send an official

Purchase Order

. Failing reception of an official document or payment on the day of the congress, you will unfortunately not be allowed access to the conference.
After reception of the registration form, we will send you a confirmation message and an invoice. Please indicate your Invoicing address and/or Accounts Department address and VAT number for EU companies.
Cancellation Policy: please take into consideration our Registration Terms and Condition above

Registered participants who are not able to attend may nominate a substitute. Written notice must be provided.
Exhibition & Visibility
PRE-BOOK YOUR virtual BOOTH AS SOON AS POSSIBLE in order to get the mosT of the SIA x SWAPCARD digital platform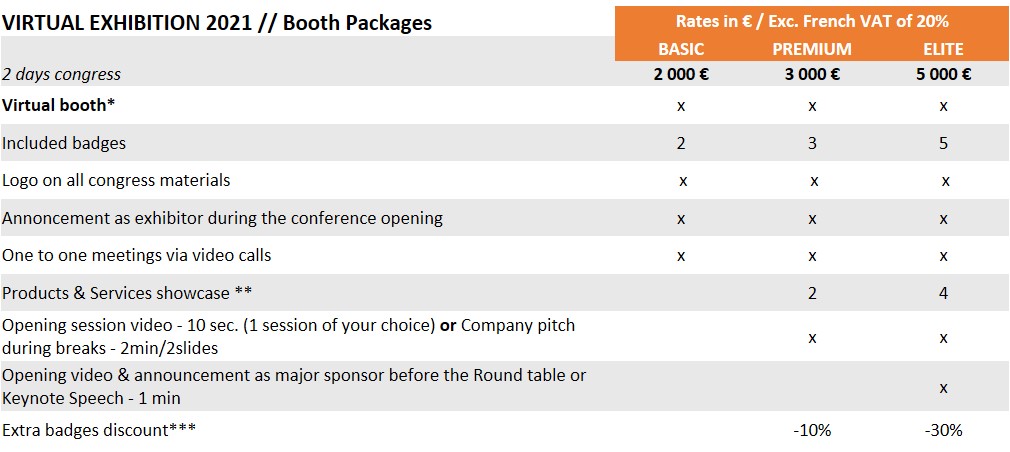 * Virtual Exhibitor Booths via the SwapCard platform

Features included:
Video banner: Both exhibitors and organizers can add a video as the banner of the exhibitor profile. The video can be live or pre-recorded.
Company details, information and social media accounts.
Meetings: Attendees can request meetings and video calls with the exhibitor page or directly with an exhibitor member.
Sessions: Exhibitors sponsoring or speaking in a session will have the sessions attached to their profile.
Documents: Exhibitors can add documents and links to their profile (pdf, doc, docx, ppt, pptx, png, jpg or external links) // 2 for BASIC - 3 for PREMIUM & 5 for ELITE
Team members: Attendees can see and contact the team members of each exhibitor company.
**Products & Services Showcase: the exhibitor profile page showcases & highlight the products and services the company offers and redirect to a special page
ADVERTISING & VISIBILITY OFFERS

>> TELECHARGEZ LES CGV EXPOSANTS 2020