International Congress :

SIA POWER TRAIN & ELECTRONICS // Paris 2021
9 & 10 June 2021
Les Pyramides // Port-Marly - France
Save the Date

The SIA Powertrain Organising Committee and the SIA Automotive Power Electronics (APE) Organising Committee consolidate their successful cooperation to prepare next year SIA POWER TRAIN & ELECTRONICS // Paris 2021 conference.
SIA POWER TRAIN & ELECTRONICS conference will address the full spectrum of electric and hybrid drivetrain technologies paving the way of mobility decarbonization.
Along with drivetrain technologies, special focus will be put on two important topics:
Electromobility ecosystem including charging infrastructure as a key factor for low and zero carbon technologies widespread.
Eco-responsible design covering entire product life cycle from emission, energy and resources viewpoint.
Many collaborative initiatives in drivetrain research field are undertaken to support industry recovery. Our conference is aiming at being a forum for them and for Automotive and Electronics industry sectors joint initiative in particular.
THE 2021 SIA POWER TRAIN & ELECTRONICS CONFERENCE IN PARIS, WILL ADDRESS THE COMPLETE POWERTRAIN TECHNOLOGY SPECTRUM OF ELECTRIC AND HYBRID DRIVETRAIN TECHNOLOGIES:
Electrified Thermal Engine & Energy Recovery
Power Electronics & Electric Technologies
Electrified Propulsion Systems
Electric Mobility Ecosystem
Eco-Responsible Design
The last edition of SIA POWER TRAIN & ELECTRONICS conference in Paris held on June 2019 was again a great success, with 770 participants from 17 countries, 63 scientific and technical presentations, 2 panel sessions on energy and with top-level representatives of OEMs and Tier1 companies.
Finally, on behalf of the Organizing Committee, we would like to invite all the powertrain engineering and scientific communities to submit abstracts on any of the related conference topics, the Call for Papers will be available soon.
We look forward to welcoming you in Port Marly on June 2021!

Conference Chair

Frédéric DUBOIS
Advanced Powertrain & Energy - ICE & Transmission manager // Groupe PSA

Denis GRIOT
Chairman Emeritus Freescale EMEA

Philippe SCHULZ
Advanced Powertrain Engineering VP // Groupe RENAULT
COMMITTEES
CONFERENCE Chair

Frédéric DUBOIS, Groupe PSA

Denis GRIOT, Freescale EMEA

Philippe SCHULZ, Groupe Renault

Steering committee

Philippe BERNET, SIA PWTE 2021 General Secretary

Christophe CALLENS, Valeo

Hervé GROS, SIA

Nourredine GUERRASSI, Delphi Technologies

Emmanuel JEAN, Faurecia
Jochen LANGHEIM, STMicroelectronics
Bertrand LARGY, SIA Experts' Community EV

Gaëtan MONNIER, IFPEN
Joël OP DE BEECK, Plastic Omnium

ORGANISATION committee

Nadim ANDRAOS, FEV

Molly BOISSIER, SIA

Jean-Marc BOULARD, AVL

Pierre DURET, IFP School

Omar HADDED, Drive System Design

Olivier IMBERDIS, IAV

Dominique MARTINEAU, Vitesco

Geoffroy MARTIN, Mov'eo

Jean-Michel MORELLE, Valeo

Sébastien POTTEAU, Emitech

Rémy SCHMITT, Robert Bosch

Scientific COMMITTEE

Session 1. Electrified Thermal Engine Technologies

Chairman - Gaëtan Monnier, IFPEN
Philippe DE ARAUJO, Garrett Advancing Motion
Frédéric DUBOIS, Groupe PSA
André JARASSE, Groupe Renault
Ali MOHAMMADI, Toyota Motor
Virginie MOREL, ARAMCO
Luc MÜLLER, Schaeffler
Daniel ROETTGER, Ford
Johannes SCHARF, FEV
Marc SENS, IAV
Philippe SOUHAITE, Groupe PSA
Jules-Joseph VAN SCHAFTINGEN, Plastic Omnium


Session 2. Electric Technologies & Power Electronics

Chairman - Jochen Langheim, STMicroelectronics
Olivier COPPIN, Faurecia
Manuel GÄRTNER, STMicroelectronics
Eric GIMET, Groupe PSA
Denis GRIOT, Freescale EMEA
Kimimori HAMADA, Toyota / APE Japan
Thomas HARDER, ECPE
Gilles LE CALVEZ, VEDECOM
Petra MÖNIUS, Vitesco Technologies
Jean-Michel MORELLE, Valeo
Mark MUNZER, Infineon
Sophie PERSONNAZ, Valeo
Olivier PLOIX, Groupe Renault
Olivier POLA, Vitesco Technologies

Session 3. Electrified Propulsion Systems

Chairman -Christophe Callens, Valeo
Jean-Marc BOULARD, AVL
Clément DUMAND, Groupe PSA
Denis LEVASSEUR, Groupe Renault
Dominique MARTINEAU, Vitesco Technologies
Jean-Philippe MERCIER, Groupe Renault
Steffen MEYER, BorgWarner
Jéeôme MORTAL, Valeo
Sébastien POTTEAU, Emitech
Yannick RAYNAUD, Plastic Omnium
Cédric ROUAUD, Ricardo
Erwann SAMSON, Groupe PSA
Marc SENS, IAV


Session 4. Electric Mobility Ecosystem

Chairman - Bertrand Largy, SIA CE VEEE
Nicolas LECLERE, Groupe PSA
Pascal MALAVERGNE, Groupe Renault
TBD, Total ou Saft
TBD, Northvolt
TBD, Ionity
TBD, EDF


Session 5. Eco-Responsible Design

Chairman - Emmanuel Jean, Faurecia
Philippe CHINA, Total
Catherine GIRARD, Groupe Renault
Vincent HEURTIER, IAV
Marc LEJEUNE, Volvo
Hans NUGLISCH, Vitesco Technologies
Joël OP DE BEEK, Plastic Omnium
Sophie RICHET, Groupe PSA
Vincent ROSENTHIEL, AVL
Rémy SCHMITT, Robert Bosch
Cyprien TERNEL, IFPEN
Exhibition & Visibility
THE FLOOR MAP WILL BE AVALAIBLE IN SEPTEMBER...
PRE-BOOK YOUR BOOTH AS SOON AS POSSIBLE!
We are glad in 2021 to be back at the Pyramides Event Center in the South of Paris.
Following the huge success of the 2019 edition which gather 52 exhibiting companies, we have decided to open the exhibition floor map to the entire event center and we are currently working on tha best floor map.
Send us your Pre-Order so we could save you the best spots.
Seize this opportunity & maximise your visibility by becoming an exhibitor!
EXHIBITION PACKAGES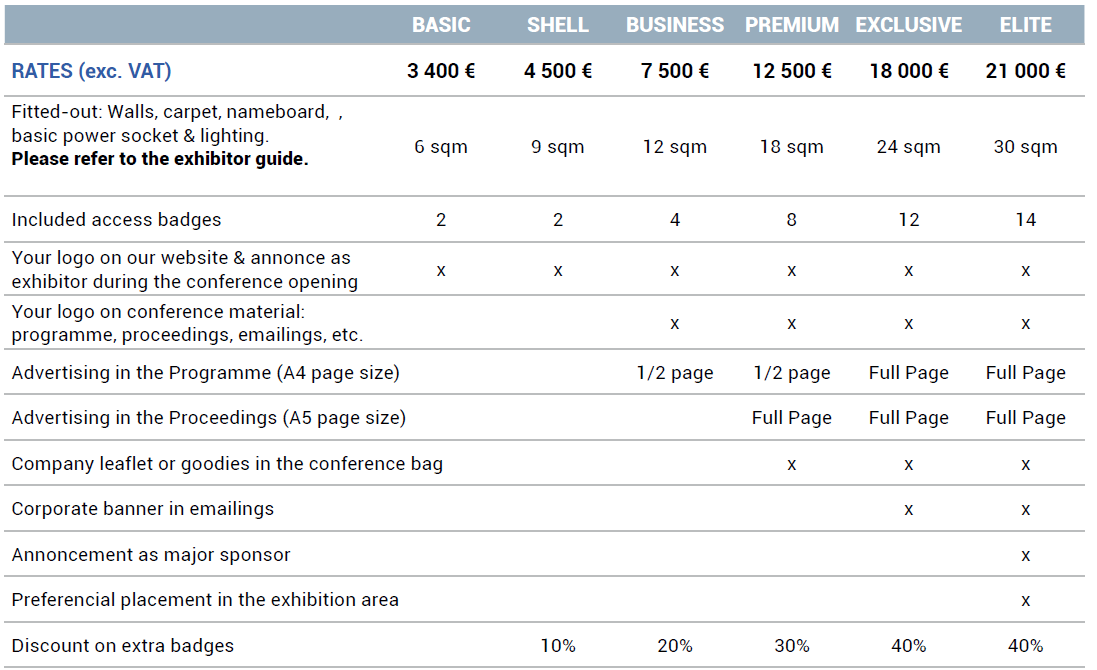 ADVERTISING & VISIBILITY