International Congress :

SIA CESA 5.0
5 & 6 December 2018
Palais des Congres, Versailles
A look back on SIA CESA 2018

Our congress was a major opportunity to understand how the automotive business will evolve over the next five years, with a focus on products and services that are likely to transition from other markets into use-cases for automotive.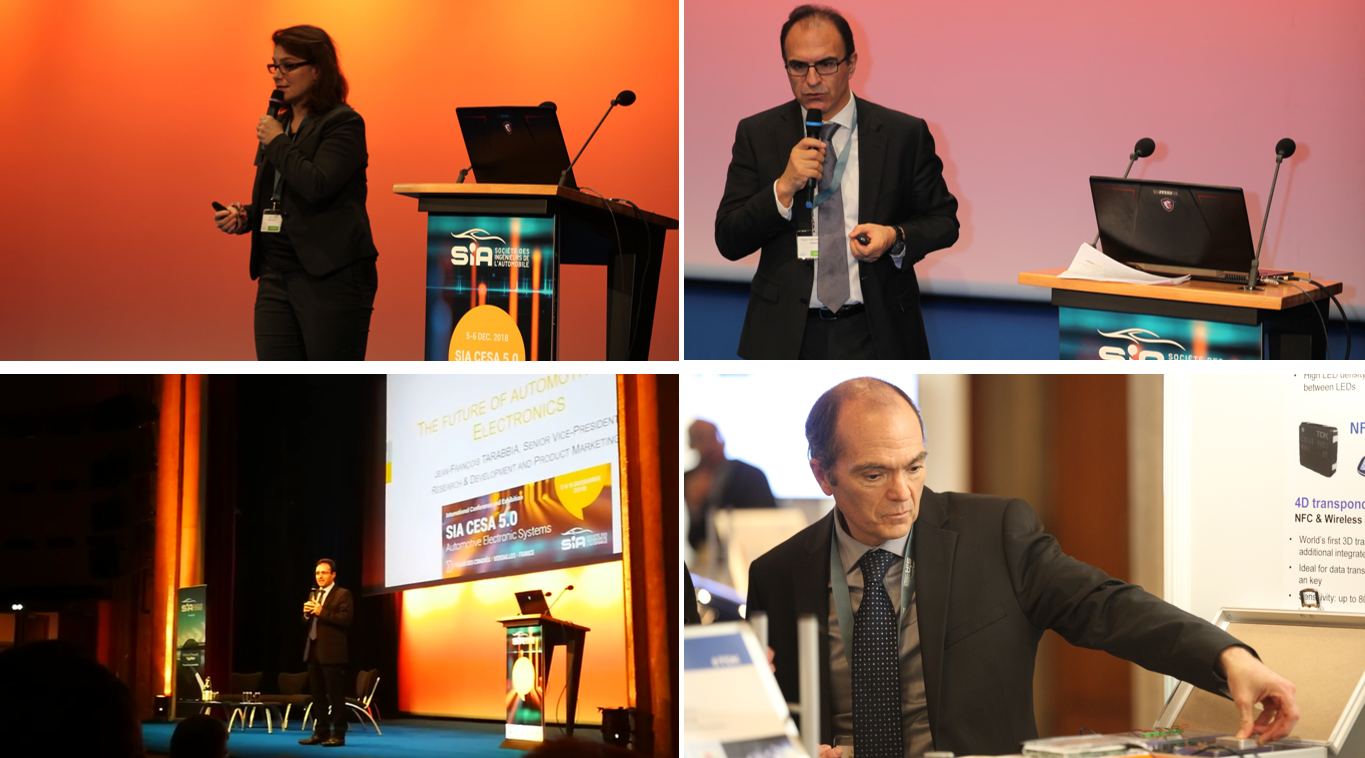 Electronics content is growing in every product thanks to miniaturization of circuits, new business models, new actors and beyond this a changed perception of the environment which has consequences for industry in general, not only for the automotive one.SIA CESA is an event that explains the technological breakthroughs, technical barriers and other influencing factors for our industry such as standards, rules and laws.
300 Engineering and business unit managers as well as technical experts from the automotive world gathered to exchange on these subjects with colleagues from adjacent domains such as infrastructure, communication, Telco providers, insurance, consumer electronics and law.
Once again, the congress highlighted the importance of electronics in the coming developments of the automotive industry.
Thank you very much for your participation, and see you very soon in our next events!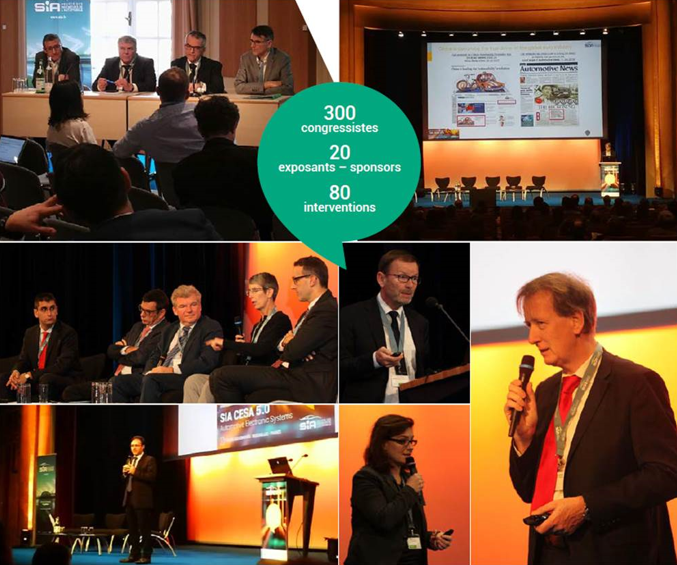 COMMITTEES
Conference chair

Jochen LANGHEIM - STMicroelectronics

EXECUTIVE COUNCIL


AUFRERE Christophe - Faurecia
BASTIEN Rémi - Renault
CARRIE Heiko - BOSCH
DEVAUCHELLE Guillaume - Valeo
GOHIN Carla - Groupe PSA
GROS Hervé - SIA
MARBACH Luc - VEDECOM

Program Committee

RIBOT Pascal - STMicroelectronics
ALVAREZ Ignacio - Faurecia
GUILLAUME Anne - LAB
RICHARD Daniel - Valeo
AUMONT Philippe - SIA
LEBRUN Pierre - Valeo
RIZZO Gillez - ACSIEL
BASTARD Patrick - Renault
LE CALVEZ Gilles - Vedecom
ROINE David - Valeo
BROSSARD Jean Luc - PFA
LEE Carlos - Phontonics Cluster
RUNGE Wolfgang - ELIV Baden Baden
DEHAENE Jean-Philippe - Vector
MEYER Gereon -VDI/VDE
SENCERIN Jean-François – Renault
EL KHAMIS Kadiri- Groupe PSA
PERRIN Jérôme –Renault
TOULEMONDE Andy - Infineon
FISCHER Francois - ERTICO
PICRON Vanessa - Valeo
VALETTE Michel - Elmos
FRANCHINEAU Jean-Laurent – VEDECOM
PRINCE Ladimir - Groupe PSA
VRIGNAUD Louis-Claude - Continental
GEELS Pierre-Yves - Segula Matra Automotive
REILHAC Patrice - VALEO
YAHIAOUI Gérard - Nexyad
Programme
08:00
Welcome coffee in the exhibition
08:30
Introduction
Jean-Luc BROSSARD - PFA
Keynotes
08:40
The future of automotive with Electronics seen by an OEM
Carla GOHIN, Head of research, Innovation and advances technologies - PSA Groupe

09:05
The future of automotive with Electronics
Jean-François TARABBIA, Senior Vice-President, Research & Development and Product Marketing - Valeo
09:30
Coffee break in the exhibition
Special Session: Smart Electronics Systems

Wolfgang Gessner, VDI/VDE

Special Session: Photonics

Mohamed RAHAL - Vedecom

Special Session: AIOTI

François FISCHER, ERTICO

10:00

Smart electronics systems : the challenges of interconnexion
Thomas BEAUCHENE - Raydiall

10:00

Market Overview Photonics in Automotive
Carlos LEE - Epic



10:00

Autonomous car service for Tourists in Versailles
Anne-Charlotte NICOUD - Vedecom


10:20

Opportunities in Advanced Sensors in Perception & Machine Cognitive function
Ken BRIZEL - ACAMP

10:20

Challenges in optical devices for Lidar
Laurent DEMEZET - Hamamatsu

10:20

Automotive meets ICT – enabling the shift of value creation supported by European R&D
Eric ARMENGAUD - AVL
10:40

Data analysis / Application of neural networks in industry, automotive and medical applications for predictive maintenance and increased customer value
Alexander STEINECKER - CSEM

10:40

VCSEL technology for automotive sensing
Holger MOENCH - Philips


10:40

Autonomous Driving: Cybersecurity Risk Analisys
Vincenzo DI MASSA - Thales
Gianluca MANDO - Thales

11:00

Energy Management, Temperature Management, Reliability and integration of smart systems
Sven RZEPKA - Fraunhofer ENAS

11:00

Challenges & Opportunities in Packaging of Sensors for ADAS and in Autonomous Driving
Josef STOCKINGER - STMicroelectronics


11:00

IOT in automotive
David ROINE - Valeo
| | | |
| --- | --- | --- |
| 11:20 | 11:20 | 11:20 |
Technology Disruptions in E-Mobility: Batteries

Philippe AUMONT, SIA

Development Challenge: Testing, Validation, Simulation

Pierre-Yves GEELS, Segula Matra Automotive

Mobility Disruption: Legal, People, Society, Privacy, Insurrance

Jean-Laurent FRANCHINEAU, Vedecom

11:40

Silicon based high performance EV batteries
Yohan OUDART - Nanomakers

11:40

Interaction of Simulation and Proving Ground Test for Autonomous Driving Functions
Hans-Peter SCHONER - Daimler

11:40

Autonomous and connected car - new usages, new threats, new police processes
Colonel Julien BURLET - Gendarmerie Nationale

12:00

Electronic system to detect gas or cooling liquid leakage, smoke and overtemperature in the battery tray for electric or hybrid vehicles
Lionel BITAULD - Dura
Joseph BOSNJAK - Dura

12:00

Automotive Radar testing taken to new dimensions
Sherif AHMED - Rohde&Schwarz

12:00

GDPR - general introduction
Felicien VALLET - CNIL
12:20

Battery Management System
Xavier FORNARI - Ansys

12:20

Test & type approval of connected and autonomous vehicles
Alain PIPERNO - UTAC



12:20

The GDPR and its application in IoT and connected car - opportunities for business and competitivity
Gaelle KERMORGANT - Lawyer at the Paris bar

12:40

A revolutionary method for decreasing cell self-discharge measurement from months to hours
Giacomo TUVERI - Keysight

12:40

Smart charging management for fleets and car pools
Dirk GROßMANN - Vector

12:40

Panel discussion with Jacques AMSELEM - Allianz and the speakers of the session
| | | |
| --- | --- | --- |
| 13:00 | 13:00 | 13:00 |
13:10
Electroncics Components and Systems

Pascal RIBOT, STMicroelectronics

Autonomous Driving Challange: Environment Perception

Vanessa PICRON, Valeo

Mobility Disruption: Security & Car Architectures

Sorin SPORNIC, Valeo

14:30

Autonomous Shuttle Functional Design : a system approach from perception to decision
Hadj Hamma TADJINE, IAV

14:30

Are LIDARs ready for perception in future intelligent transportation?
Diego PUSCHINI - CEA
Cem KARAGOUZ - Transdev
Oussama EL-HAMZAOUI- Transdev

14:30

Uptane - Open specification for securing OTA software updates for automotive electronics
Georg MÜLLER - Airbiquity
14:50

A Graphical Modeling Framework to Facilitate Scheduling in Time-Sensitive Networks
Morteza HASHEMI Farzaneh - TU Munich


14:50

Scalable sensor fusion for safe decision making from collision avoidance up to level5
Andre ROGER - Infineon
Alexandre ENGELSTEIN - Infineon

14:50

Cybersecurity for Connected Vehicle with AGL (Automotive Grade Linux)
Fulup LE FOLL - IOT.BZH
15:10

A modular and flexible approach for autonomous driving
Kai WANG - Visteon

15:10

DENSE: environment perception in bad weather - first results
Werner RITTER - Daimler

15:10

Over the air – how simple is it really?
Jens KÜBLER - Vector
Dirk GROßMANN - Vector
Olivier GERLACH - Vector
15:30

A true key less entry system and biometric driver authentification for safe car sharing
Eric DURAND - Dura
Thomas FARGES - Dura

15:30

Drive4U Locate: affordable precise and robust localization and mapping for Automated Driving
Paulo RESENDE - Valeo
Kishun JO - Valeo
Benazouz BRADAÏ - Valeo


15:30

Intrusion Detection Systems on Future Automotive Networks
Michael HERRMANN - Escrypt
Jan HOLLE - Escrypt
| | | |
| --- | --- | --- |
| 15:50 | 15:50 | 15:50 |
16:00
Coffee break in the exhibition
16:30
Conclusions of CESA
Gaspar GASCON-ABELLAN, EVP engeneering - Groupe Renault
President of the French Automotive Technical Committee

17:30
Farewell
Jochen LANGHEIM - CESA's president
17:45
Thank you to our exhibitors
Access & Accomodation
conference venue
PALAIS DES CONGRES DE VERSAILLES
10 rue de la Chancellerie
78000 Versailles, France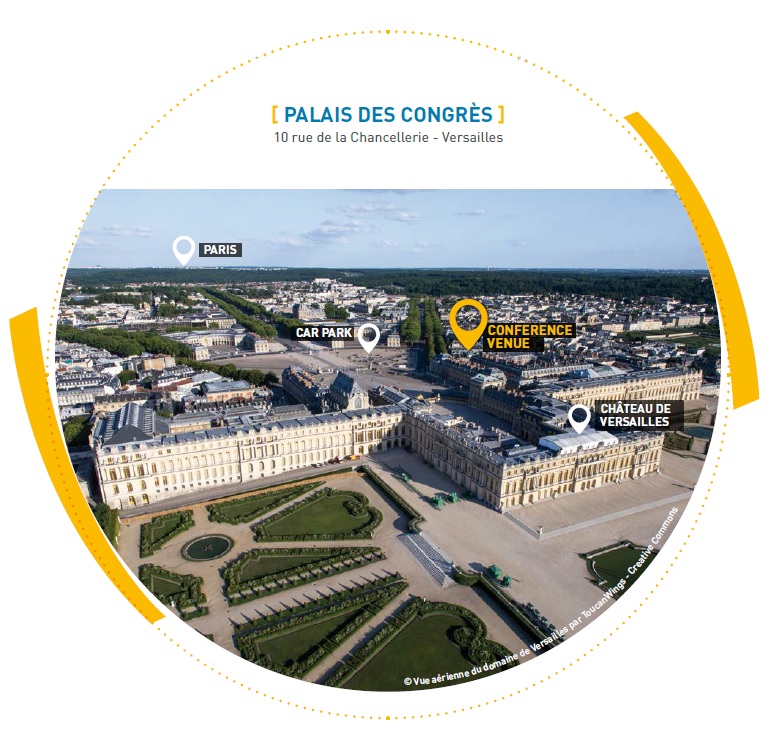 public transportation
From Roissy CDG Airport, take RER B towards Paris and stop at "Saint-Michel Notre-Dame".
Then, take another train RER C towards Versailles Rive-Gauche. Stop at "Versailles Rive-Gauche".
The Palais des Congrès is 5 min by foot.
From Saint-Lazare station (Paris), take a SNCF train towards Paris "Versailles Rive-Droite".
The Palais des Congrès is 20 min by foot.
recommended hotels