International Congress :

SIA POWER TRAIN & ELECTRONICS // Paris 2019
12 & 13 June 2019
South-West Paris
Introduction

Going forward, electrification is becoming core to powertrain evolutions.
To support the automotive industry in this transition towards ever more environmentally friendly mobility, the SIA POWERTRAIN Organising Committee, in cooperation with the APE Organising Committee, have decided to merge both conferences to a new automotive main yearly event in France named SIA POWER TRAIN & ELECTRONICS. It then broadens the scope of the Powertrain Conference to include electric traction technologies, along with internal combustion engines (ICE), low carbon fuels, and transmissions.
Automotive powertrains are first in line to take the opportunities of mobility transition but also to take the challenges of providing global solutions at reasonable cost, while bringing benefits in performance.
In this context, the 2019 SIA POWER TRAIN & ELECTRONICS Conference in Paris, will address the complete powertrain technology spectrum from conventional powertrain to full EV, covering of course any level of hybridization in between.
This wide portfolio of powertrain technologies will play a major role in:
Supporting the international development of the automotive industry by meeting most of the global market needs
Sustaining energetic resources evolution (low carbon fuels, renewables, electricity generation…)
Optimizing benefits vs Costs, by boosting ICE and electrification synergies through hybridization
Overcoming roadblocks towards full electrification
Moving from low volume to high volume production for new electrified technologies.
Urban mobility and supporting powertrain solutions will be the key focus of the next SIA POWER TRAIN & ELECTRONICS Conference in Paris.
The last editions of SIA POWERTRAIN Conference in Rouen and SIA APE Conference in Paris were both resounding successes, with over cumulated 800 participants and 90 technical presentations, from more than 20 countries.
Such growing success of our conferences has led to the move the next congress to a larger venue with more space for participants and exhibitors in South-West Paris area.
Be part of this great event. Do not hesitate to send your paper proposal to SIA POWER TRAIN & ELECTRONICS Organising Committee.
---
COMMITTEES
Chair Persons



Philippe Bernet | RENAULT

Pierre Duret | IFP SCHOOL

Jochen Langheim | STMICROELECTRONICS

Erwann Samson | GROUPE PSA

Steering committee

Marc Lejeune | AB VOLVO

Jean-Marc Boulard | AVL

Hans Nuglisch | CONTINENTAL

Noureddine Guerrassi | DELPHI TECHNOLOGIES

Omar Hadded | DRIVE SYSTEM DESIGN

Jean-Jacques Milesi | DYNERGIA

Sébastien Potteau | EMC-MTT

Emmanuel Jean | FAURECIA

Nadim Andraos | FEV

Olivier Imberdis | IAV

Gaëtan Monnier | IFP Energies Nouvelles

Geoffroy Martin | MOV'EO

John Toplosky | RENAULT

Rémy Schmitt | ROBERT BOSCH

Philippe China | TOTAL

Jean-Michel MORELLE | VALEO

Molly BOISSIER | SIA

Hervé GROS | SIA

Advisory Board POWERTRAIN

Virginie Morel | ARAMCO

Guenter Fraidl | AVL
Yasuo Moriyoshi | CHIBA UNIVERSITY
Frank Altenschmidt | DAIMLER
Walter Piock | DELPHI TECHNOLOGIES
Johannes Scharf | FEV
Daniel Roettger | FORD
Philippe Souhaite | GROUPE PSA
Jean-Sébastien Roux | GARRETT ADVANCING MOTION
Marc Sens | IAV
Damien Talué | JAGUAR LAND ROVER
Amin Velji | KIT
Federico Millo | POLITECNICO DI TORINO
Denis Levasseur | RENAULT

Neville S. Jackson | RICARDO
Eric Dalla Vecchia | ROBERT BOSCH
Luc Müller | SCHAEFFLER
Kyoungdoug Min | SEOUL NATIONAL UNIVERSITY
Terutoshi Tomoda | TOYOTA MOTOR, JSAE

Ali Mohammadi | TOYOTA MOTOR
Jean-François Giroux | VALEO

Advisory Board POWER ELECTRONICS

Ottmar Sirch | BMW
Petra Mönius | CONTINENTAL
Thomas Harder | ECPE
Olivier Coppin | FAURECIA

Ladimir Prince | GROUPE PSA

Mark Munzer | INFINEON
Olivier Ploix | RENAULT
Prof. R. DeDoncker | RWTH AACHEN – ISEA
Manuel Gärtner | STMICROELECTRONICS
Katja Stengert THYSSEN KRUPP
Kimimori Hamada | TOYOTA / APE Japan
Gilles Le Calvez | VEDECOM
Exhibition & Advertising Opportunities
PREBOOK YOUR BOOTH NOW!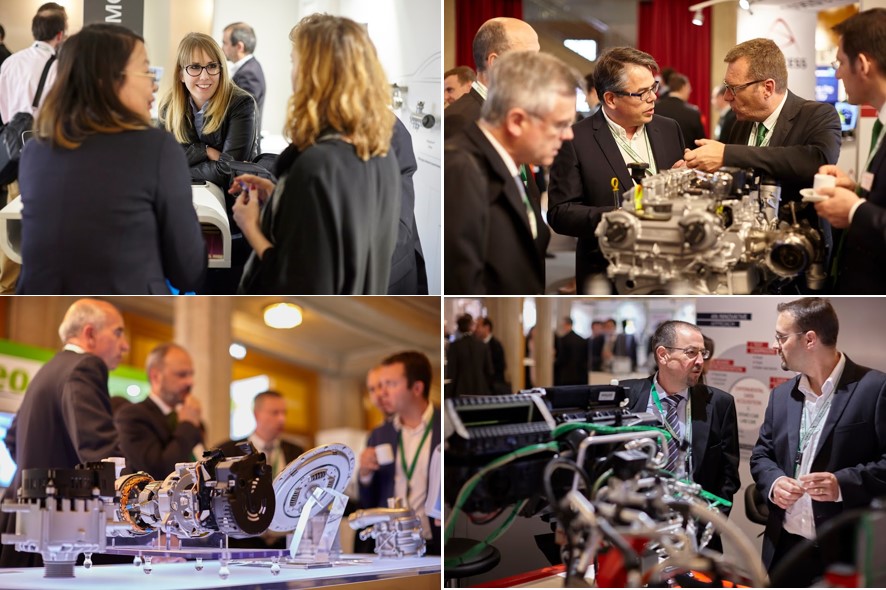 This unique event will bring together more than 650 participants: directors, managers, heads of department, engineers, researchers and technicians. An exceptional line-up of guests and speakers will be present for the occasion. The exhibition will allow you to showcase your company, present your latest products and make privileged contacts at this unique gathering of targeted decision-makers.
We are thrilled to welcome you at the Pyramides of Port-Marly - a place commensurate to the exhibition & the demo-cars testing that will take place during this 2 days congress.

Maximize your visibility with our booths! Thanks to those packages, you will gain unmatched recognition as an industry leader and generate an abundance of goodwill. Consider our booth packages: BASIC, SHELL, BUSINESS, PREMIUM or EXCLUSIVE
BASIC

SHELL

BUSINESS

PREMIUM

EXCLUSIVE

Rates € (Exc. French VAT of 20%)

3 400 €

4 500 €
7 200 €
12 000 €
16 600 €

Fitted-out booth

6 sqm


9 sqm

12 sqm

18 sqm

24 sqm

Included badges

2


2

4

8

10

Logo on congress materials

x

x

x

x

Ad in book of conference

1/2

1

1

Ad in programme

1/2

1/2

1

Flyer insertion in conference bag

x

x

E-mail banner

x

Preferential location in exhibition

x

Announcement as major sponsor

x

Extra badges discount *

- 10%

-20%

-30%

-40%

Extra Square Meter

500 € per square meter



*As SMEs / Universities & Labs enjoy a lower entry rate, they cannot benefit from this extra discount.
ADVERTISING
Rates € (Exc. French VAT of 20%)

Back cover

Inside

Inside front cover

Inside back cover

Programme (sent once by mail & several times by e-mail)

1 300 €

950 €

1 100 €

1 100 €

Conference book (Distributed to all attendees)

1 300 €


950 €

550 €*

1 100 €

Insertion of company booklet / goodies in the conference bags**

1 500 €

Conference bag with your logo**

1 500 €

Lanyards**

2 000 €


Coffee break sponsoring ****

2500 €

Lunch, cocktail or Gala Dinner sponsoring ****

On request
* Half Page
** in 700 samples
*** without booth package + advertising in the Congress Leaflet
**** Company name & logo on all congress material as sponsor + your poster(s) next to the table(s) buffet