International Congress :

SIA POWER TRAIN & ELECTRONICS // Paris 2019
12 & 13 June 2019
South-West Paris / Port-Marly
Introduction
Going forward, electrification is becoming core to powertrain evolutions.
To support the automotive industry in this transition towards ever more environmentally friendly mobility, the SIA POWERTRAIN Organising Committee, in cooperation with the APE Organising Committee, have decided to merge both conferences to a new automotive main yearly event in France named SIA POWER TRAIN & ELECTRONICS. It then broadens the scope of the Powertrain Conference to include electric traction technologies, along with internal combustion engines (ICE), low carbon fuels, and transmissions.
Automotive powertrains are first in line to take the opportunities of mobility transition but also to take the challenges of providing global solutions at reasonable cost, while bringing benefits in performance.
In this context, the 2019 SIA POWER TRAIN & ELECTRONICS Conference in Paris, will address the complete powertrain technology spectrum from conventional powertrain to full EV, covering of course any level of hybridization in between.
This wide portfolio of powertrain technologies will play a major role in:
Supporting the international development of the automotive industry by meeting most of the global market needs
Sustaining energetic resources evolution (low carbon fuels, renewables, electricity generation…)
Optimizing benefits vs Costs, by boosting ICE and electrification synergies through hybridization
Overcoming roadblocks towards full electrification
Moving from low volume to high volume production for new electrified technologies.
Urban mobility and supporting powertrain solutions will be the key focus of the next SIA POWER TRAIN & ELECTRONICS Conference in Paris.
The last editions of SIA POWERTRAIN Conference in Rouen and SIA APE Conference in Paris were both resounding successes, with over cumulated 800 participants and 90 technical presentations, from more than 20 countries.
Such growing success of our conferences has led to the move the next congress to a larger venue with more space for participants and exhibitors in South-West Paris area.
Be part of this great event !

---
COMMITTEES
Chair Persons



Philippe Bernet | RENAULT

Pierre Duret | IFP SCHOOL

Jochen Langheim | STMICROELECTRONICS

Erwann Samson | GROUPE PSA

Steering committee

Marc Lejeune | AB VOLVO

Jean-Marc Boulard | AVL

Hans Nuglisch | CONTINENTAL

Noureddine Guerrassi | DELPHI TECHNOLOGIES

Omar Hadded | DRIVE SYSTEM DESIGN

Jean-Jacques Milesi | DYNERGIA

Sébastien Potteau | EMC-MTT

Emmanuel Jean | FAURECIA

Nadim Andraos | FEV

Olivier Imberdis | IAV

Gaëtan Monnier | IFP Energies Nouvelles

Geoffroy Martin | MOV'EO

John Toplosky | RENAULT

Rémy Schmitt | ROBERT BOSCH

Philippe China | TOTAL

Jean-Michel MORELLE | VALEO

Molly BOISSIER | SIA

Hervé GROS | SIA

Advisory Board POWERTRAIN

Virginie Morel | ARAMCO

Guenter Fraidl | AVL

Steffen Meyer | BORGWARNER
Yasuo Moriyoshi | CHIBA UNIVERSITY
Frank Altenschmidt | DAIMLER
Walter Piock | DELPHI TECHNOLOGIES
Johannes Scharf | FEV
Daniel Roettger | FORD
Philippe Souhaite | GROUPE PSA
Jean-Sébastien Roux | GARRETT ADVANCING MOTION
Marc Sens | IAV
Damien Talué | JAGUAR LAND ROVER
Amin Velji | KIT
Federico Millo | POLITECNICO DI TORINO
Denis Levasseur | RENAULT

Andy Ward | RICARDO
Eric Dalla Vecchia | ROBERT BOSCH
Luc Müller | SCHAEFFLER
Kyoungdoug Min | SEOUL NATIONAL UNIVERSITY
Terutoshi Tomoda | TOYOTA MOTOR, JSAE

Ali Mohammadi | TOYOTA MOTOR
Jean-François Giroux | VALEO

Advisory Board POWER ELECTRONICS

Ottmar Sirch | BMW
Petra Mönius | CONTINENTAL
Thomas Harder | ECPE
Olivier Coppin | FAURECIA

Ladimir Prince | GROUPE PSA

Mark Munzer | INFINEON
Olivier Ploix | RENAULT
Prof. R. DeDoncker | RWTH AACHEN – ISEA
Manuel Gärtner | STMICROELECTRONICS
Katja Stengert THYSSEN KRUPP
Kimimori Hamada | TOYOTA / APE Japan
Gilles Le Calvez | VEDECOM
Pre-Programme
07:15
WELCOME COFFEE IN THE EXHIBITION // DEMO-CARS SHOWCASE & TEST-DRIVE
EGR & Water Injection

Federico MILLO | Politecnico di Torino & Daniel ROETTGER | Ford

Thermal energy recovery e-turbo

Gaetan MONNIER | IFPEN & Rémy SCHMITT | Robert Bosch

Hybrid Powertrains

Jean Marc BOULARD | AVL & Marc LEJEUNE | AB Volvo

ELECTRICAL COMPONENTS in POWER ELECTRONICS

Manuel GARTNER | STMicroelectronics & Jean Michel MORELLE | Valeo

08:00

Effect of water injection configuration on single cylinder DISI engine efficiency and performances

Matthieu CORDIER | IFPEN

08:00

Optimization of the overall efficiency of a combined cycle machine: a Methodology for Piston ICE coupled to bottoming Steam Rankine Cycle on Series Hybrid electric Vehicle

Nissam BOU NADER | Groupe PSA

08:00

Decision making process by system engineering for future 48V powertrain topologie

Johannes MORITZ MAITERTH | RWTH Aachen University

08:00

Trends in Passives for Future Power Electronic Systems

Shinichiro NISHIZAWA | TDK
08:30

Hydropower

Joël OP DE BEECK | PlasticOmnium

08:30

ORC turbo-pump-generator for heat recovery at low temperature in passenger cars

Gaël LEVEQUE | ENOGIA

08:30

Hybrid Powertrains – Technology Sets for Best System Efficiency and Lowest Emissions

Matthias THEWES | FEV

08:30

Verilog-A based Simulation of Gallium Nitride Semiconductors in a Half Bridge Setup

Nikolas BAUER | BMW
09:00

CAE and DoE based study of LP EGR on a small SI Engine

Christian VIGILD | Ford

09:00

HyPACE – Hybrid Petrol Advanced Combustion Engine – Improved Efficiency, Dynamic Response and After-Treatment Solutions for Future Hybrid Vehicle Applications

Adrian COOPER | MAHLE Powertrain

09:00

48V High Power Electric Drive for Excellent CO2 emissions & Electric Driving Features

Christophe MARECHAL | Continental

09:00

Right fit approach to power semiconductor selection in electrified vehicles
Mark MUNZER | Infineon
09:30

Experimental investigation on integrated LP-EGR system for gasoline engine

Mathieu CAPIRCHIA | Faurecia

09:30

eTurbo | a key technology for Euro7 Hybridized Powertrain

Nathaniel BONTEMPS | Garrett-Advancing Motion

09:30

AVL's Low Voltage High Power Electric Axle System

Thomas PELS | AVL LIST

09:30

Title TBC

Philip BROCKENHOFF | CONTINENTAL
10:00
COFFEE BREACK IN THE EXHIBITION // DEMO-CARS SHOWCASE & TEST-DRIVE
PANEL SESSION
10:45
ROUND TABLE
Groupe PSA
Groupe Renault
Continental
Schaeffler
AVL
IAV
12:15
STUDENTS' BEST POSTER AWARD CEREMONY!
12:30
LUNCH BREAK IN THE EXHIBITION // DEMO-CARS SHOWCASE & TEST-DRIVE
Variable ICE systems

Pierre DURET | IFP School & Amin VELJI | Karlsruhe Institute of Technology

Cooling & Thermal Management

Steffen MEYER | BorgWarner & Andy WARD | Ricardo

eMachine

Geoffroy MARTIN | MoveO & Sébastien POTTEAU | EMC

PACKAGING for POWER ELECTRONICS

Petra MONIUS | Continental & Gilles LE CALVEZ | Vedecom

13:45

Dynamic Skip Fire: Implementation Across All Powertrains

Matthew YOUNKINS | Tula Technology

13:45

Virtual Approach for Control System Design: Integrated Simulation of Battery Cooling and Cabin Comfort Circuits to Develop a BEV Thermal Management Control Logic

Giulio BOCCARDO | POWERTECH Engineering

13:45

Towards high speed and high efficiency compact electric systems for future 48V automotive on board electricity generation

Misa MILOSAVLJEVIC | IFPEN

13:45

SiC MOSFETs: Key Enabler for the Market Evolution of the future e-Powertrain and it's behavior under Short-Circuit
Daniela CAVALLARO | STMicroelectronics
14:15

Dual Mode VCSTM: Vehicle Integration of a Modular VCR-System

Helfried SORGER | AVL

14:15

xEV Thermal System Control Optimisation

Peter FUSSEY | Ricardo

14:15

A possible free magnet solution for e-mobility electric motors: synchronous reluctance motor with new rotor design for weight minimization and noise reduction

Luigi RIZZZI | SPIN

14:15

Benefits of GaN transistors and embedding laminate
Bruno ALLARD | INSA Lyon
14:45

RDE concept based on a fully variable valve train system

Piergiacomo TRAVERSA | Schaeffler

14:45

New fluids for electric and hybrid vehicles

Philippe CHINA | Total

14:45

Multi-objective optimization of electrical machines including NVH, energy and thermal considerations

Jean-Baptiste DUPONT | Vibratec

14:45

The breakthrough in 48V interconnect technology and its roadmap to high voltage solutions
Christian ROSSLE | Schweizer
CLOSING SESSION

Philippe BERNET | Groupe Renault, Jochen LANGHEIM | STMicroelectronivs & Erwann SAMSON | Groupe PSA
15:15
Toyota Electrified Vehicles
Kimimori HAMADA, Project General Manager EHV Electronics Design Division | Toyota
15:35
Jaguar Land Rover Propulsion System Strategy - MHEV, PHEV, BEV
Damien TALUE, Chief Engineer Powertrain | Jaguar Land Rover
15:55
Closing Remarks by the Conference Chair
Philippe BERNET | Groupe Renault
Jochen LANGHEIM | STMicroelectronics
Erwann SAMSON | Groupe PSA
16:10
Call For Demo-Cars
Organisers are soliciting companies for demonstration vehicles that will showcase technologies related to the conference topics.
Demo cars will be displayed in front of the conference venue, on Les Pyramides open-air parking lot (day and night security).
You will also be able to easily access the road for a 5 to 10 minute ride or access a dedicated space within the conference venue for demo-cars without licence plate.
Please send us before APRIL 30th an email with the following information :
Name of technology presented
Type of car
HD pictures and a 5 lines presentation that will be added to the Congress App and printed booklet.
Registration
Rates are in €
French VAT of 20% is excluded
Registration fee includes participation in the conference, abstracts book and proceedings, coffee breaks, lunches and cocktail on June 12th, 2019.
If it is not possible to send the payment together with the registration form or to pay directly by credit card, please send an official Purchase Order. Failing reception of an official document or payment on the day of the congress, you will unfortunately not be allowed access to the conference.
After reception of the registration form, we will send you a confirmation message and an invoice. Please indicate your Invoicing address and/or Accounts Department address and VAT number.
In case of cancellation before May 12th, 2019, 30% of the registration fees will be retained. After this date, the entire registration fee will be retained.
Registered participants who are not able to attend may nominate a substitute. Written notice must be provided.
Exhibition & Advertising Opportunities
PREBOOK YOUR BOOTH NOW!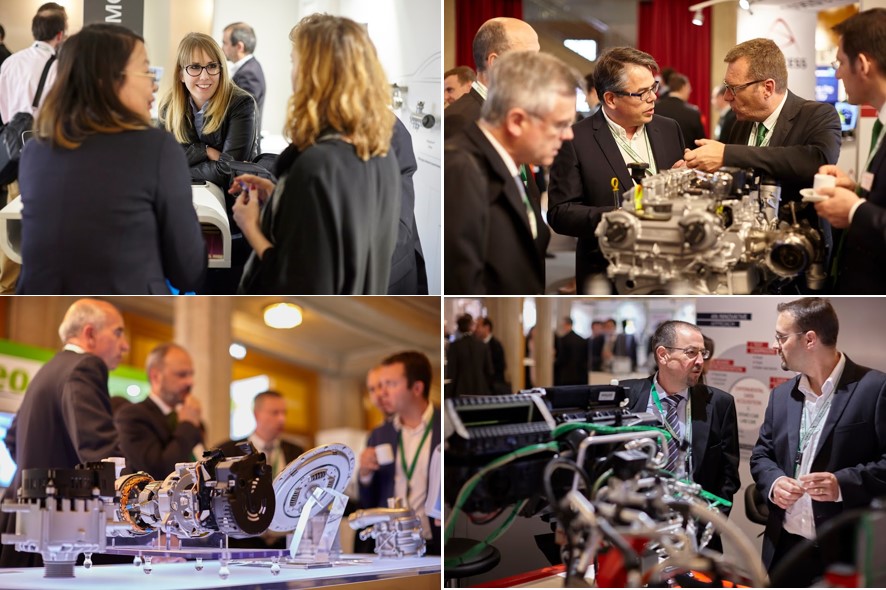 This unique event will bring together more than 650 participants: directors, managers, heads of department, engineers, researchers and technicians. An exceptional line-up of guests and speakers will be present for the occasion. The exhibition will allow you to showcase your company, present your latest products and make privileged contacts at this unique gathering of targeted decision-makers.
We are thrilled to welcome you at the Pyramides of Port-Marly - a place commensurate to the exhibition & the demo-cars showcase that will take place during this 2 days congress.
Maximize your visibility with our booths! Thanks to those packages, you will gain unmatched recognition as an industry leader and generate an abundance of goodwill.
BASIC

SHELL

BUSINESS

PREMIUM

EXCLUSIVE

ELITE


SPECIAL




Rates € (Exc. French VAT of 20%)

3 400 €

4 500 €
7 200 €
12 000 €

- SOLD -




- SOLD -




-SOLD-




Fitted-out booth

6 sqm


9 sqm

12 sqm

18 sqm

24 sqm

30 sqm

40 sqm


Included badges

2


2

4

8

10

12

14


Logo on congress materials

x

x

x

x

x

x


Ad in book of conference

1/2

1/2

1

1

1


Ad in programme

1/2

1/2

1

1

1


Flyer insertion in conference bag

x

x

x

x


E-mail banner

x

x


Preferential location in exhibition

x

Announcement as major sponsor


x


Extra badges discount *

- 10%

-20%

-30%

-40%

-40%

-50 %


Extra Square Meter

500 € per square meter



*As SMEs / Universities & Labs enjoy a lower entry rate, they cannot benefit from this extra discount.
ADVERTISING
Rates € (Exc. French VAT of 20%)

Back cover

Inside

Inside front cover

Inside back cover

Programme (sent once by mail & several times by e-mail)

1 300 €

950 €

1 100 €

1 100 €

Conference book (Distributed to all attendees)

1 300 €


950 €

550 €*

1 100 €

Insertion of company booklet / goodies in the conference bags**

1 500 €

Conference bag with your logo**

- SOLD -


Lanyards**

- SOLD -


Coffee break sponsoring ****

2500 €

Lunch, cocktail or Gala Dinner sponsoring ****

On request
* Half Page
** in 700 samples
*** without booth package + advertising in the Congress Leaflet
**** Company name & logo on all congress material as sponsor + your poster(s) next to the table(s) buffet