International Congress :

CESA 4.0 // Automotive Electronics
16 & 17 November 2016
Versailles
Introduction

CESA 4.0 > AUTOMOTIVE ELECTRONIC SYSTEMS is under preparation…
The next edition of our successful conference on automotive electronics, CESA 4.0 will take place on 16 and 17 November 2016.
The aim of CESA is to bring people from different backgrounds together to talk about today's automotive electronics as well as future trends and technologies. We will look beyond the geographical horizon of our export markets and beyond the automotive technological horizon of connected and automated driving.
Organized by the French Association of Automotive Engineers (SIA) and strongly supported by the French Automotive Industry (PFA), this year CESA will focus on Electrification, Automated Driving and the transfer of knowledge from the electronics industry to automotive applications.
We will again welcome many top speakers from OEMs (from France, Germany and elsewhere in the world), all major suppliers to the car industry and also representatives from other industries active in the factory 4.0.
Besides industrials we will also show some of the young Institutes of Technology created here in France recently, in particular VEDECOM and IRT SystemX.
With the help of our sponsors and the partners of our dedicated exhibition we will facilitate networking between main actors in the market. As with previous, we develop specific partnerships with a country that is important for automotive electronics. After Austria and Germany for the first editions, we have chosen to highlight Asia for 2016.
Top speakers are expected such as engineering directors from French OEMs, as well as from foreign countries. At the last edition, more than half of the visitors travelled from locations other than France to Paris.
Link to other industries, such as Industry 4.0. focusing on the example of automated driving, there are already solutions available in agriculture or factory automation that demonstrate the highest levels of autonomy.
At the same time, usage of data and services in a cloud environment is becoming standard for office management and will certainly also influence the automotive industry.
Major partner

Partners
COMMITTEES
Conference chair
Jochen LANGHEIM - STMicroelectronics

Ignacio ALVAREZ - Faurecia
Christophe AUFRERE - Faurecia
Patrick BASTARD - Renault
Rémi BASTIEN - Renault
Henri BELDA - Vector
Jean Luc BROSSARD - PFA
Franck CAZENAVE - Robert Bosch
Guillaume DEVAUCHELLE - Valeo
Dominique DOUCET - Valeo

Jean-Laurent FRANCHINEAU - VEDECOM

Carla GOHIN - Groupe PSA

Anne GUILLAUME - LAB
El Khamis KADIRI - Groupe PSA
Claude LAURGEAU - Mines-ParisTech
Gérard MANIEZ - NXP Semiconductors
Jean-Luc MATE - Continental Automotive
Gereon MEYER - VDI-VDE
Patrick NEBOUT - Visteon
Laurent PERIER - STMicroelectronics

Jérôme PERRIN - Renault

Ladimir PRINCE - Groupe PSA

Pascal RIBOT - STMicroelectronics
Daniel RICHARD - Valeo
Xavier ROTH - Robert Bosch

Jean-François SENCERIN - Renault

Thierry SEYNAEVE - e2-CAD
Andy TOULEMONDE - Infineon
Michel VALETTE - Elmos
Louis-Claude VRIGNAUD - Continental Automotive
Gérard YAHIAOUI - Nexyad
business tour
November 15, 12:45 → 18:45 (cocktail included at 19:00)
Make the most of your stay in Paris to visit -for free- the most innovative French research centers in cyber-security, autonomous driving, HMI, wireless charging and intelligent transportation:


• the VEDECOM research institute for energy transition, dedicated to individual, carbon-free and sustainable mobility
• the institute for technological research SystemX, dedicated to digital engineering of complex systems in the transport, communication, digital security and energy sectors.


Demos will be about: electric machines prototyping, dynamic inductive charging, cybersecurity on smart transportation, augmented reality for drivers, the presentation of a level 4 self-driving demonstrator.

The tour includes:
• A networking lunch. The meeting point will be at 12.45 pm in central Paris (the exact location is to be confirmed)
• The visits and demos (from 2.45 pm to 6.15 pm)

• Transfers by bus from Paris to the sites and to the evening buffet

• An evening buffet with the CESA operational commitee and speakers at the Palais des Congrès de Versailles from 6.45 pm.

Registration is required due to limited capacities and will be submitted to validation.

Contact: julie.veaute@parisregionentreprises.org
Programme
08:40
Registration & Welcome Breakfast in the exhibition
09:20
Welcome speech
Jochen Langheim, Chairman

Keynote speeches
09:30
Introduction - Automotive Electronics, Innovation challenge of the French Industry
Jean-Luc Brossard, PFA
10:00
Shaping mobility with electronics
Jean-François Salessy, Groupe PSA
10:20
Becoming an electronics supplier
Ignacio Alvarez, Faurecia
10:40
Autonomous Driving in this new century
Christophe Minster, ZF TRW
11:00
Coffee break in the exhibition
Car Architectures & Components

Session chair: Louis-Claude Vrignaud, Continental Automotive

Highly Automated Driving - Testing & Validation

Session chair: Carla Gohin, Groupe PSA

11:30

Semiconductor components for high available and fail operational actuators / HW and SW aspects

André Roger, Infineon

11:30

HAD with Vehicle-in-the-Loop, Euro NCAP

Charles Miquet, IPG Automotive
11:45

Enabling Smart Mobility and Smart Infrastructure by Development of a Technology Readiness Process for Consumer Electronics - TRACE

Jochen Beintner - Robert Bosch

11:45

Automatic generation of optimized test plan for connected ADAS vehicle

Nadia Haddadou, Renault
12:00

System Engineering, Architectures and Components for Assisted/Automated Driving

Stephan Groitzsch - Continental Engineering Services


12:00

Autonomous car : data fusion, logging, simulation

Claude Laurgeau, Mines ParisTech
12:15

Connected car architecture

Eric Dequi, Groupe PSA

12:15

PSA Autonomous Driving - Results of 18 months experimentations on European Highways

Vincent Abadie, Groupe PSA
12:30

Pitch PME "Rescoll" - José Alcorta

12:30

Pitch PME "UTAC" - Jérôme Paschal
| | |
| --- | --- |
| 12:35 | 12:35 |
12:45
Lunch break in the exhibition
Keynote speeches
14:15
Research on electromobility, driverless car and batteries in Aachen
Rick De Doncker, RWTH Aachen University / ISEA
14:35
Electromobility, driver assistance and connectivity
Luc Marbach, VEDECOM
14:50
Embedded systems and tools for mobility
Eric Perrin-Pelletier, IRT SystemX
48V, Electrification Power Electronics

Session Chair: Andy Toulemonde, Infineon

Highly Automated Driving new sensors

Session chair: Daniel Richard, Valeo

15:15

Electrification of vehicles, new technical challenges for future mobility

Nicolas Leclere, Groupe PSA

15:15

Self-contained, distributed automotive Ethernet camera system

Radoslaw Watroba, STMicroelectronics
15:30

Power Train Control by Connectivity - chances, architectures, solutions

Friedrich Graf, Continental Automotive

15:30

New Radar Sensor - Architecture and Technologies

Uwe Voelzke, STMicroelectronics
15:45

Impact of 48V power supply emergence in automotive engineering disciplines

Marc Ranier, Valeo

15:45

Laser Sensor for autonomous driving

Erich Smidt - Velodyne Lidar

16:00

Electrification based on 48V as integrative part of the future powertrain

Gerald Teuschl, AVL


16:00

Laser Scanner (solid state)

Heinrich Gotzig, Valeo
16:15

Pitch PME "Nanomakers" - Jean-François Perrin

16:15

Pitch PME "Nexyad" - Gérard Yahiaoui
| | |
| --- | --- |
| 16:20 | 16:20 |
16:40
Coffee break in the exhibition
Plenary session
17:10
Deep Learning- enabling Cars to See, Think, and Learn for Autonomous Driving
Arslan Serkan - nVIDIA
17:30
Round-table discussions • Moderator: L. Meillaud, journalist

Patrick Bastard - Renault
Eric Lalardie - ARM
Ludovic Denoyer - Université Pierre et Marie Curie (Lip6)

Arslan Serkan - nVIDIA
Florian Walter - TU München
18:30
Electronics challenges for the next decade
Markus Schmidt, Robert Bosch
18:50
Summary of the day
Jochen Langheim
19:00
Cocktail in the exhibition
Access & Accommodation
conference venue
PALAIS DES CONGRES DE VERSAILLES
10 rue de la Chancellerie
78000 Versailles, France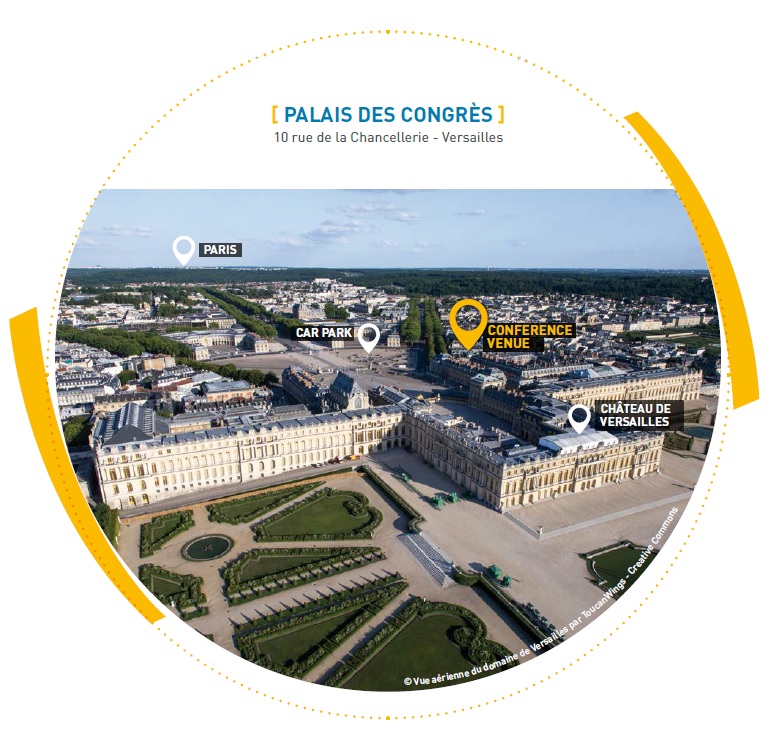 public transportation
From Roissy CDG Airport, take RER B towards Paris and stop at "Saint-Michel Notre-Dame".
Then, take another train RER C towards Versailles Rive-Gauche. Stop at "Versailles Rive-Gauche".
The Palais des Congrès is 5 min by foot.
From Saint-Lazare station (Paris), take a SNCF train towards Paris "Versailles Rive-Droite".
The Palais des Congrès is 20 min by foot.
recommended hotels