International Conference :

Hydrogen Internal Combustion Engines & Vehicles
A look back on the conference

After the 160 experts who travelled to the Arts et Métiers school in Châlons en Champagne in 2021, no fewer than 280 participants gathered at the PRISME laboratory in Orleans on 30 March for the second edition of this conference dedicated to hydrogen as a power source for internal combustion engines.

In addition to the increase in the number of participants, the special feature of this edition was the opportunity to discuss the first applications, with the presentation of three engines and two vehicles that have already accumulated test kilometres.

The participants, who arrived in Orleans the day before the event, had the opportunity to visit the PRISME laboratory, whose work is aimed at better understanding and modelling the behaviour of hydrogen in the very specific conditions of combustion chambers.

During the conference itself, presentations by representatives of research centres, equipment manufacturers and car manufacturers allowed us to measure the very rapid increase in the maturity of all the players.

What are the main lessons learned from these exchanges? There are many, but the most important is that the hydrogen internal combustion engine works, that it is very close to the fossil fuel engines currently in circulation, that it already achieves efficiencies close to those of diesel and that it does not emit CO2.

While these initial results are promising, a number of technical issues still need to be addressed before this technology can be mass-produced, which would allow a large proportion of the fleet to be decarbonised quickly and at lower cost.

It is also interesting to note that many players have been able to combine their efforts through consortia under the aegis of research institutes such as the PRISME laboratory.
Collaboration and speed therefore seem to be the key words in this field of application which, like the hydrogen molecule, is spreading at breakneck speed!

So, see you in 2024 for a third edition of this day?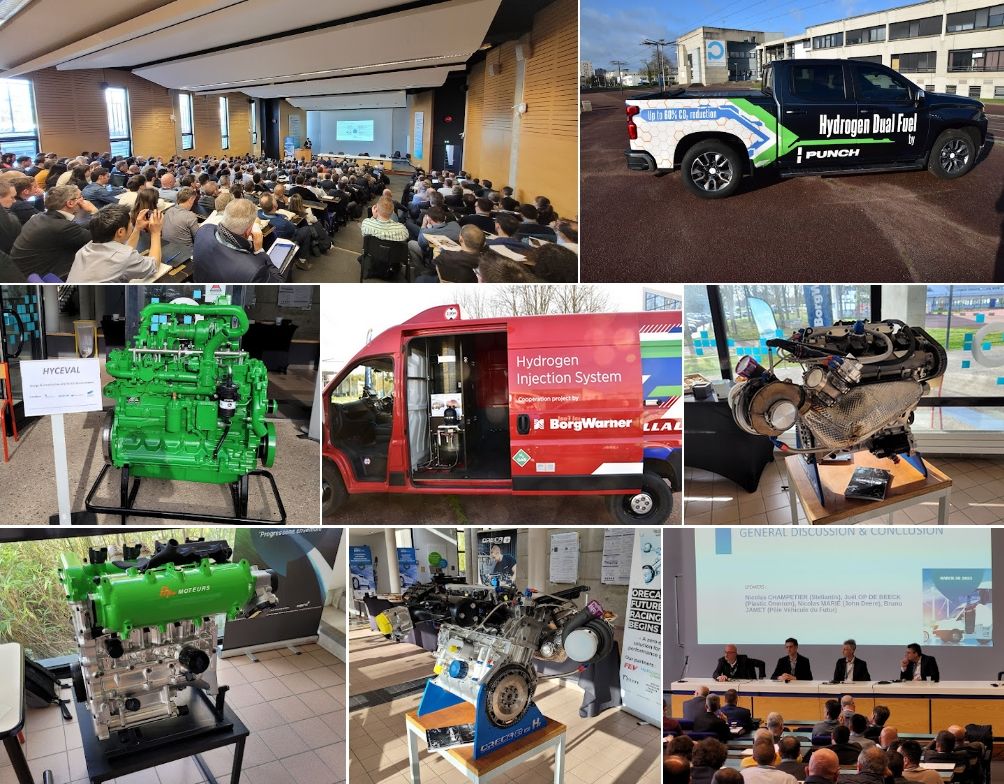 Introduction

The registrations are closed, we have now reached the full capacity !
The replacement of fossil fuels by hydrogen for internal combustion engines operation is today one of the scientific research topics having a great interest for commercial vehicle manufacturers and equipment suppliers. Since the hydrogen is produced by the electrolysis of water using renewable electricity, combustion engines can thus be considered as decarbonized powertrains in the same way as battery electric propulsion, which is clearly favoured by all car manufacturers. However, this propulsion solution is still not affordable and not yet fully compatible with applications requiring long autonomy such as heavy-duty vehicles, boats, and airplanes, due to the requirement of large size and high weight batteries.
Compared to electricity, using hydrogen as an energy carrier is advantageous in terms of volumetric and gravimetric energy storage density. Also, this hydrogen propulsion solution presents many advantages compared to fuel cell electric vehicle especially in terms of packaging, durability, robustness against hydrogen quality and requirement of precious metals such as Platinum, Lithium, Cobalt or Nickel. However, studies and research are still needed to resolve the remaining issues associated with hydrogen combustion processes, aftertreatment and safety.
After the first conference day on hydrogen injection and combustion in engines organized in May 2022, which nevertheless gathered 170 participants, the Prisme laboratory of the university of Orléans and the SIA are organizing jointly a second conference day on 30th March 2023 in Orléans focusing on hydrogen engine operation, control, and integration on vehicle. This event will be a great opportunity to exhibit engine and vehicle hardware and meet the leading specialists in this field, from the automotive industry, the associated equipment manufacturers, from the alternative energies industry, and representatives of major research laboratories and universities.
We look forward to welcoming you in Orléans in March 2023!
COMMITTEE
Chairmen
Fabrice FOUCHER – University of Orléans
Noureddine GUERRASSI – BorgWarner
Membres
Philippe BERNET – SIA
Christophe CALLENS – Valeo
Frédéric CHARON – SIA
Philippe CHINA – TotalEnergies
Antoine DUCLOUX – Michelin
Emmanuel JEAN – Faurecia
Marc LEJEUNE – Volvo
Jean-Philippe LELIEVRE – Groupe Renault
Dominique MARTINEAU – Vitesco Technologies
Jean-Philippe MERCIER – Groupe Renault
Gaëtan MONNIER – IFPEN
Jérôme MORTAL – Valeo
Joël OP DE BEECK – Plastic Omnium
Sébastien POTTEAU – Emitech
Claudine ROCHETTE – Valeo
Rémy SCHMITT – Bosch
Arnaud TELLIER – IAV
Program
08:00
Attendees registration & coffee
08:45
Welcome introduction and opening address

Eric Blond, President of the University of Orléans
Fabrce Foucher & Noureddine Guerrassi, Chairmen
Pascal Tebibel, Vice president Attractivity, Promotion of the territory of Orleans Métropole
Anne Besnier, VP Research and Innovation of the Region Centre Val de Loire
HYDROGEN INJECTION & COMBUSTION PROCESSES

Chairman: Fabrice Foucher
09:00
Insights into mixture formation and combustion of hydrogen engines
Stefan Bareiss / Robert Bosch GmbH
09:30
Enabling High Performance Hydrogen ICEs with the HPDITM Fuel System
David Mumford / Westport
10:00
AVL leader in hydrogen internal combustion engine
Victor GASTE / AVL
10:30
DEMO CAR & ENGINE EXHIBITION / COFFEE BREAK
11:30
HyMot - A H2 Engine optimized for LCV – numerical development of the system of combustion
Xavier Gautrot / IFPEN
12:00
Development of high performance hydrogen internal combustion engine for future Dakar Rally competition
FEV - Thomas Durand
12:30
PUNCH Hydrocells Vision for Hydrogen Solutions
Stefano Scalabrini / Punch Hydrocells
13:00
DEMO CARS & ENGINES EXHIBITION / LUNCH
HYDROGEN INTERNAL COMBUSTION ENGINE INTEGRATION ON VEHICLE

Chairman : Noureddine Guerrassi
14:30
BorgWarner LCV H2 system demonstrator vehicle on the road
Guillaume Meissonnier & Emmanuel Ouali / BorgWarner Inc.
15:00
H2ICE, the future of ICE for coming global CO2 and emission regulations
Jean-Marc Neveu / Volvo Powertrain
15:30
H2 internal combustion for Destination Zero
Duncan Engeham / Cummins
16:00
DEMO CAR & ENGINE EXHIBITION / COFFEE BREAK
PANEL SESSION

Moderator: Noureddine Guerrassi
16:30
General discussion & conclusion
Nicolas CHAMPETIER/Stellantis, Joël OP DE BEECK/Plastic Omnium, Nicolas MARIE/John Deere, Bruno JAMET/ Pôle Véhicule du Futur
17:30
END OF THE CONFERENCE DAY
Démo Cars
Call for demo cars and ENGINES Free of charges
Organisers are soliciting companies for demonstration vehicles that will showcase technologies related to the conference topics.
Demo-cars will be displayed inside the Conference Center facilities for the engines and on a parking for the car.

ASK THE SIA TEAM FOR FURTHER INFORMATION!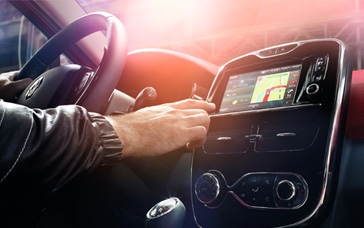 Accès
Laboratoire PRISME
1 rue Saint Amand,
45100 Orléans