International Congress :

NVH Comfort
13-14 October 2021
Le Mans
Our congress in October 2021, Le Mans

This congress is the first one in collaboration with CAERI.




We are looking forward to seeing you in Le Mans next year, 13-14 Ocotber 2021, for our congress which will then be twinned with the International Sound Biennial of Le Mans.


The initial program was particularly rich. We would like to thank again all the authors, experts and managers who were mobilized for its elaboration. It will simply be updated in order to reinforce even more the expected quality level.


Several companies had planned to exhibit their know-how and innovations. We thank them for their support. Some of them have already confirmed that they are maintaining their commitment for the next edition. This deserves a second THANK YOU.


But we don't want to wait a year before we meet again. We will suggest you other rendez-vous next spring, probably in the form of digital sessions, which will address the major themes of our congress and will contribute to maintain and strengthen the links between NVH experts from the automotive industry and R&D before our great international event in Le Mans.
We look forward to seeing you again.


Until then, take care of yourself.


Hervé Pichon, Hervé Gros with the NVH SIA CTTM Congress Program Committee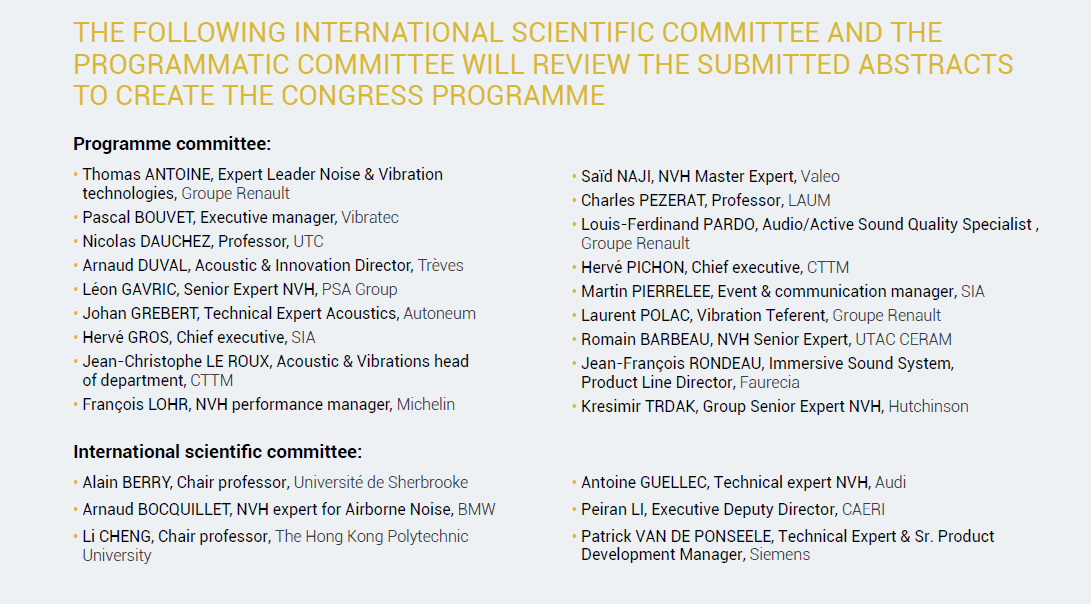 Programme
Plenary session
08:15
Introduction to the second day
08:20
Keynote :NVH SIA Expert Community
Interior Noise / Tiredness / Psychoacoustics


08:40
Keynote
Human Sound Perception
09:00
Panel session : The automotive users NVH comfort and the metrics used by NVH experts
10:00
Coffee & Tea Break and Networking in the exhibition
BEV/PHEV/MHEV

Moderator: Peiran LI

NVH Design Methods for Vehicles and Components

Moderator: Kresimir TRDAK

Insulation and acoustic integration

Moderator: Said NAJI

10:30

Analysis of the influence of Range Extender System Design on the vehicle NVH Performance
CAERI

10:30

Simulation of acoustic transfer functions inside a car cabin using beam-tracing: correlation status and an updated industrial viewpoint
Arnaud Jund - PSA

10:30

Numerical prediction of the sound absorption of a thermo-compressed 3D hood absorber using equivalent fluid models following high compression rates
Lei Lei - Treves
10:55

High frequency source characterization of an E-motor using Component Based TPA
Mostapha Choukri - Siemens

10:55

Research on Simulation and optimization of vehicle road noise
Dayong Jiang - Caeri

10:55

How can interfaces significantly change the vibroacoustic behavior of assemblies?
Jean-Baptiste Chaussang - Renault
11:20

Emotor NVH issues for automotive applications: specification, influent parameters and predesign phase
Wilfrid Raguenet - PSA

11:20

Design of a poroelastic lamellar metamaterial for sound attenuation
Li Ke -UTC

11:20

Data-guided computational analysis of cross-correlations for the digital reconstruction of membranes in polydisperse foams: Towards a novel optimization path
Cong Truc Nguyen - Université Gustave Eiffel
11:45

Proper use and improvement of TPA method to control the whining noise of electrified powertrains
Jean-Luc Wojtowicki - Vibratec

11:45

3D vision method for vibration pattern measurement
Marie-Hélène Moulet - CTTM

11:45

Identification of global damping added by a trim foam on a steel plate with an inverse vibration problem
Meryem Le Deunf - Cevaa
12:10

Experimental and numerical study for Ventilated Brake Disc low frequency harmonic noise
Le Yang- BYD

12:10

Acoustic Imaging coupled with Artificial Intelligence to improve End of Assembly Line Diagnosis
Abdelhakim Darraz - Valeo

12:10

Classification of non-conventional phenomena involved in meta-materials
Fabien Chevillotte - Matelys
Plenary session
12:40
Key Notes
Regulatory issues for vehicle noise
13:00
First NVH Congress Chairman conclusions
Leon Gavric
BEV/PHEV/MHEV

Moderator: Jean-Christophe LE ROUX

NVH Design Methods for Vehicles and Components

Moderator: Charles PEZERAT

Insulation and acoustic integration

Moderator: Johan GREBERT

14:30

Acoustic performance overview of new energy vehicles in Chinese market
Dr Charles Zhang - BYD

14:30

Development of a car aeroacoustic noise prediction method
Hervé Foucart - Vsolution

14:30

Virtual Prototyping Platform for NVH System Design of EPS
Pascal Moulaire -JTEKT
14:55

Dedicated powertrain mounting systems for electric vehicles
David Roth - Vibracoustic

14:55

Attenuation of an acoustical mode by using an Helmholtz resonator with nonlinear behavior
Emmanuel Gourdon - CNRS

14:55

An advanced encapsulated acoustic solution for automotive applications
Mathieu Gontier - Recticel
Plenary session
15:30
Sudents Award and Congress conclusions
16:15
Closing remarks & cocktail
Hervé Gros, SIA & Hervé Pichon, CTTM
You can already book a booth for 2021!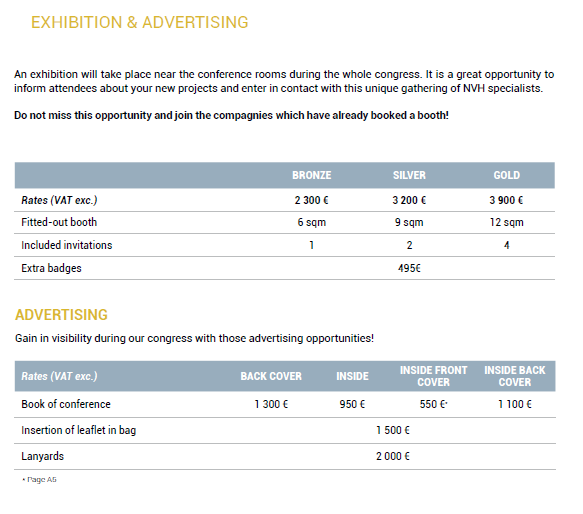 Access & Accomodation
Palais des Congrès
rue d'arcole
72 000 Le Mans
Carpark available: entrance on Boulevard Demorieux or Rue Barbier
Train: exit "gare nord" → the Palais des Congrès is at 10 minutes by foot (take rue Paul Ligneul)
Bus: Line 17, stop at « Palais des Congrès"