International Congress :

NVH Comfort
13-14 October 2021
Le Mans
A look back on Le Mans 2021

The 2021 edition of SIA Automotive NVH Comfort conference, organized by SIA and CTTM, took place on the 13th and 14th October in Le Mans, France.


Despite the COVID situation, we managed to be as numerous as past congress with more than 160 attendees.
The exhibiton was also full, thank you to all of our exhibitors for supporting our work and bring life to our exhibitions!

The 2021 NVH conference, addressed a specific topic, which presents a major interest for the automotive NVH community, the« Automotive noise, regulation and urban soundscape ».
With over 50% of mankind living in urban and suburban area, the question of noise exposure is leading to more and more stringent noise regulation, along with a need to adapt to the specific noise signature of new technologies for safety issues (AVAS for Electric vehicles). Those regulations are aiming for a progress in the quality of life, an improvement of health and safety and to protect the environment. It is therefore necessary for NVH automotive engineers to better understand the regulatory aspects of noise in the environment, and the reality and challenges of modern soundscapes to ensure that those goals are met.

In addition, the automotive acoustic congress would addressed the following issues:

> What is the place of vehicle noise among the nuisance sources in urban area?
> What is the influence of the environment on transportation noise (road surface, green areas, vegetal green walls,…)?
> Is the actual noise regulation strategy appropriate to limit the real impact of vehicles to urban noise?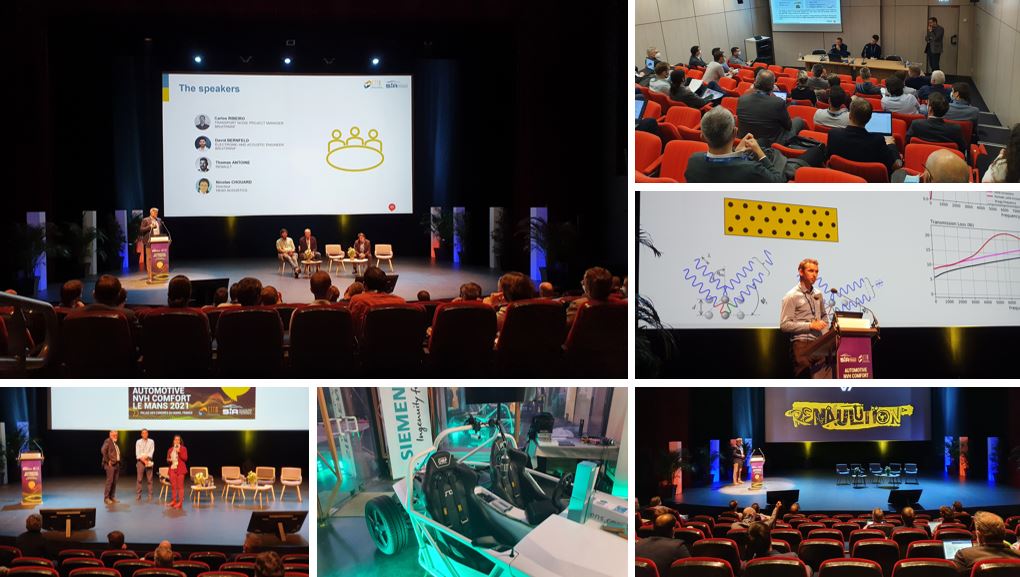 Join us in 2022 for our NVH workshop and in 2023 we we will be back in Le Mans for our congress!


Programme
Plenary session
09:00
Welcome / intro
Frédéric CHARON (SIA), Hervé PICHON (CTTM), Léon GAVRIC (CE NVH)
09:10
Keynote CAERI : Peiran LI , Executive Deputy Director- Automotive NVH Tech
The trend of electric drive system (EDS) NVH subjective and objective evaluation methods


09:30
Keynote Michelin
Pierre Fraisse, Vice President Technical Operations Passenger Car and Light Truck Tires.
09:50
Keynote Bruitparif : Carlos Ribeiro
Traffic noise and annoyance by environment acoustic expert

10:10
Panel discussion "Automotive in soundscape"
11:10
Coffee & Tea Break and Networking in the exhibition
11:40
Keynote CSTB (Pionnering HumanLab for Sensory Evaluation)
Sensory Perception Objectivation of noise and vibration through psychophysiology
12:00
Exhibitors Presentation
2 mm - 2 slides / exhibitors
BEV/PHEV/MHEV

Moderator : Leon Gavric

PBN / Regulation

Moderator : Arnaud Duval

Audio / ANC / Sound

Moderator : Jean-François Rondeau

14:10

Study of passive treatments coupled to an electric vehicle battery
Johan Grebert - Autoneum

14:10

Assesment of run-to-run dispersion phenomena in pass-by-noise measurements according to R51-03
Ivan Chapelier - PSA

14:10

Active and passive acoustic package synergy
Ludovic Dejaeger - Faurecia
14:35

Why tailored dampers are needed for HEV power-trains?
Hervé Mahe - Valeo

14:35

Determination of racing cars by-pass noise using acoustic beamforming
Laurent Bollade - Dyva

14:35

Design of interior and exterior sound using vehicle audio systems
Christoph Steffens-FEV
15:00

NVH issues for Electric Rear Axle Drive (e-RAD)
Emmanuel Libert - PSA

15:00

Major impacts of uncertainties on compliance and development of noise regulations
Yannick Denoual - Renault

15:00

A novel GPU accelerated numerical process for automotive loudspeaker design and integration studies
Thibaud Costes-FFT
15:25

IBSG, Integrated Belt Starter Generator 48V architecture P0.Comfort optimisation for the vehicule througth the lab.
Stéphane Desenclos - Valeo

15:25

Pass-by noise regulation: Development of indoor methodologies toward virtual testing
Romain Barbeau - Utac Ceram

15:25

Validation steps for a successful Active Sound Design implementation
Ricardo Sales - Siemens
15:50

NVH integration impact of thermal systems components in serial vehicle production
Saad Bennouna - Valeo

15:50

Exterior Noise Regulation for Truck Medium Duty Powertrain: Challenges and Ways of working
Fabien Acher - Volvo

15:50

Automotive active acoustic and audio augmented reality
Louis-Ferdinand Pardo - Renault
16:15
Coffee Break and Networking in the exhibition
BEV/PHEV/MHEV

Moderator: Pascal BOUVET

NVH Design Methods for Vehicles and Components

Moderator: Thomas ANTOINE

Audio / ANC / Sound

Moderator: Nicolas DAUCHEZ

16:45

Sound quality analysis of Electric Drive Units under different switching control strategies
Karine Degrendele - Eomys

16:45

Whistling prediction using direct aeroacoustic simulation on exhaust components
Florent Morin - Renault

16:45

Experimental evaluation of a new class of algorithms for active noise attenuation
Ioan Landau - Univ Grenobles- Alpes
17:10

Design of e-powertrain mounting for NVH
Stephan Philip - PSA

17:10

Stability and energy localization of automotive vibration absorber with cyclic symmetry
Alexandre Renault - Valeo

17:10

Bass reflex enclosure for headrest application
Benjamin Eller - Faurecia
17:35

The sound of silence of electric vehicles – Updated issues and answers
Louis-Ferdiand Pardo - Renault

17:35

The importance of R-DoF in blocked force descriptions of mechatronic components
Eric Pasma - Vibes

17:35

Active Vibration Control Applied to Speakerless Audio Using the HyVibe Exciter
Adrien Mamou-Mani - Hyvibe
18:00

Multi-criteria optimization of an electric powertrain to reach the NVH targets
Sylvestre Lecru - Vibratec

18:00

Relative effect of sound and powertrain vibrations on the overall discomfort in a driving car experience
Luc Laroche - PSA

18:00

Sporty sound development and evaluation based on a DoE approach
Jonathan Tournadre- Faurecia
18:25
19:00
Discover our exhibitors!

Access & Accomodation
Palais des Congrès
rue d'arcole
72 000 Le Mans
Carpark available: entrance on Boulevard Demorieux or Rue Barbier
Train: exit "gare nord" → the Palais des Congrès is at 10 minutes by foot (take rue Paul Ligneul)
Bus: Line 17, stop at « Palais des Congrès"