International Congress :

NVH Comfort
13-14 October 2021
Le Mans
A look back on Le Mans 2021

The 2021 edition of SIA Automotive NVH Comfort conference, organized by SIA and CTTM, took place on the 13th and 14th October in Le Mans, France.


Despite the COVID situation, we managed to be as numerous as past congress with more than 160 attendees.
The exhibiton was also full, thank you to all of our exhibitors for supporting our work and bring life to our exhibitions!

The 2021 NVH conference, addressed a specific topic, which presents a major interest for the automotive NVH community, the« Automotive noise, regulation and urban soundscape ».
With over 50% of mankind living in urban and suburban area, the question of noise exposure is leading to more and more stringent noise regulation, along with a need to adapt to the specific noise signature of new technologies for safety issues (AVAS for Electric vehicles). Those regulations are aiming for a progress in the quality of life, an improvement of health and safety and to protect the environment. It is therefore necessary for NVH automotive engineers to better understand the regulatory aspects of noise in the environment, and the reality and challenges of modern soundscapes to ensure that those goals are met.

In addition, the automotive acoustic congress would addressed the following issues:

> What is the place of vehicle noise among the nuisance sources in urban area?
> What is the influence of the environment on transportation noise (road surface, green areas, vegetal green walls,…)?
> Is the actual noise regulation strategy appropriate to limit the real impact of vehicles to urban noise?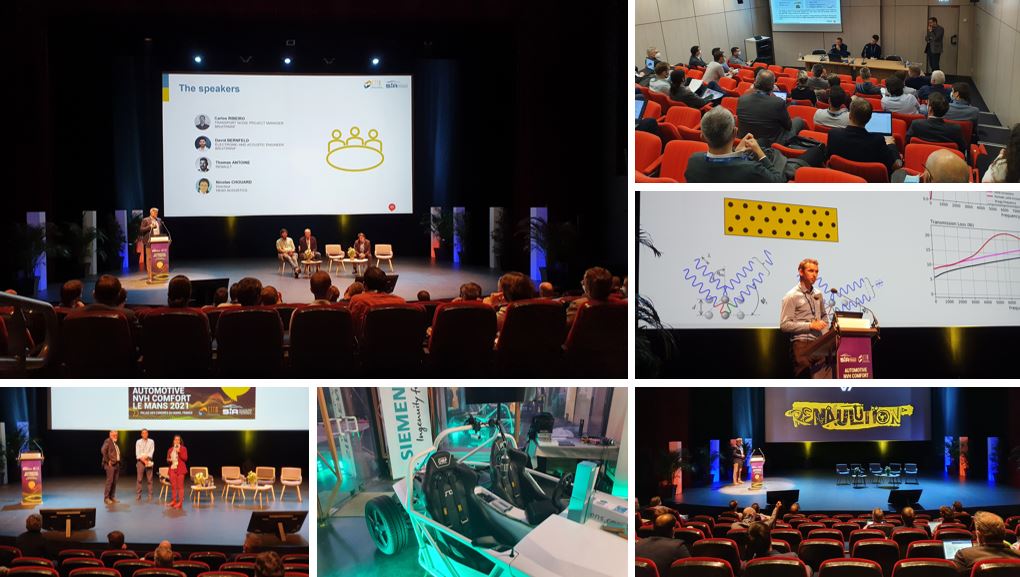 Join us in 2022 for our NVH workshop and in 2023 we we will be back in Le Mans for our congress!


Discover our exhibitors!

Access & Accomodation
Palais des Congrès
rue d'arcole
72 000 Le Mans
Carpark available: entrance on Boulevard Demorieux or Rue Barbier
Train: exit "gare nord" → the Palais des Congrès is at 10 minutes by foot (take rue Paul Ligneul)
Bus: Line 17, stop at « Palais des Congrès"