International Congress :

NVH Comfort
14 & 15 October 2020
Le Mans
Introduction

This congress is the first one in collaboration with CAERI.



Dear colleague,
The 2020 edition of SIA Automotive NVH Comfort conference, organized by SIA and CTTM, will take the place on 14th and 15th October in Le Mans, France. In order to increase the international impact, the 2020 conference is organized in collaboration with CAERI State Key Laboratory of vehicle NVH and safety Technology, which is one of the principal Chinese partners of SIA.
As all the previous editions, the 2020 NVH conference, will address a specific topic, which presents a major interest for the automotive NVH community. This time, we would like to address « Automotive noise, regulation and urban soundscape ».
With over 50% of mankind living in urban and suburban area, the question of noise exposure is leading to more and more stringent noise regulation, along with a need to adapt to the specific noise signature of new technologies for safety issues (AVAS for Electric vehicles). Those regulations are aiming for a progress in the quality of life, an improvement of health and safety and to protect the environment. It is therefore necessary for NVH automotive engineers to better understand the regulatory aspects of noise in the environment, and the reality and challenges of modern soundscapes to ensure that those goals are met.
The automotive acoustic community would like to address the following issues:
is the vehicle noise the principal nuisance source in urban area ?
what is the influence of the environment on transportation noise (road surface, green areas, vegetal green walls, …) ?
is the actual noise regulation strategy appropriate to limit the real impact of vehicles to urban noise ?
This particular edition will be therefore centered on citizen perception: as a pedestrian exposed to traffic and vehicle charging noise, as a driver or a passenger in a car, and will cover the necessary technical challenges manufacturers are facing today: lightweight design, impact of new technologies and driver experiences, audio sound design and the necessary changes in methodology and approaches. With autonomous vehicle on its way, the driving experience will dramatically change: how shall we design for NVH when everyone in the car will be a passenger, what are the right tradeoffs between driving comfort and NVH? Moreover, this year we would like to create a special session concerning the vibrational drive comfort of vehicles and its interaction with the NVH. Consequently, the papers dealing with tradeoff between NVH and driving comfort issues are particularly welcome.
Join us to make a huge success of the 2020 Automotive NVH Comfort Conference in Le Mans, France!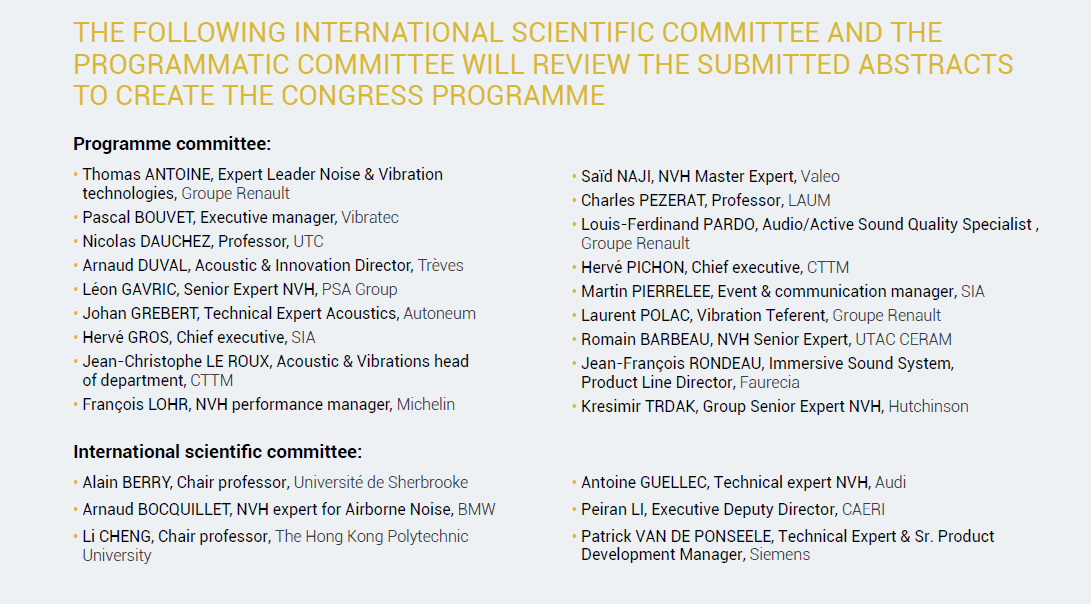 Call for papers
Topics to be addressed
Noise and Vibration Regulation, Environmental Issues and Urban Soundscape
Sound quality related to Automomous Driving and the new HMI
Integration of smart control for NVH (infotainment, active control, sound design
per new technologies...)
Powertrain acoustics and vibrations (ICE)
Acoustics and vibration of electric and hybrid vehicles
Flow-induced noise / Aeroacoustics
Flow-induced noise / Aeroacoustics
Recent advances in NVH of automotive systems and components
Road induced noise and vibrations
Acoustic insulation of vehicle body (lightweight design)
Recent advances in simulation and hybrid test methods
Quality processes applied for acoustic interaction of drive comfort and NVH
Important information
30 minutes will be allocated to each speaker (25 minutes for presentation and 5 minutes for questions)
All necessary instructions for the preparation of the paper will be sent to the authors
The lead author (one per paper) will benefit a free access to the conference and meals
Conference language: English
The authors will have to submit a paper for inclusion in the conference proceedings.
The committee will select the most promising papers to be published in the magazine Ingénieurs de l'Automobile
Experts in the topics mentioned above who would like to take part in this conference are invited to submit their abstracts
by March 27th, 2020.
Registration
If you are a main speaker, an exhibitor or a chairman please register on our website.
For any other inscription, please download the PDF form below.
Book your booth!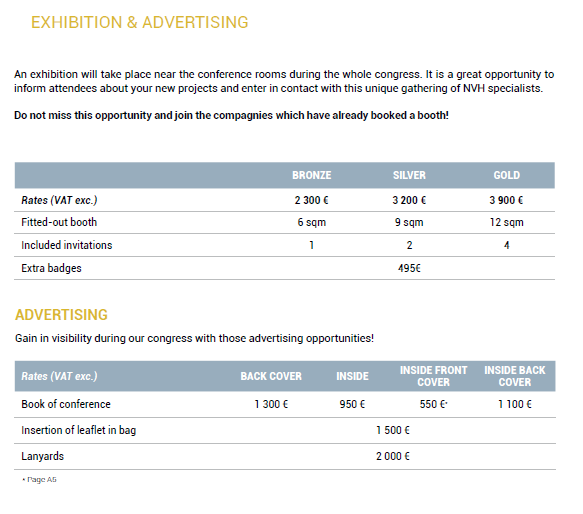 Access & Accomodation
Palais des Congrès
rue d'arcole
72 000 Le Mans
Carpark available: entrance on Boulevard Demorieux or Rue Barbier
Train: exit "gare nord" → the Palais des Congrès is at 10 minutes by foot (take rue Paul Ligneul)
Bus: Line 17, stop at « Palais des Congrès"