International Congress :

NVH Comfort
13-14 October 2021
Le Mans
Our congress in October 2021, Le Mans

This congress is the first one in collaboration with CAERI.




We are looking forward to seeing you in Le Mans next year, 13-14 Ocotber 2021.


The initial program was particularly rich. We would like to thank again all the authors, experts and managers who were mobilized for its elaboration. It will simply be updated in order to reinforce even more the expected quality level.


Several companies had planned to exhibit their know-how and innovations. We thank them for their support. Some of them have already confirmed that they are maintaining their commitment for the next edition. This deserves a second THANK YOU.


But we don't want to wait a year before we meet again. We will suggest you another rendez-vous , we are organizing a webinar to keep exchanging between the NVH community.
More information on our website !
We look forward to seeing you again.


Until then, take care of yourself.


Hervé Pichon, Frédéric Charon with the NVH SIA CTTM Congress Program Committee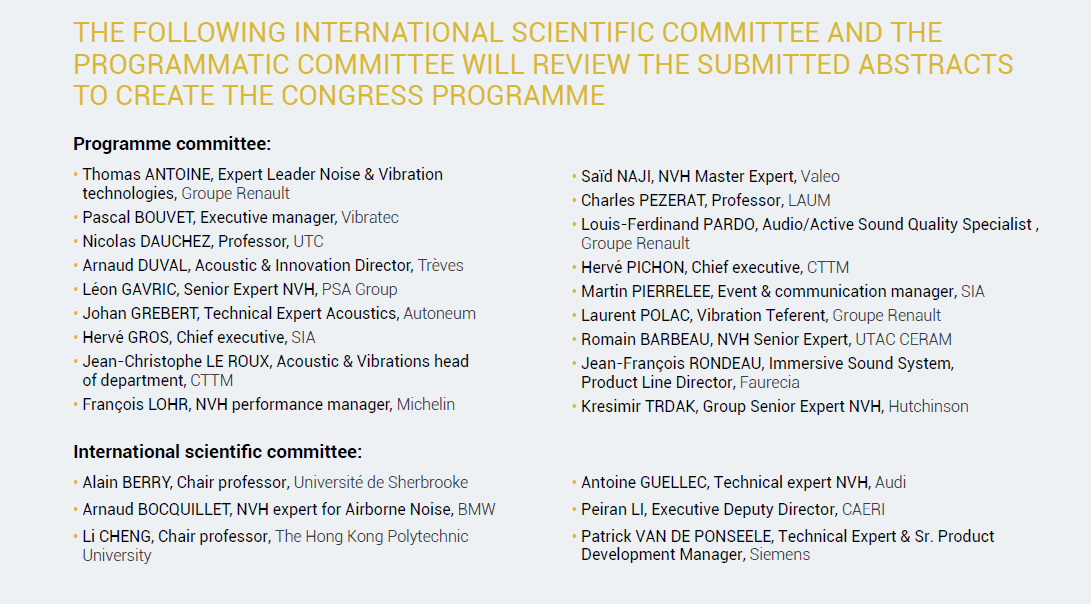 Programme
Plenary session
09:00
Welcome / intro
Frédéric CHARON (SIA), Hervé PICHON (CTTM), Léon GAVRIC (CE NVH)
09:10
Keynote CAERI : Peiran LI , Executive Deputy Director- Automotive NVH Tech
The trend of electric drive system (EDS) NVH subjective and objective evaluation methods


09:30
Keynote Michelin
Pierre Fraisse, Vice President Technical Operations Passenger Car and Light Truck Tires.
09:50
Keynote Bruitparif : Carlos Ribiero
Traffic noise and annoying by environment acoustic expert

10:10
Panel discussion "Automotive in soundscape"
11:10
Coffee & Tea Break and Networking in the exhibition
11:40
Keynote CSTB (Pionnering HumanLab for Sensory Evaluation)
Sensory Perception Objectivation of noise and vibration through psychophysiology
12:00
Exhibitors Presentation
2 mm - 2 slides / exhibitors
BEV/PHEV/MHEV

Moderator : Leon Gavric

PBN / Regulation

Moderator : Arnaud Duval

Audio / ANC / Sound

Moderator : Jean-François Rondeau

14:10

Study of passive treatments coupled to an electric vehicle battery
Johan Grebert - Autoneum

14:10

Assesment of run-to-run dispersion phenomena in pass-by-noise measurements according to R51-03
Ivan Chapelier - PSA

14:10

Active and passive acoustic package synergy
Ludovic Dejaeger - Faurecia
14:35

Why tailored dampers are needed for HEV power-trains?
Hervé Mahe - Valeo

14:35

Determination of racing cars by-pass noise using acoustic beamforming
Laurent Bollade - Dyva

14:35

Design of interior and exterior sound using vehicle audio systems
Christoph Steffens-FEV
15:00

NVH issues for Electric Rear Axle Drive (e-RAD)
Emmanuel Libert - PSA

15:00

Major impacts of uncertainties on compliance and development of noise regulations
Yannick Denoual - Renault

15:00

Innovative simulation techniques for audio system performances assessment
Thibaud Costes-FFT
15:25

IBSG, Integrated Belt Starter Generator 48V architecture P0.Comfort optimisation for the vehicule througth the lab.
Stéphane Desenclos - Valeo

15:25

Pass-by noise regulation: Development of indoor methodologies toward virtual testing
Romain Barbeau - Utac Ceram

15:25

Sound Quality analysis of Active Sound Design implementation
Ricardo Sales - Siemens
15:50

NVH integration impact of thermal systems components in serial vehicle production
Saad Bennouna - Valeo

15:50

Exterior Noise Regulation for Truck Medium Duty Powertrain: Challenges and Ways of working
Fabien Acher - Volvo

15:50

Automotive active acoustic and audio augmented reality
Louis-Ferdinand Pardo - Renault
16:15
Coffee Break and Networking in the exhibition
BEV/PHEV/MHEV

Moderator: Pascal BOUVET

NVH Design Methods for Vehicles and Components

Moderator: Thomas ANTOINE

Audio / ANC / Sound

Moderator: Nicolas DAUCHEZ

16:45

Sound quality analysis of Electric Drive Units under different switching control strategies
Karine Degrendele - Eomys

16:45

Whistling prediction using direct aeroacoustic simulation on exhaust components
Florent Morin - Renault

16:45

Experimental evaluation of a new class of algorithms for active noise attenuation
Ioan Landau - Univ Grenobles- Alpes
17:10

Design of e-Powertrain mounting and structure borne whining
Stephan Philip - PSA

17:10

Stability and energy localization of automotive vibration absorber with cyclic symmetry
Alexandre Renault - Valeo

17:10

Bass reflex enclosure for headrest application
Benjamin Eller - Faurecia
17:35

The sound of silence of electric vehicles – Updated issues and answers
Louis-Ferdiand Pardo - Renault

17:35

The importance of R-DoF in blocked force descriptions of mechatronic components
Eric Pasma - Vibes

17:35

Active Vibration Control Applied to Speakerless Audio Using the HyVibe Exciter
Adrien Mamou-Mani - Hyvibe
18:00

Multi-criteria optimization of an electric powertrain to reach the NVH targets
Sylvestre Lecru - Vibratec

18:00

Relative effect of sound and powertrain vibrations on the overall discomfort in a driving car experience
Luc Laroche - PSA

18:00

Sporty sound development and evaluation based on a DoE approach
Jonathan Toumadre - Faurecia
18:25
19:00
20:00
Registration
If you are a main speaker, an exhibitor or a chairman please register on our website.
For any other inscription, please download the PDF form below.
Book a booth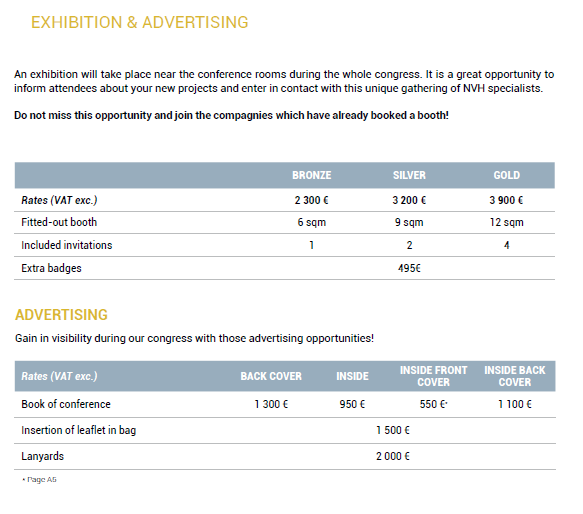 Access & Accomodation
Palais des Congrès
rue d'arcole
72 000 Le Mans
Carpark available: entrance on Boulevard Demorieux or Rue Barbier
Train: exit "gare nord" → the Palais des Congrès is at 10 minutes by foot (take rue Paul Ligneul)
Bus: Line 17, stop at « Palais des Congrès"