Congrès International :

SIA-SFIP Les Matériaux Polymères pour la Mobilité du Futur // Polymer Materials for Future Mobility ** Report // Postponed 2021 **
REPORT // ADJOURNEMENT
Cite du Vin, Bordeaux - France
Introduction

In view of the current crisis and the many uncertainties about the feasibility of holding our congress in September as initially planned, the Organising Committee and all stakeholders have taken the decision to postpone our joint SFIP-SIA event to a later date, same venue, exhibition opportunities and programme. We will keep you informed in the coming days of the new date which will allow us to welcome you in the best possible conditions.
2nde Edition du congrès SFIP-SIA
MATERIAUX POLYMERES POUR LA MOBILITE DU FUTUR

Dans la continuité du congrès de Bordeaux en 2018 et afin de faire un point d'avancement sur les nouvelles évolutions des matériaux des futurs véhicules (choix - conception et moyens de fabrication), la SFIP - Société Française des Ingénieurs des Plastiques et la SIA - Sociéte des Ingénieurs de l'Automobile s'associent pour organiser, avec le soutien du GPA et de la PFA, la seconde édition du Congrès Matériaux Polymères pour la Mobilité du Futur.
Les communautés d'experts et spécialistes des polymères qu'ils soient du monde automobile ou du monde de la plasturgie (fournisseurs de matières, fabricants de machines et moulistes, équipementiers, développeurs d'outils de simulation) sont invités a participer à ce rendez-vous international incontournable pour imaginer ensemble l'avenir, qu'il soit pour une mobilité partagée, électrifiée, connectée ou autonome ou plus traditionnelle au profit de tous.
Ces rencontres et ces échanges traiteront des principaux thèmes suivants :
> Le car-sharing ou les véhicules partagés,
> Les énergies alternatives (hydrogène, électrification, hybri-dation, optimisation des moteurs thermiques…),
> Les véhicules connectés,
> Les véhicules autonomes et les futures mobilités associées aux véhicules,
> La prise en compte du développement durable et de l'écono-mie circulaire lors de ces développements en cours.
Partageons et transmettons nos savoirs, évoquons l'avenir technologique et imaginons des développements en commun à bordeaux.
---

2nde Edition of SFIP-SIA congress
POLYMER MATERIALS FOR FUTURE MOBILITY
As a continuation of the Congress held in Bordeaux in 2018 and in order to take stock and evaluate the progress of the evolutions of the materials for future vehicles (choice - design and means of manufacture), the SFIP - Société Française des Ingénieurs des Plastiques and the SIA join forces to organize, with the support of GPA and PFA, the second edition of the Polymer Materials for Future Mobility.

The polymers experts' communities and specialists from the automotive world and from the plastic world (material suppliers, machine and mold manufacturers, OEMs, and developers of simulation tools) are expected to go down as a milestone this date and place for this unmissable international meeting to imagine together the future - whether for a shared mobility, electrified, connected, autonomous or a more traditional one - for the benefit of all.
These meetings and exchanges will address the following main themes:
> Car sharing,
> Alternative energies (hydrogen, electrification, hybridization, thermic engines optimisation, …),
> Connected vehicles,
> Autonomous vehicles and future mobilities associated to vehicles,
> The consideration of sustainability and circular economy in these ongoing developments.
The first contributions of experts from the fol-lowing companies have been announced: MICHELIN, FAURECIA, PLASTIC OMNIUM, GROUPE RENAULT, PSA GROUPE, TRANSPOLIS, COLLEGE DE FRANCE.
Let's share and transmit our knowledge, talk about the technological future and imagine developments in common in Bordeaux.
---
Comité Scientifique // Scientific Committee
Gildas BUREAU, Groupe PSA

Amaury CORNILLEAU, GPA

Laurence DUFRANCATEL, Faurecia

Laurent GERVAT, Groupe Renault

Alain GIOCOSA, SFIP

Hervé GROS, SIA

Virginie HUGUON, Groupe PSA

Gérard LIRAUT, Groupe Renault

Thierry ORSAT, Michelin

Pierre PRONOST, Plastic Omnium
Programme
09:00
Accueil des participants dans les Salons Lafayette, 1er étage
Welcome coffee in the Salons Lafayette, 1st floor
09:45
Ouverture du Congres // Congress Opening
SIA & SFIP
Conference d'ouverture - Opening lecture
10:00
Automotive industry: trends and challenges
Christophe AUFRERE, Chief Technology Officer | Faurecia

Electrical Energies // Hydrogen and Fuel Cells Vehicles

Chairpersons: Virginie HUGUON | Groupe PSA & Thierry ORSAT | Michelin
10:30
Hydrogen and land transportation
Robert LASSARTESSES | Groupe RENAULT
11:00
Pause-café dans l'exposition // Coffee Break in the Exhibition
11:45
Innovative thermoplastic solutions for hydrogen tanks
Nicolas DUFAURE | ARKEMA
12:15
eMobility: A new era for High Performance Polymers
Nicolas BATAILLEY | SOLVAY Speciality Polymers
12:45
Déjeuner dans l'exposition // Lunch in the exhibition hall
ELECTRICAL ENERGIES // Materials for electric (EVs) and hybrid electric (HEVs) vehicles

Chairpersons: Laurence DUFRANCATEL | Faurecia & Alain GIOCOSA | SFIP
14:15
How alternative energies impact thermoplastic materials choice for Valeo Thermal Systems products: opportunities and challenges?
Peggy HAVET | Valeo Thermal Systems
14:45
Latest developments in glycol resistant polyamides for automotive cooling circuits
Louise-Anne FILOT / Tristan JOBERT | DOMO
15:15
Pause-café dans l'exposition // Coffee Break in the Exhibition
16:00
New mobility and travel experiences: contribution of new material for functional surface
Alcina TANGHE | Valeo Thermal Systems
Fabrice DOMINGUES DOS | Arkema
Georges HADZIIOANNOU | Université Bordeaux - ELORPrintec
16:30
How is future mobility challenging polymer materials?
Vedran MUHA | Dupont
CONFERENCE DE CLOTURE 1ere JOURNEE // END of 1st DAY LECTURE
17:00
Inventions, Discoveries and Innovations : borders between scientific discoveries and technological innovations, specific examples
Didier ROUX - Member of the French Academy of Science and Technology, Delegate general for scientific information and communication, Professor of Collège de France
17:30
Cocktail dans l'exposition // Cockail in the exhibition hall
19:00
Fin de la 1ère journée de conférences à la Cite du Vin / End of Conference 1st Day at the Cité du Vin
19:30
Diner à la Brasserie Bordelaise / Dinner at the Brasserie Bordelaise
Rendez-vous / Meeting point: 50 Rue Saint-Rémi, 33000 Bordeaux
Exposition // Exhibition
RESERVEZ VOTRE STAND DES A PRESENT !
BOOK YOUR BOOTH NOW !
La SIA et la SFIP organisent une exposition en parallèle du congrès. Profitez de cette opportunité pour présenter devant les principaux experts du domaine vos réalisations et informer les participants sur vos produits et services.
Nous vous proposons les formules suivantes, modulables selon vos besoins et budget.
SIA and SFIP organize an exhibition during the two days of congress. Take this opportunity to present to the main experts of the sector your applications and inform participants about your products and services.
Please see the various packages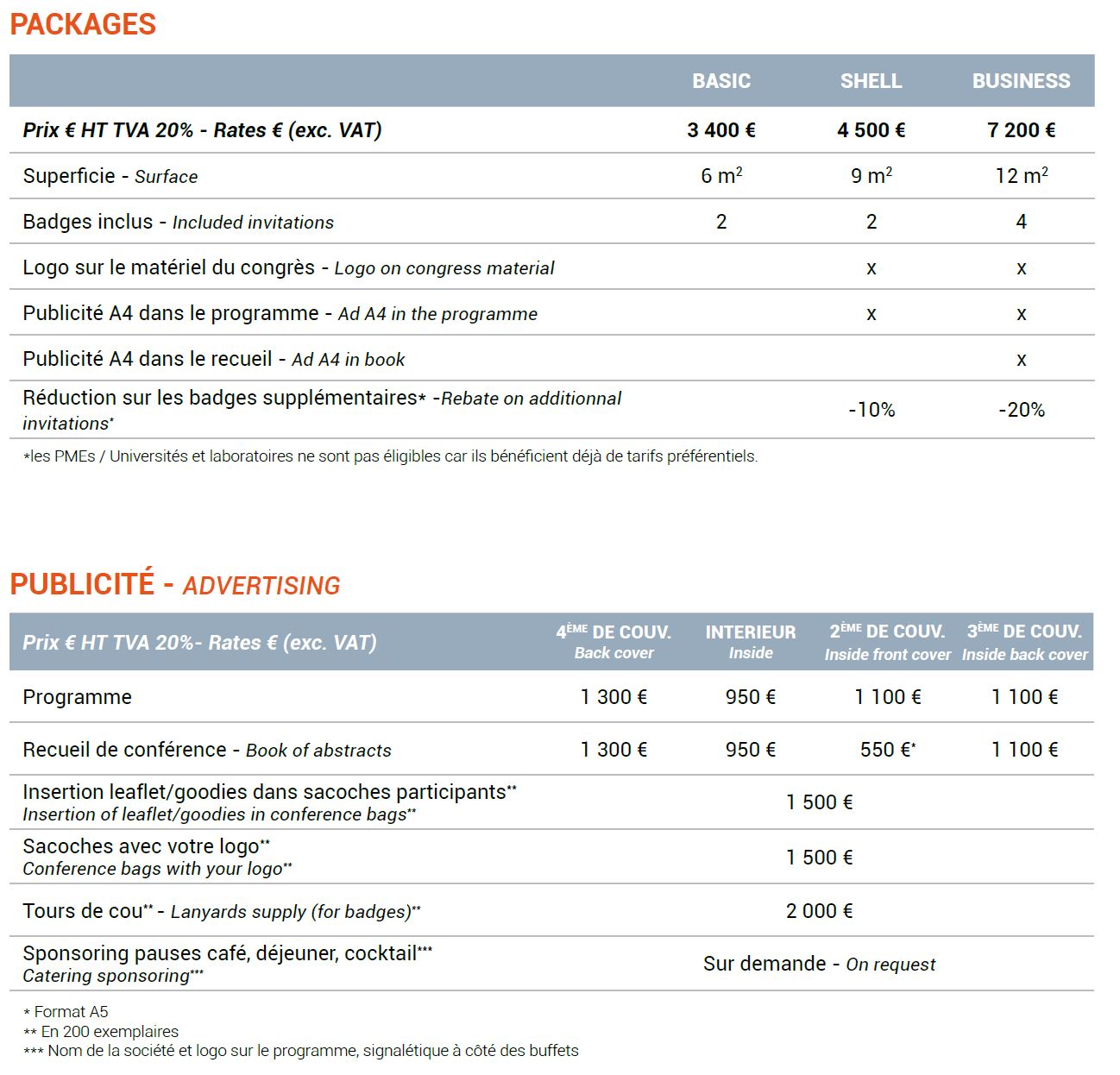 Exhibitors
SABIC

Proven thermoplastic solutions. Trusted experts. Global and local resources. This is SABIC's global automotive team. Beyond materials, you can count on us for expert engineering design and technical support, to help address the toughest challenges. Look to us when you need Chemistry that Matters.
Registration
Prix € HT / Prices VAT excluded (+20%)
Modalités d'inscription // Registration terms & condition
• Les frais d'inscription comprennent l'accès aux conférences, le recueil des conférences, les pauses, les déjeuners et le dîner du 9/09/2020
• Dans le cas où le règlement ne pourrait être joint, merci d'envoyer un bon de commande officiel ; faute de paiement effectué au jour de la manifestation ou de la réception d'un bon de commande, l'accès aux conférences ne sera pas possible.
• Dès réception de votre inscription, nous vous ferons parvenir une facture. Merci de nous indiquer l'adresse de votre service comptabilité si nécessaire.
• Jusqu'au 9/08/2020, vous pouvez annuler votre inscription par écrit. Au delà, la totalité des frais restera due aux organisateurs. Les participants ont la possibilité de se faire remplacer, uniquement sur demande écrite.
• Registration fees include participation in the conference, abstracts book, refreshment breaks, transfer bus, lunches and dinner on 9/09/2020
• Where it is not possible to send the payment together with the form, each registration should be accompanied by an official purchase order. Failing reception of an official purchase order or payment on the day of the congress, we regret that you will not be allowed entry to the congress.
• When we have received the registration form, we will send you a confirmation message and an invoice. Please indicate the accounts department address when necessary.
• Till August 9, 2020, you can cancel your registration in a written form. After this date, the entire registration will be retained. Registered participants not able to attend may nominate a substitute and inform us in a written form.