International Congress :

SIA-SFIP Materials for Future Mobility ** DIGITAL EDITION **
3 & 4 February 2021
Digital Edition
A special Digital Edition

More than 200 attendees gathered virtually for this 1st edition of SFIP-SIA materials for Future Mobility congrees.
This congress is the merge of the SFIP-SIA Polymers for Future Mobility Congress (1st edition n Bordeaux n 2018) and the SIA Multimaterials for Lightweighting congress. The goal is to create a unique annual meeting for Materials Experts Communities and to stenghten the crossing of sectors.
We would like to thank all the speakers, exhibitors, committee members and our attendees for joining us on this 2-days despite its particular format.
The feedback we received are very positive with 100% of satisfaction especially on the format of the programme and on the networking possibilities offered by our new digital platform!
Some of the quote from the attendees:
"Good presentation. Good atmosphere no severe issues on the platform. Willing of participants (OEM/Tiers) to meet potential suppliers"
"Despite it was a distential congress, I really appreciate the way to proceed networking"
"Excellent"
"Efficient"
"It is an excellent opportunity to exchange with potential suppliers or customers. The video allows to give a bit the feeling of real exchange."
THE EVENT IN FIGURES :
37 lectures and 7 live Round-Tables
+2000 messages exchanged
415 discussions launched
Nearly 100 video calls
66% of the participants indicated that they had made new contacts
A special thanks for their support and trust to our 4 exhibitors:

---
---
As a continuation of the Congress that was held in Bordeaux in 2018 and in order to take stock and evaluate the progress of the evolutions of the materials for future vehicles (choice - design and means of manufacture), the SFIP - Société Française des Ingénieurs des Plastiques and the SIA join forces to organize - with the support of GPA and PFA - a second edition of our congress "Polymer Materials for Future Mobility".
Then, in order to complement the themes of former SFIP-SIA Polymers for Future Mobility congress, the SIA through its Experts' Community "Materials and Carbody" has added a parallel sessions on Metallic & Polymer solutions for lightweighting leading to an expanded congress, entitled "Materials for Future Mobility" to be held on February 3rd & 4th, 2021.
These meetings and exchanges will address the following main themes:
* Electrical Energies:
- Hydrogen and Fuel Cells Vehicles
- Materials for electric (EVs) and hybrid electric (HEVs) vehicles
* Autonomous and Vehicles Integrated Photovoltaics - VIPV
* Materials Solutions for Lightweighting
* Polymer Solutions for Lightweighting
* Multimaterial joining technologies
* Circular Economy in Developments / New Materials

You will be able to hear the contributions of experts from the following companies:
ARCELORMITTAL, CONSTELLIUM, MICHELIN, FAURECIA, GROUPE RENAULT, STELLANTIS, TRANSPOLIS, COLLEGE DE FRANCE & OTHERS.

Let's share and transmit our knowledge, talk about the technological future and imagine developments in common.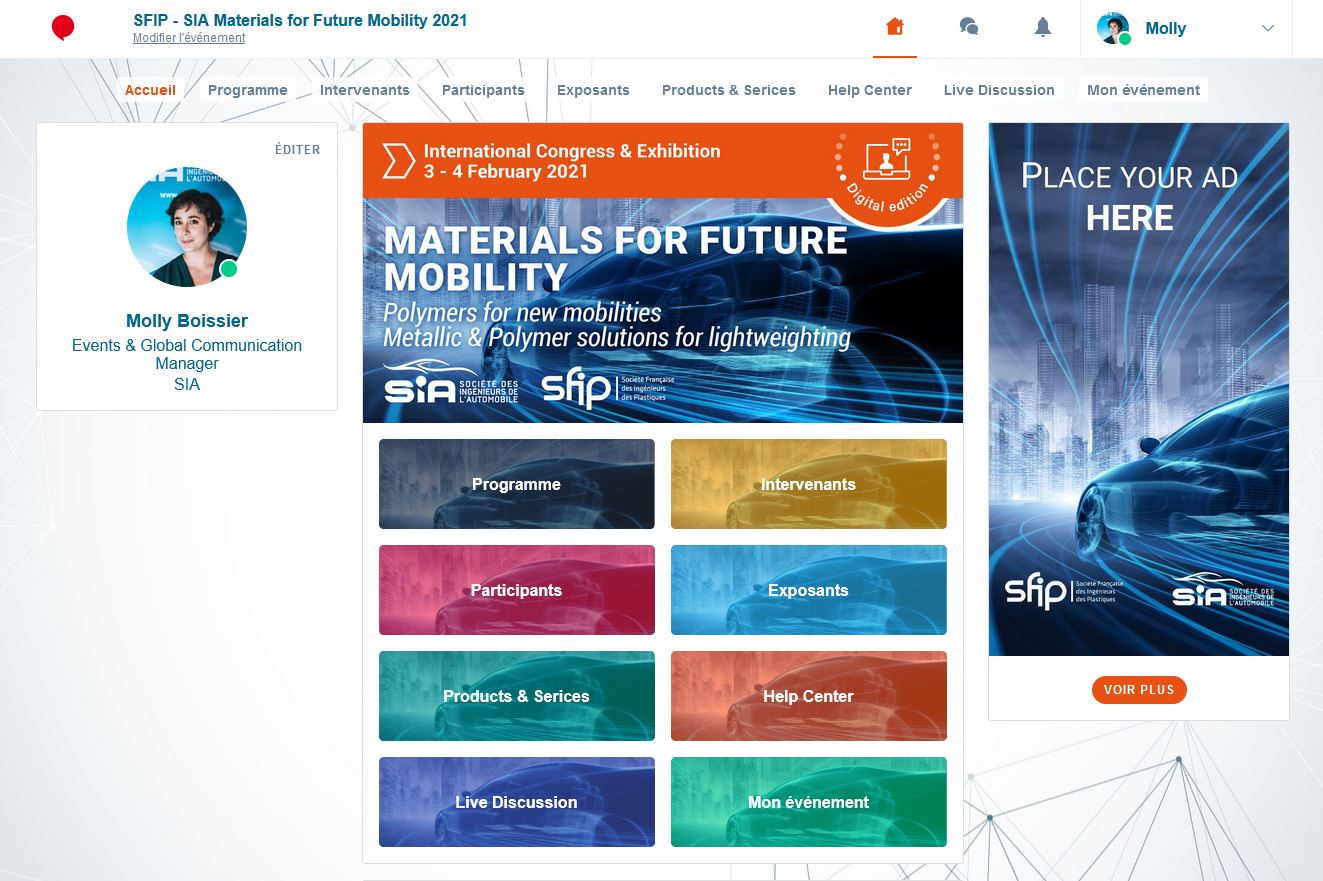 ---
---

Scientific CommitteeS
POLYMERS FOR NEW MOBILITIES SESSIONS

Gildas BUREAU, STELLANTIS

Amaury CORNILLEAU, GPA

Laurence DUFRANCATEL, Faurecia

Laurent GERVAT, GROUPE RENAULT

Alain GIOCOSA, SFIP

Hervé GROS, SIA

Virginie HUGUON, STELLANTIS

Gérard LIRAUT, GROUPE RENAULT

Thierry ORSAT, Michelin

Pierre PRONOST, Plastic Omnium

METALLIC & POLYMER
SOLUTIONS FOR LIGHTWEIGHTING SESSIONS

Philippe ANTOINE, ArcelorMittal
Hervé GROS, SIA
Virginie HUGUON, STELLANTIS
Maxime KOWALSKI, IRT M2P

Thierry MARTIN, SNOP
Jean-Claude LE FLOUR, GROUPE RENAULT
Olivier REBUFFET, Constellium
Maxime TOURON, Gestamp