International Congress :

SIA-SFIP Les Matériaux pour la Mobilité du Futur // Materials for Future Mobility ** Enhanced Congress **
3 & 4 February 2021
Cite du Vin, Bordeaux - France
Introduction
As a continuation of the Congress that was held in Bordeaux in 2018 and in order to take stock and evaluate the progress of the evolutions of the materials for future vehicles (choice - design and means of manufacture), the SFIP - Société Française des Ingénieurs des Plastiques and the SIA join forces to organize - with the support of GPA and PFA - a second edition of our congress "Polymer Materials for Future Mobility".
However, in view of the current crisis and the many uncertainties about the feasibility of holding our congress in 2020 as initially planned, the Organising Committee and all stakeholders have taken the decision to postpone and enhanced our joint SFIP-SIA event!
Then, in order to complement the themes of former SFIP-SIA Polymers for Future Mobility congress, the SIA through its Experts' Community "Materials and Carbody" is pleased to announce the addition of parallel sessions on Metallic & Polymer solutions for lightweighting at an expanded congress, entitled "Materials for Future Mobility" to be held on February 3rd & 4th, 2021 at the Cité du Vin de Bordeaux.
The initial programme, which you can already discover online, remains unchanged on the sessions on Polymers for New Mobilities.
The objectives of this "Metallic & Polymer Solutions for Lightweighting" section are:
> Assert lightweight as a driver for optimizing emissions from internal combustion vehicles and the range performance of electric vehicles.
> Present innovative product and manufacturing solutions to meet these expectations in the fields of metal and plastic materials, their forming and assembly.
"And thus, unite the entire automotive industry around the virtuous impacts of lighter vehicles for tomorrow's mobility!"
The Scientific Committee invites you to submit your paper proposals for SEPTEMBER 11th, 2020, to
molly.boissier@sia.fr. The congress program will then be adapted, and parallel sessions created on the themes below.
The 4 main themes that will be addressed are the following:
> Body / chassis
> Indoor Equipment
> Conventional and new engines
> Electrification
Let's share and transmit our knowledge, talk about the technological future and imagine developments in common in Bordeaux.
---

---

Scientific CommitteeS
POLYMERS FOR NEW MOBILITIES SESSIONS

Gildas BUREAU, Groupe PSA

Amaury CORNILLEAU, GPA

Laurence DUFRANCATEL, Faurecia

Laurent GERVAT, Groupe Renault

Alain GIOCOSA, SFIP

Hervé GROS, SIA

Virginie HUGUON, Groupe PSA

Gérard LIRAUT, Groupe Renault

Thierry ORSAT, Michelin

Pierre PRONOST, Plastic Omnium

METALLIC & POLYMER
SOLUTIONS FOR LIGHTWEIGHTING SESSIONS

Philippe ANTOINE, ArcelorMittal
Hervé GROS, SIA
Virginie HUGUON, Groupe PSA
Maxime KOWALSKI, IRT M2P

Thierry MARTIN, SNOP
Jean-Claude LE FLOUR, Groupe Renault
Olivier REBUFFET, Constellium
Maxime TOURON, Gestamp
Pre-Programme Session Polymer
08:30
Accueil-café dans l'exposition // Welcome Coffee in the exhibition hall
AUTONOMOUS and VEHICLES INTEGRATED PHOTOVOLTAICS - VIPV

Chairpersons: Amaury CORNILLEAU | Groupement Plasturgie Automobile & Laurent GERVAT | Groupe RENAULT
09:00
Roll-out of autonomous vehicules in public condition: from the definition of use cases to operational commissioning
Jérôme SICARD | Keolis Lyon
Stéphane BARBIER | Transpolis
09:30
Components and packaging based on polymer for future automotive applications
Isabelle BORD-MAJEK & Yves OUSTEN | Université de Bordeaux, Laboratoire IMS
10:00
Process development of integrated photovoltaic cells in a double-curved composite structure for automotive application
Tatiana DUIGOU | CEA Tech
10:30
Pause-café dans l'exposition // Coffee break in the exhibition
CIRCULAR ECONOMY IN DEVELOPMENTS / NEW MATERIALS

Chairpersons: Amaury CORNILLEAU | Groupement Plasturgie Automobile & Laurent GERVAT | Groupe RENAULT
11:15
Sustainable materials at Michelin
Christophe LE CLERC & Salvatore PAGANO | Michelin
11:45
How to finetune materials to control the CO2 footprint?
Hanna LARSSON | Polykemi AB
12:15
THERMOFIL - Pushing the Boundaries of High-Performance Glass Coupled Polypropylene using the latest development in CAE for accelerating part development and innovation in circular economy for sustainability
Nicolas SCHLUTIG | SUMIKA Polymer Europe
12:45
New materials for e-mobility: evolution and foreseeing of PSA's plastic materials policy
Laurent BECHU & Gildas BUREAU | Groupe PSA
13:15
Conclusion par les organisateurs - Closing remarks
SIA & SFIP
13:30
Déjeuner dans l'exposition // Lunch in the exhibition hall
15:00
Fin du congrès // End of the congress
Exhibition
RESERVEZ VOTRE STAND DES A PRESENT !
BOOK YOUR BOOTH NOW !
>> THE EXHIBITION FLOOR MAP WILL BE AVAILBLE SOON
>> PRE-ORDER YOUR BOOTH
La SIA et la SFIP organisent une exposition en parallèle du congrès. Profitez de cette opportunité pour présenter devant les principaux experts du domaine vos réalisations et informer les participants sur vos produits et services.
Nous vous proposons les formules suivantes, modulables selon vos besoins et budget.
SIA and SFIP organize an exhibition during the two days of congress. Take this opportunity to present to the main experts of the sector your applications and inform participants about your products and services.
Please see the various packages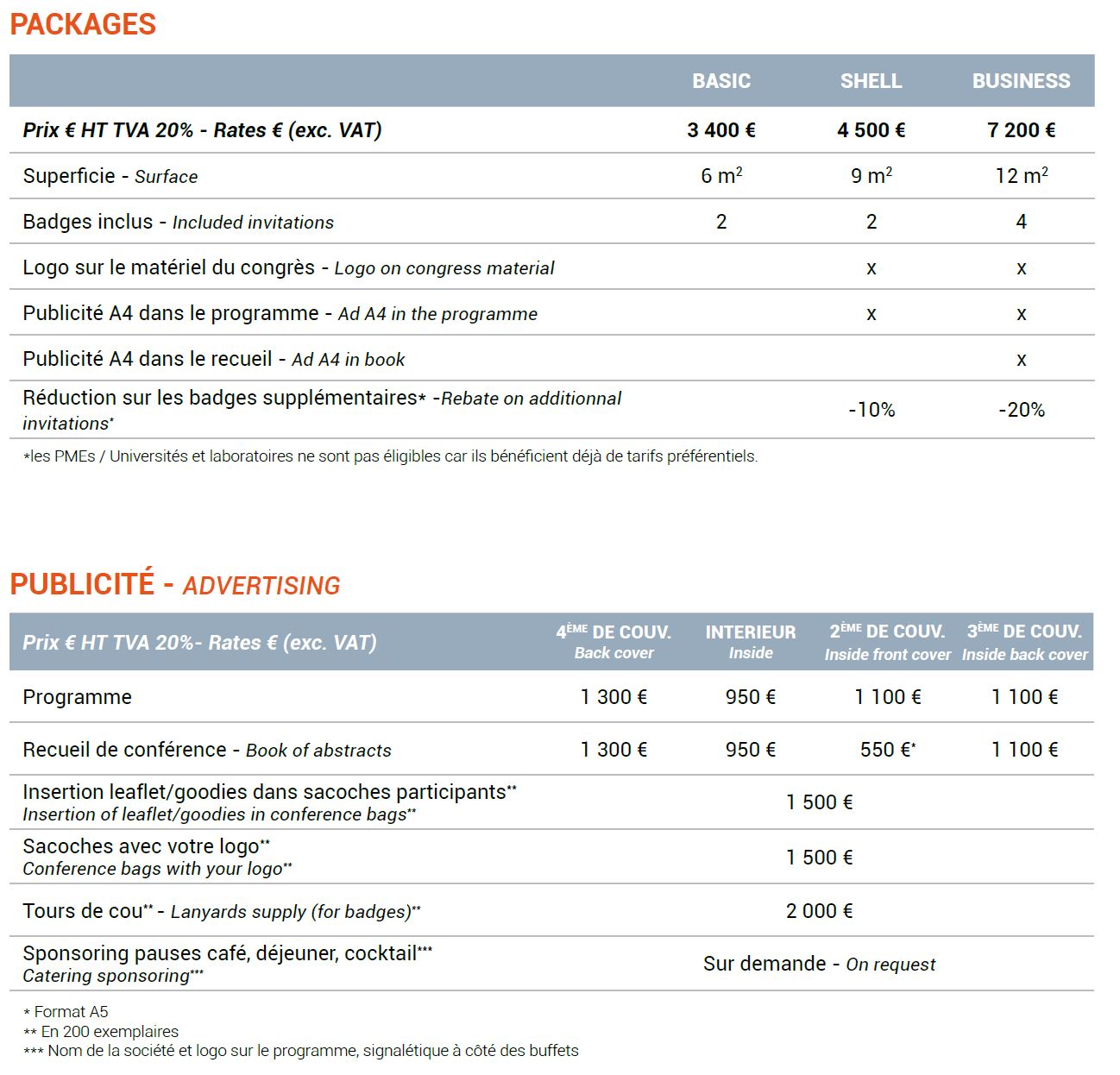 >> TELECHARGEZ LES CGV EXPOSANTS 2020
Registration
Prix € HT / Prices VAT excluded (+20%)
• Les frais d'inscription comprennent l'accès aux conférences, le recueil des conférences, les pauses, les déjeuners et le dîner du xxxx
• Dans le cas où le règlement ne pourrait être joint, merci d'envoyer un bon de commande officiel ; faute de paiement effectué au jour de la manifestation ou de la réception d'un bon de commande, l'accès aux conférences ne sera pas possible.
• Dès réception de votre inscription, nous vous ferons parvenir une facture. Merci de nous indiquer l'adresse de votre service comptabilité si nécessaire.
• Conditions d'annulation : merci de prendre connaissance des Conditions Générales de ventes de la SIA. Les participants ont la possibilité de se faire remplacer, uniquement sur demande écrite.
• Registration fees include participation in the conference, abstracts book, refreshment breaks, transfer bus, lunches and dinner on xxx
• Where it is not possible to send the payment together with the form, each registration should be accompanied by an official purchase order. Failing reception of an official purchase order or payment on the day of the congress, we regret that you will not be allowed entry to the congress.
• When we have received the registration form, we will send you a confirmation message and an invoice. Please indicate the accounts department address when necessary.
• Cancellation policy: please take into consideration the SIA's General Terms and Conditions. Registered participants not able to attend may nominate a substitute and inform us in a written form.