International Congress :

SIA-CTTM Automotive NVH Comfort
17 & 18 October 2018
Le Mans - France
A look back on NVH 2018

The 10th edition of Automotive NVH comfort conference was held on October 17-18, 2018 in Le Mans which is known for its concentration of acoustic laboratories and research institutes.
With 20 years history, the Automotive NVH comfort conference in Le Mans has become one of the most important events for the automotive acoustic community. This year, 200 engineers and researchers from 10 countries jointed our conference. They represent European & worldwide automotive OEMs, suppliers, engineering companies and research institutes.
As previous editions, a large scope of topics has been addressed such as vehicle, power train, system & component case studies, new materials, light weight concepts, progress in numerical and experimental methodologies.
This year, the young engineer prize has been awarded to Thibaut Le Magueresse from the company MicrodB for his paper « Transmission Loss measurement of an automotive dash panel by Bayesian Focusing ».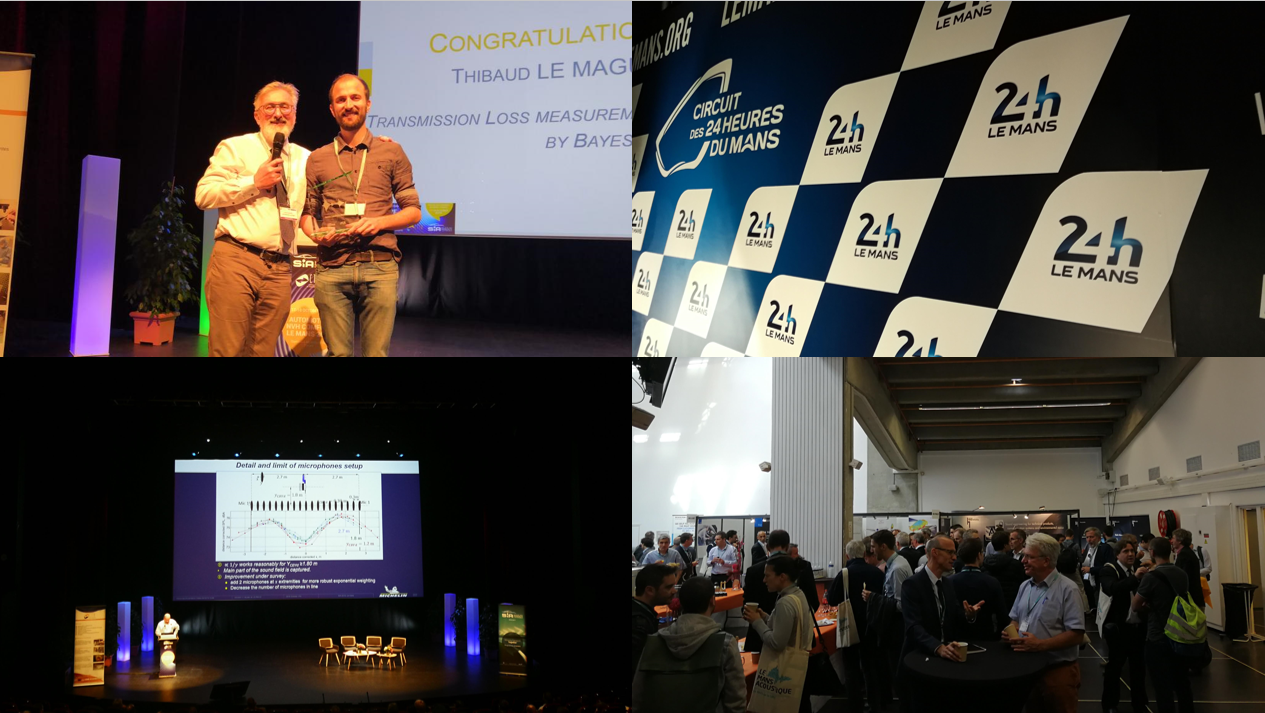 This 10 th edition was the last one for Charles Zhang as chairman of the NVH congress, we wish him luck and welcome Léon Gavric as new chairman.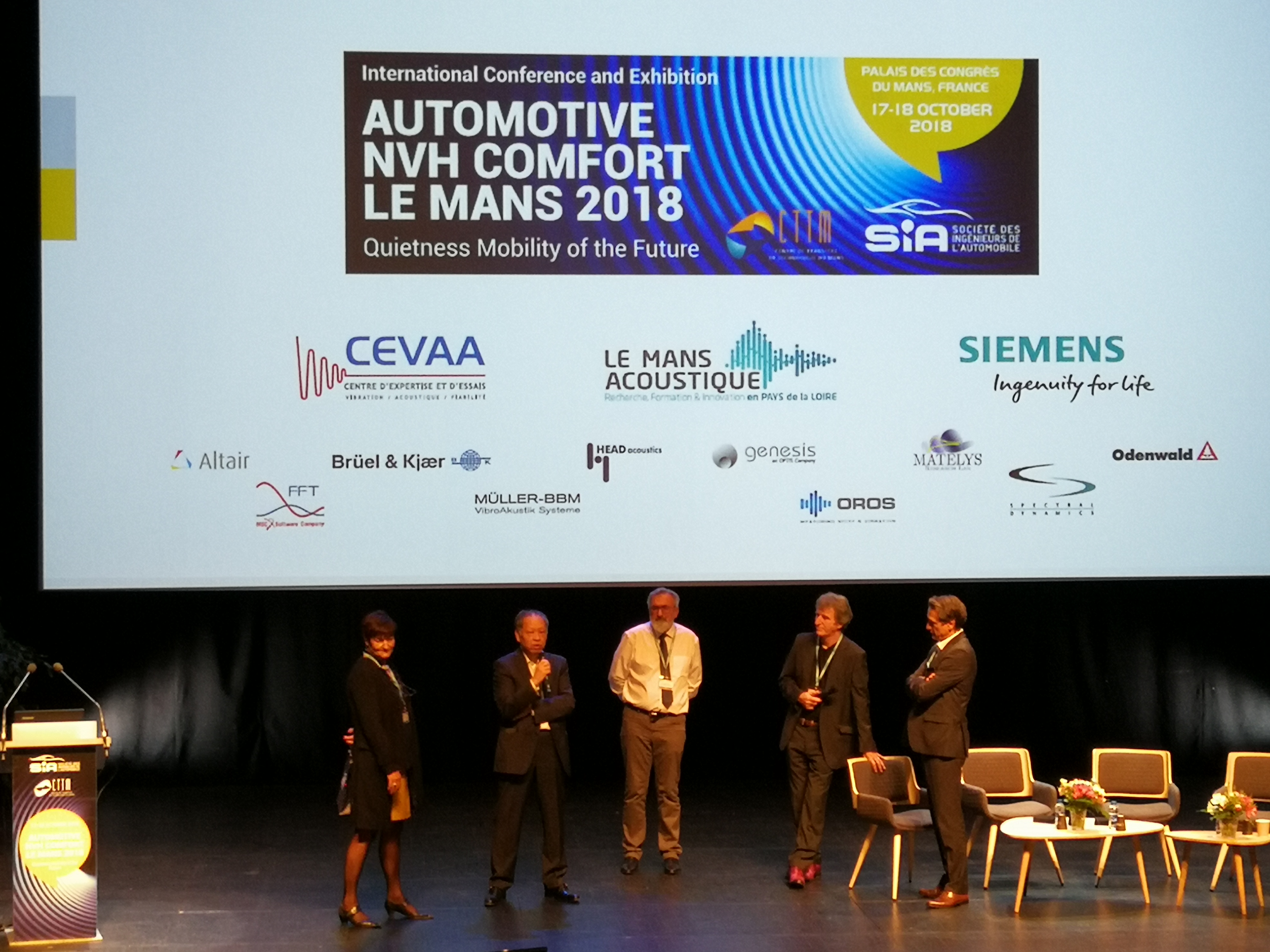 The 2018 edition was a great success, thank you to all the speakers, exhibitors and attendees.
Do not forget to save the date for the next NVH congress in 2020!
SCIENTIFIC COMMITTEE
Conference Chair:

Charles ZHANG - Renault

Members:

Pascal BOUVET - Vibratec
Nicolas DAUCHEZ - UTC
Arnaud DUVAL - Trèves
Léon GAVRIC - Groupe PSA

Yohann MESMIN - SIEMENS
Saïd NAJI - Valeo

Charles PEZERAT - LAUM
Hervé PICHON - CTTM
Laurent POLAC - Renault

Louis-Ferdinand PARDO - UTAC CERAM
Jean-François RONDEAU - Faurecia
Kresimir TRDAK - Hutchinson
Programme
08:30
Welcome coffe in the exhibition
09:10
Challenges of the future mobility
Christophe AUFRERE | VP-CTO Faurecia / French R&D automotive car committee President
10:00
Coffee break in the exhibition
Market trends & consumer perception

Charles Zhang l Congress chairman
10:30
Automotive Megatrends and their Impact on NVH
C. STEFFENS; M. KAUTH; G.EISELE | FEV
11:00
Psychoacoustic tonality analysis
R. SOTTEK; J. BECKER | Head-Acoustics
11:30
Influence of the accuracy of transfer functions description on the perception of auralised sounds
E. PARIZET; N. AUJOGUE; S. NAVDEEP| INSA
12:00
Quick presentation of each exhibitor
12:40
PASS-BY NOISE#1

Leon Gavric l Groupe PSA

NEW NUMERICAL & EXPERIMENTAL TECHNIQUES #1

Charles Pezerat l LAUM

14:10

TPA Light - A useful and reliable tool for troubleshooting in tuning of powertrains
B.G. EMRETSSON; C. MOHR | SCHAEFFLER

14:10

Exterior design choice for wind noise with a coupled fluid dynamic/vibro acoustic method
G. BAUDET; R. LORENZI; C. DUTRION; F. GENDRE; S. GENG | Renault
14:40

Improved coupled radiosity & ray-tracting method for mid and high frequencies pass-by noise prediction
N. NOE | CSTB
M.RETY | Renault


14:40

Wave number analysis of the influence of the damping loss factor depending on the excitation
F. CHEVILLOTTE, F-X. BECOT, L. JAOUEN | Matelys
15:10

A Combination of Inverse BEM and BEM Methods for Pass-By Noise
M. ANCIANT; L. MEBAREK; A. GALLET | ESI



15:10

A comparison of two source characterisation techniques proposed for standardisation
D. VAN DEN BOSCH, M. WERNSEN; M. VAN DER SEIJS | Vibes
D. DE KLERK | Delft Universty of Technology
15:40

Tyres sound emission measurement in semi-anechoic room
J-D. PERROT; C. MIGNOT; S. ITO; V. VALYAEV| Michelin

15:40

Virtual smoke test
Robrecht BELIS | Elsyca
16:10
PASS-BY NOISE#2

Louis-Ferdinand Pardo l UTAC-CERAM

NEW NUMERICAL & EXPERIMENTAL TECHNIQUES#2

Arnaud Duval l Trèves, Acoustic Products & Systems

16:40

Pass-by Noise Simulation and Optimization of Powertrain Acoustic Shielding Package
M. THIVANT, P. BOUVET| Vibratec
O. MINCK | MicrodB



16:40

Efficient NVH Evaluation and Decision-making with NVH Virtual Prototypes Including Vibration and Sound
D. BOGEMA | Bruel & Kjaer Sound & Vibration Measurement
17:10

Vehicle NVH Package Optimization for Exterior Noise using indoor Experimental Testing
J. Grebert, C. BERTOLINI, L. SAEGERMAN |Autoneum
Y. DENOUAL, C.ZHANG |Renault


17:10

Transmission Loss measurement of an automotive dashboard by Bayesian Focusing
T. LE MAGUERESSE; L. LAMOTTE | MicrodB
G. CRIGNON; A. DUVAL | Trèves
J. ANTONI | Laboratoire Vibration
Acoustique

17:40

Using component test bench measurements to predict pass-by noise contributions for trucks virtually
M. CHOUKRI; P. CORBEELS, P. Van de Ponseele | Siemens
R. SINNING; W. KERRES | Daimler

17:40

Optimal modal parameter estimation for highly challenging industrial cases
R. SALES; B. PEETERS | Siemens
M. EL-KALAFY | Vrije Universiteit Brusssel, Helwan University
P. GUILLAUME | Vrije Universiteit Brusssel

19:00
Registration
If you are a main speaker, please register on our website.
For any other inscription, please download the PDF form below.
Exhibition
Join the companies which have already booked a booth!
This unique event will bring together hundreds of participants: directors, managers, heads of department, engineers, researchers and technicians. An exceptional line-up of guests and speakers will be present for the occasion. The exhibition will allow you to showcase your company, present your latest products and make privileged contacts at this unique gathering of targeted decision-makers.
Conference venue
Palais des Congrès
rue d'arcole
72 000 Le Mans
Carpark available: entrance on Boulevard Demorieux or Rue Barbier
Train: exit "gare nord" → the Palais des Congrès is at 10 minutes by foot (take rue Paul Ligneul)
Bus: Line 17, stop at « Palais des Congrès »