International Conference :

SIA POWERTRAIN // Rouen 2018
16 & 17 May 2018
Parc des Expositions Rouen, Normandy
Introduction
This successful 2018 SIA POWERTRAIN conference has brought together more than 585 experts and 37 exhibitors of car industry, equipment manufacturers as well as research laboratories and universities.
The first feedbacks show that attendees have enjoyed the relevance of the topics covered and the high quality of the well-focused speeches but above all they have enjoyed the networking opportunities with the attendance of decison-makers, the easy access to the speakers in a very pleasy atmosphere.
The exhibition was totally voted in, with a more convenient location than last years and the attendance of the major companies in one single dedicated area. Static demonstrators within the exhibition hall and a very easy access to the test drive 's cars was also part of its success.
Our new "SIA Conference" App has also met the attendees expectation ! They were able to exchange messages before and during the event, get the latest notifications and the opportunity to ask questions directly through this media which has been very appreciated during the Pannel session.
The SIA would like to thank all the attendees for their participation and we now look forward to welcoming you to our next edition of the SIA POWERTRAIN // PARIS 2019.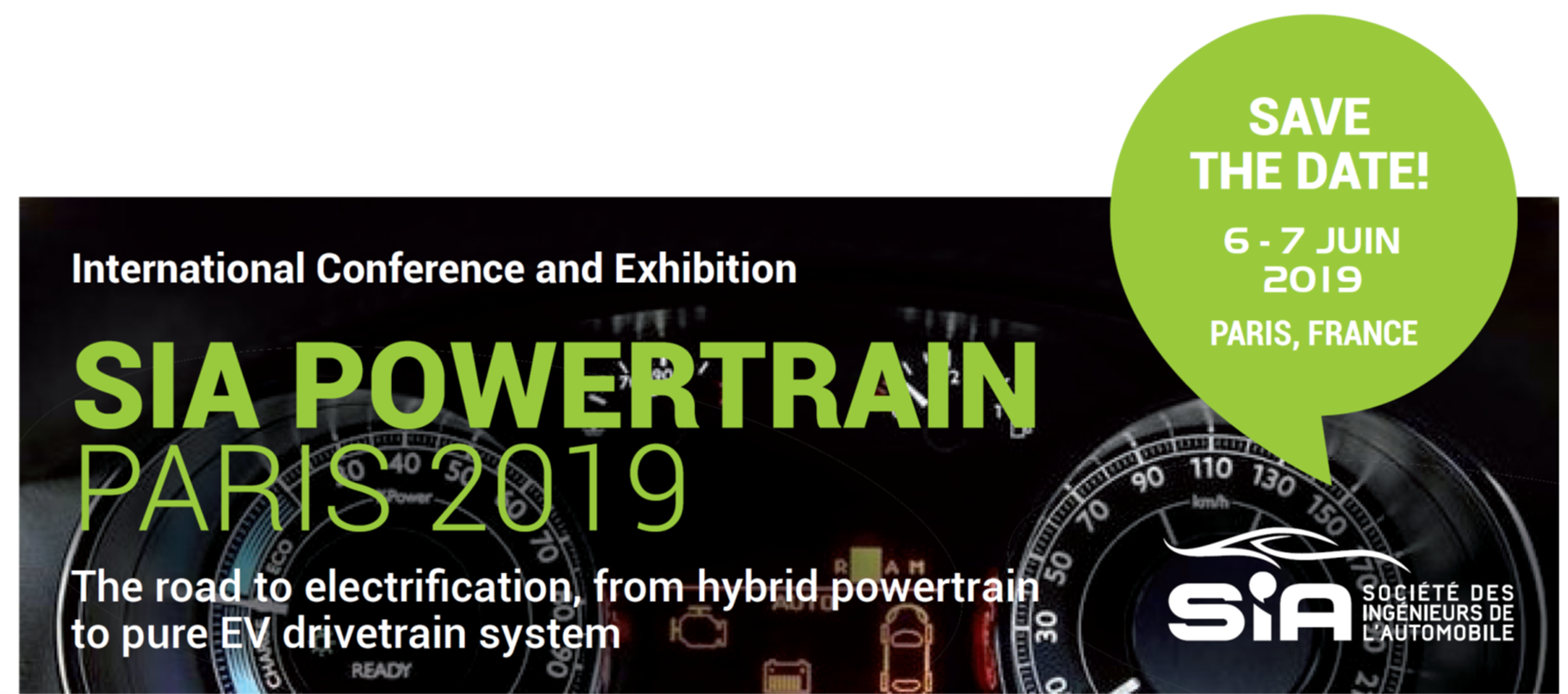 COMMITTEES
Conference chair
Noureddine Guerrassi | DELPHI TECHNOLOGIES
Co-Chairmen
Federico Millo | POLITECNICO DI TORINO
Amin Velji | KARLSRUHE INSTITUTE OF TECHNOLOGY

Organising committee

Nadim Andraos | FEV

Philippe Bernet | RENAULT

Jean-Marc Boulard | AVL LMM
Pierre Duret | IFP SCHOOL
Omar Hadded | DRIVE SYSTEM DESIGN

Olivier Imberdis | IAV

Emmanuel Jean | FAURECIA

Marc Lejeune | AB VOLVO

Geoffroy Martin | MOV'EO

Stéphane Martinot | VALEO
Jean-Jacques Milesi | DYNERGIA
Gaëtan Monnier | IFP ENERGIES NOUVELLES

Hans Nuglisch | CONTINENTAL

Sébastien Potteau | EMC-MTT

Erwann Samson | GROUPE PSA
Rémy Schmitt | ROBERT BOSCH

Scientific committee

Nicolas Auffret | LIEBHERR

Jesus Benajes | CMT UNIVERSITAT POLITECNICA DE VALENCIA

Philippe China | TOTAL
Bertrand Demortier | CONTINENTAL
Gaetano de Paola | IFP ENERGIES NOUVELLES

Fabrice Foucher | UNIVERSITE D'ORLEANS

Jean-Florent Genies | GROUPE PSA

Jörg Gindele | MAGNA
Thomas Koch | KARLSRUHE INSTITUTE OF TECHNOLOGY

Thomas Körfer | FEV

Jan Macek | CZECH TECHNICAL UNIVERSITY

Juergen Manns | IAV

Kyoungdoug Min | SEOUL NATIONAL UNIVERSITY
Ali Mohammadi | TOYOTA

Steffen Meyer | BORGWARNER

Virginie Morel | ARAMCO

Luc Muller | SCHAEFFLER
Philippe Pelletier | RENAULT
Jean-Charles Ricaud | ARTS ET METIERS PARISTECH

Nicolas Robert de Saint Vincent | JOHN DEERE
Daniel Roettger | FORD

Jean-Sébastien Roux | HONEYWELL

Bianca Maria Vaglieco | ISTITUTO MOTORI – CNR

Andy Ward | RICARDO

Michael Weissbäck | AVL

Zaimin Zhong| TONGJI UNIVERSITY CHINA
Panel Session

Christophe AUFRERE
Faurecia / Chief Technology Officer & French Automotive Research Committee President
Christophe Aufrère is a graduate of the Ecole Supérieure des Techniques Aéronautiques et de Construction Automobile (ESTACA), one of France's leading engineering schools.
Christophe Aufrère is Vice President, Group Technology Strategy since 2011. He is in charge of defining the key technologies which Faurecia will address in the future and to follow their implementation at the global level. He is also responsible for managing and developing the expertise network throughout the entire Faurecia R&D organization and coordinates the Group's academic partnerships.
Prior to his current position, he spent 20 years within Faurecia Automotive Seating in different positions within the R&D department, successively occupying the position of Vice President R&D, Structures and Mechanisms and becoming CTO for Complete Seats and Metal.
Prior to Faurecia, Christophe spent three years at Rockwell Automotive Body Systems in Advanced Engineering working on electric motors and door systems.
He is a member of the CTA, French Technical Automotive Committee and French Automotive Research Committee President.

Pierrick CORNET
Renault Nissan Mitsubishi / Powertrain Project Alliance Global Director
After various assignments in Powertrain organization, Mr. Cornet is appointed General Manager in 2012, in charge of Powertrain Design and Validation. Thanks to a 15 year deep collaboration with Nissan team, he is promoted Alliance Global Director, in 2015, managing Advanced Engineering for both Renault and Nissan.
Today, as Alliance Global Director, Mr. Cornet is accountable of all powertrain projects from ICE to Battery EV, through Transmission and Hybrids.

Philippe DIVRY
AB Volvo / SVP Group Truck Strategy
Philippe Divry is Senior Vice President, Group Trucks Strategy at Volvo Group Headquarters in Goteborg, Sweden. He is in charge of Strategy, Business Portfolio and Partnership issues.
Prior to this, Philippe Divry was President, Volvo India, in charge of Sales of Volvo Trucks in India, and of the cooperation with VE Commercial Vehicles, a joint-venture between the Volvo Group and Eicher Motors.
Philippe Divry has 27 years of experience in the Commercial Vehicle Industry, and held various manufacturing and business development positions at Renault Vehicules Industriels from 1990 to 2000.
Philippe Divry was Head of Volvo Powertrain France Division from 2003 to 2009.
He also served as SVP, Global Product, Marketing and Strategy at Volvo Buses in Sweden from 2009 to 2012.

Paul FARRELL
Delphi Technologies / SVP Strategy and Product Marketing
Paul Farrell is Senior Vice President Strategy and Product Marketing.
Prior to this, Mr. Farrell was Vice President, Strategy and Planning for Delphi Powertrain Systems.
Mr. Farrell joined Delphi Finance in 2013 to establish a corporate strategy function. He has over twenty years of experience driving strategic change, improving operations, and developing new technology.
Prior to Delphi, Mr. Farrell worked for more than eight years as a consultant at The Boston Consulting Group and A.T. Kearney, serving clients on a broad range of strategy and operational topics. Before that, he held a diverse mix of positions at Visteon Corporation and Ford Motor Company, including management positions in engineering and technical sales. Mr. Farrell began his career at the General Electric Company as a development engineer working on U.S. Navy nuclear reactor applications.
Mr. Farrell holds a Ph.D. in mechanical engineering from the Massachusetts Institute of Technology and an MBA from Michigan State University. He also earned a bachelor's degree from the University of Notre Dame and a master's degree from The Pennsylvania State University, both in mechanical engineering.

Alain RAPOSO
Groupe PSA / Powertrain and Chassis Engineering SVP
After graduating from two leading French institutes: INSA (Institut National des Sciences Appliqués) and IFP School (1986), Alain Raposo joined Renault in 1987, where he held various positions in Powertrain Design and Technology Division before moving, in 2005, to Nissan in Japan where he was appointed Senior Manager in charge of lower base engine structure development.
In 2009, he returned to Renault as Vice President, Powertrain Design and Technology Development then, in 2012, he became VP in charge of Alliance Powertrain Planning office, coordinating Renault-Nissan powertrain strategy. In 2014 he became Alliance Global VP in charge of Renault-Nissan Powertrain and EV Engineering.
In 2017 he joined PSA Groupe, in charge of EV Programs and Strategy. He was appointed to his current position at the PSA Groupe, Engineering Division, in April 2018.
Programme
07:30
Attendees Registration & Coffee in the Exhibition
Opening Plenary Session
08:30
Welcome Introduction
Hervé GROS, Chief Executive & Jacques GRAIZON, President | Société des Ingénieurs de l'Automobile
08:35
Opening address by the Conference Chair
Noureddine GUERRASSI | Delphi Technologies

08:45
The Energy mix and its impact on multiple automotive topics
Jean-Luc BROSSARD, R&D Director | PFA - French Automotive Industry & Mobilities
09:00
Impacts of Emission from Car Exhaust on Air Quality
Barbara D'ANNA, Research Director | CNRS French National Centre for Scientific Research

09:15
Promoting technological advances in a climate of distrust
Colette GENIN, Manager | Taddeo - Technologies & Mobilité
09:30
Alternative fuels for sustainable mobility
Agnès DUMESGES, VP Product Marketing | Total
09:45
Future evolutions of Diesel Engine technology and its powertrain trends influencing CO2 emissions in Europe
Vijay SUBRAMANIAN, Romain Gillet | IHS MARKIT & Gaetano DE PAOLA| IFPEN

10:00
Panel discussion with the Keynote Speakers
10:30
Coffee break IN THE EXHIBITION // TEST-DRIVE
New Engine Technology #1

Pierre DURET - IFP-School // Jesus BENAJES - CMT Universitat Politecnica de Valencia

RDE Tests & Calibration #1

Juergen MANNS - IAV // Hans NUGLISCH - Continental

Exhaust Aftertreatment #1

Bertrand DEMORTIER - Continental // Michael WEISSBÄCK - AVL

Waste Heat Recovery

Geoffroy MARTIN - Mov'eo // Gaëtan MONNIER - IFP Energies Nouvelles

11:30

The New RENAULT 200hp 2.0L Diesel engine evolution

C. Bergeris, J.Thibonnet, L.Ouhayoun, A.Hollemaert, E.Aguado | Renault

11:30

Model Based Engine Calibration for RDE

Y. Murata, Y. Nishio, Y. Yamaya, M. Kikuchi | Honda

11:30

High Performance Commercial Vehicle SCR Compact Mixer

E. Alano, E. Kinnaird, M. Lambrecht | Faurecia

11:30

Waste heat recovery (WHR) assessment in complete truck simulation environment

F. Galuppo, T. Reiche, X. Huin | AB Volvo

V. Lemort | University of Liège
P. Dufour, M. Nadri | University of Lyon
12:00

The New 1.5L BlueHDI Engine

F. Coudrain, J-P. Chemisky | Groupe PSA

12:00

Tomorrows Emission Calibration Environment – "Simulated Real World Driving meets engine test-bench"

J. Gerstenber, S. Tafel, S. Sterzing-Oppel, B. Seidel, C. Fischer | Bosch


12:00

Optimal NOx Reduction in all driving conditions

J. Op De Beeck, P. Galabert | Plastic Omnium

12:00

Development of an ORC turbo-pump for Waste Heat Recovery in the Coolant of Automotive Engines

A. Leroux, G. Levêque, N. Hollaind, A-C. Mintsa, G. Henry | Enogia

P. Smague, P. Pagnier, P. Leduc, | IFP Energies Nouvelles
12:30

The Liebherr New in-line Engines Family

N. Auffret, M. Moretti | LIEBHERR

12:30

Transient RDE Gaseous Emissions from a Modern Plug-in Hybrid Electric Vehicle

M. Duckhouse, M. Peckham, B. Masson, H. Bradley, M. Irwin | Cambustion

12:30

Ammonia Mixer Optimization for SCR Systems: A Combined Experimental and Numerical Approach

M. Lecompte, P. Schiffman, O. Laget | IFP Energies Nouvelles

12:30

Rankine cycle, from thermodynamic equation to road test

J. Roussilhe, T. Fouquet | Faurecia
13:00
LUNCH BREAK IN THE EXHIBITION // TEST-DRIVE
Fuel Injection Systems

Thomas KÖRFER - FEV // Marc LEJEUNE - AB VOLVO

Exhaust Aftertreatment #2

Olivier IMBERDIS - IAV // Philippe PELLETIER - Renault

Sustainable Energy Powertrain #1

Nadim ANDRAOS - FEV // Philippe CHINA - Total

Powertrain Efficiency Improvement

Philippe BERNET - Renault // Kyoungdoug MIN - Seoul National University

14:30

Next Generation of Fuel Injection Systems for Small & Medium Size Diesel Engines

G. Meissonnier, P. Bercher, C. Cardon, C. Daveau, M. Graham, N. Guerrassi | Delphi Technologies


14:30

Electrical enhanced aftertreatment system to address passenger cars real life emissions

M. Capirchia, E. Jean | Faurecia

14:30

Zero Emission Urban Trucks versus Diesel

T. Justin, C. Tridon, P. Hanarp | AB Volvo

14:30

Optimization of Powertrain Architectures under Aspects of Fleet Requirements

R. Troeger, C. Danzer, W. Wukisiewitsch, T. Voigt | IAV
15:00

RDE Step 2 and beyond - Bosch Diesel FIE System contribution

T. Wintrich, S. Rothe, K. Bucher | Robert Bosch

15:00

1D/3D simulation of urea dosing – Deposit Formation and NOx Reduction in Real Driving

J. Wurzenberger, A. Nahtigal, T. Mitterfellner | AVL

15:00

eFuels and Electrification: Enablers for Reduction of Well-to-Wheel CO2 and local NOx emissions

G. Avolio, G. Rosel, J. Grimm, O. Maiwald, R. Bruck, O. Kastner | Continental

15:00

Base Engine friction and efficiency optimization and impact of electrified auxiliaries – Simulation approach for quantification in future driving cycles

W. Schoeffmann, H. Sorger, C. Priestner, H. Petutschnig, M. Huetter, M. Weissbaeck | AVL
15:30

Analysis of spray characteristics on a counter-bore fuel injector nozzle for diesel engine application

F. Pesce, A. Vassallo | GM

R. Payri, J. De la Morena, J. Monsalve-Serrano, V. Pagano | CMT-Motores

15:30

Model-Based Exhaust After-treatment Technology Robustness Testing using Monte Carlo Generated RDE Cycles

R. King, R. Cantallops-Jimenez, J. Seabrook, A. Ward, R. Sellers | Ricardo

15:30

Future potentials for diesel combustion engines by using e-fuels

B. Becker, R. Marohn, P. Rolke | IAV

15:30

Thermal Optimisation of e-drives Using Moving Particle Semi-implicit (MPS) Method

L. Martinelli, M. Hole | Drive System Design

D. Pesenti, M. Galbiati | EnginSoft

16:00
Coffee break IN THE EXHIBITION // TEST-DRIVE
17:00
PANEL SESSION
Christophe AUFRERE, Chief Technology Officer | Faurecia
Pierrick CORNET, Powertrain Project Alliance Global Director | Renault Nissan Mitsubishi

Philippe DIVRY, SVP Group Truck Strategy | AB Volvo

Paul FARRELL, SVP Strategy and Product Marketing | Delphi Technologies

Alain RAPOSO, Powertrain and Chassis Engineering SVP | Groupe PSA
18:30
COCKTAIL IN THE EXHIBITION // TEST-DRIVE
Access & Accomodation
conference venue

PARC DES EXPOSITIONS DE ROUEN
46-48 Avenue des Canadiens
76120 Le Grand-Quevilly - FRANCE
Tel. +33 2 35 18 28 28
Video HERE

RECOMMENDED HOTELS
With the support of ROUEN NORMANDY TOURISME & CONGRES
TRANSPORTATION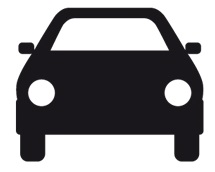 Paris → Rouen
70 minutes by car (from Porte Maillot)
90 minutes by car from CDG Airport
80 minutes by car from Orly Airport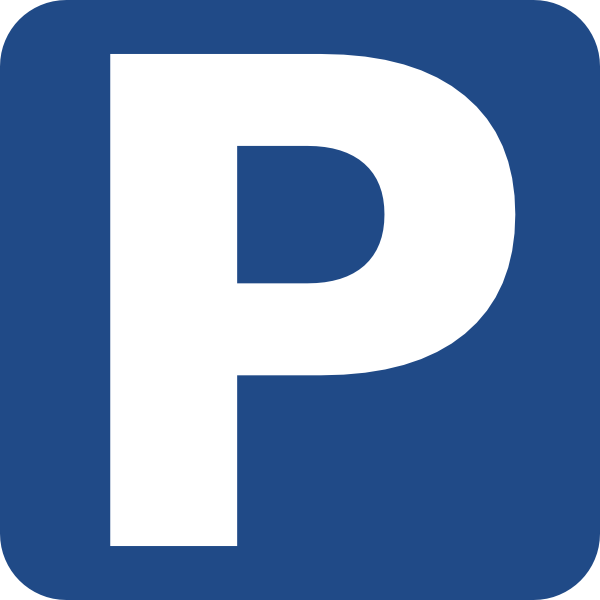 Free carpark in front of the conference venue

Paris → Rouen
70 minutes by train (from Saint-Lazare Station)
Public transportation in Rouen

Stop at Zénith - Parc Expo LE GRAND-QUEVILLY
→ download public transportation map
Prepare your travel (FRENCH ONLY) at https://reseau-astuce.fr/
Taxi in Rouen
At the exit of the mainline train station as well also in ten other stations, taxis are available for hire
to take you to the address of your choice.
You can also book your taxi via the TAXIS JAUNES App (FRENCH only)