Congrès International :

Congress SIA VISION 2018
9 & 10 October 2018
Cite des Sciences et de l'Industrie, Paris
Introduction
In the light of the growing success of the VISION congresses, SIA (French Society of Automotive Engineers) will again host this event which will be held on the 9 and 10 of October in La Cité des Sciences de la Villette, Paris.

SIA VISION is an International Congress created in 2002 and held on a biyearly basis and a unique platform for top-level scientists and engineers from universities, research centers and industries, represented by directors, managers, department leaders and experts.
It offers you a great networking opportunity with exchanges between all lighting/DA players around an exhibition covering a wide range of products and services in the field of lighting and detection systems for ADAS.

It is now a strongly growing event, with record participation of more than 550 attendees in 2016 and characterized by night drive tests at Mortefontaine private track.
The event will bring together the most relevant worldwide experts in the lighting and ADAS fields to address key topics for vision and road safety.
In addition, an exhibition and night drive tests with more than 25 expected prototype vehicles will take place to demonstrate many recent innovations in lighting and driver assistance systems.
We look forward to seeing you in Paris in October either as a conference speaker, exhibitor or participant.

COMMITTEES
Conference chair: Hector FRATTY - Driving Vision News

Steering Committee

Vincent ABADIE - Groupe PSA

Molly BOISSIER - SIA
Jean-François DACQUAY - Renault
Laurent EVRARD - Valeo
Kamislav FADEL - Hella

Hervé GROS - SIA
Michael HAMM - Audi

Gilles LE CALVEZ - Vedecom
Vanessa PICRON - Valeo
Jean-Paul RAVIER - Consultant
Laurent SEREZAT - Groupe PSA
Dirk VANDERHAEGHEN - Lumileds





Scientific Committees

Lighting

Claus ALLGEIER – OSRAM

Christian AMANN - BMW
Gerd BAHNMÜLLER - Automotive Lighting
Jy BHARDWAJ - Lumileds
John BULLOUGH - Rensselaer Polytechnic Institute
Jean-Paul CHARRET - JPCONSULTING
Laurent EVRARD - Valeo
Kamislav FADEL - Hella
Hector FRATTY - Driving Vision News
Whilk GONCALVES - Groupe PSA

Wolfgang HUHN – Audi

Tran Quoc KHANH - TUD Darmstadt
Paul-Henri MATHA - Renault

Rainer NEUMANN – Varroc

Masaru SASAKI - Koito
Ralf SCHAEFER - RS Consult

Ingolf SCHNEIDER - Adam Opel



ADAS

Vincent ABADIE - Groupe PSA

Benoît BESNAULT - ZF
Franck CAZENAVE - Robert Bosch

Guillaume EURIN - Renault
Hector FRATTY - Driving Vision News
Philippe GOUGEON - Valeo

Gilles LE CALVEZ - Vedecom

Sébastien LEFRANC - Continental
night drive tests - 9 october
CALL FOR DEMO CARS → show your last innovations !
DEADLINE 9th of SEPTEMBER !!!
Organizers are soliciting companies for demonstration vehicles that will showcase technologies related to the conference topics.
Demo cars will be displayed next to the conference venue, in front of the Cité des Sciences et de l'Industrie (day and night security) & Night Drive Tests will take place at Mortefontaine Private track.
Departure from La Villette Convention Center by bus around 5:45 pm by bus (1h journey)

Each bus will have a dedicated color depending on the track you will be on.
A cocktail dinner will be organized in Mortefontaine.
Return to Paris around 10:00 pm

Stops will be at La Villette Convention center and to the HOTELS near by (should you hotel do not appear in the list, please refer as soon as possible to the SIA staff).
Demo-Cars
EXPECTED DEMO CARS
OSRAM


Technology presented: SMARTRIX HD modules and µLARP gen2+ modules

→ ADB functionality with 4096 Pixel on the road with µAFS technology, adaptive high beam range extension with LARP technology.

How it can improve safety: High resolution ADB and range extension.

VALEO


Technology presented: PICTURE BEAM


→ Thanks to the high definition beam, vehicle headlamps are able to communicate with the outside environment by projecting images or messages on the road in different situations by modulating the shape of the beam either for increased safety or personalization of the vehicle.

How it can improve safety: New functions have been imagined to increase comfort and safety, such as GPS information, warning messages or virtual lines displayed into the beam to indicate where the vehicle is going.

VALEO


Technology presented: LES LUNETTES


→ Les Lunettes by Valeo, offers to reduce the brightness of all light sources except your own car headlights to avoid being dazzled and make driving a better experience, with less discomfort.

How it can improve safety: The synchronization between the glasses and the LED headlamps enables perfect night vision by softening the intensity of oncoming car headlamps without dimming your own beam

Technology presented: KINETIC

→ Kinetic is a communication interface with other vehicles, pedestrians, cyclists. Any road user can benefit from this technology. This technology generates interaction between the vehicle and its external environment. This evolution will make rear lighting more aesthetic, customizable, more intelligent and intuitive for safer driving.

How it can improve safety: Kinetic is a communicating rearlamp displaying pictograms or messages, either to warn about dangerous situations or to personalize vehicles.

Technology presented: PIXEL


→ Full LED solution with increased number of pixels offering wider functions panel.

How it can improve safety: Optimized combination of Matrix Beam function and Digital Bending light

Technology presented: EverView (presented at the Cité des Sciences only)


→ The democar presents several sensor cleaning solutions.

Valeo EverView range is a complete offer for cleaning systems to ensure all cameras ensure maximum performance at all times.

FORD FOCUS


Technology presented: Full LED Multifunctional Glare Free High Beam

→ The demo will be a round trip showing several advanced light features (Glare Free HB, Predicative AFS,..)

How it can improve safety: By increasing the HB availability by night and predictive light behavior
Social Event October 9th
On October 9th evening we offer you two activities to enjoy Paris from a different perspective:
NIGHT IN PARIS - Cruise on the Canal
At the end of the day, you will embark for a unique cruise.
You will embark at 6:30 PM in the heart of the Parc de la Villette behind the restaurant "My Boat".
The cruise begins with the passage under the rising bridge of Crimea and continues along the Bassin de la Villette. You will live unforgettable moments by crossing bridges and locks (Jaurès lock, Recollets lock ...), carefully crossed by the captain of the boat, to the lock of the port of Arsenal passing under the Bastille.
Then the boat rushes under a mysterious underground vault pierced by skylights to arrive on the Seine. Unmissable places of the capital will follow one another before your eyes: the mansions of the Saint-Louis island, the Notre-Dame cathedral, the Louvre museum, the Tuileries garden ... a magical and enchanting trip ... You will arrive at foot of the Musée d'Orsay close to the Saint-Germain-des-Prés district at 10:00 PM.
You will then be able to enjoy fre time in Paris by night or for those who wants to go back to La Villette area, the SIA staff will guide you to the Metro station Palais Royal (10 min. walk through the Louvre courtyard and the Pyramid).
Have a look at the itinerary >> HERE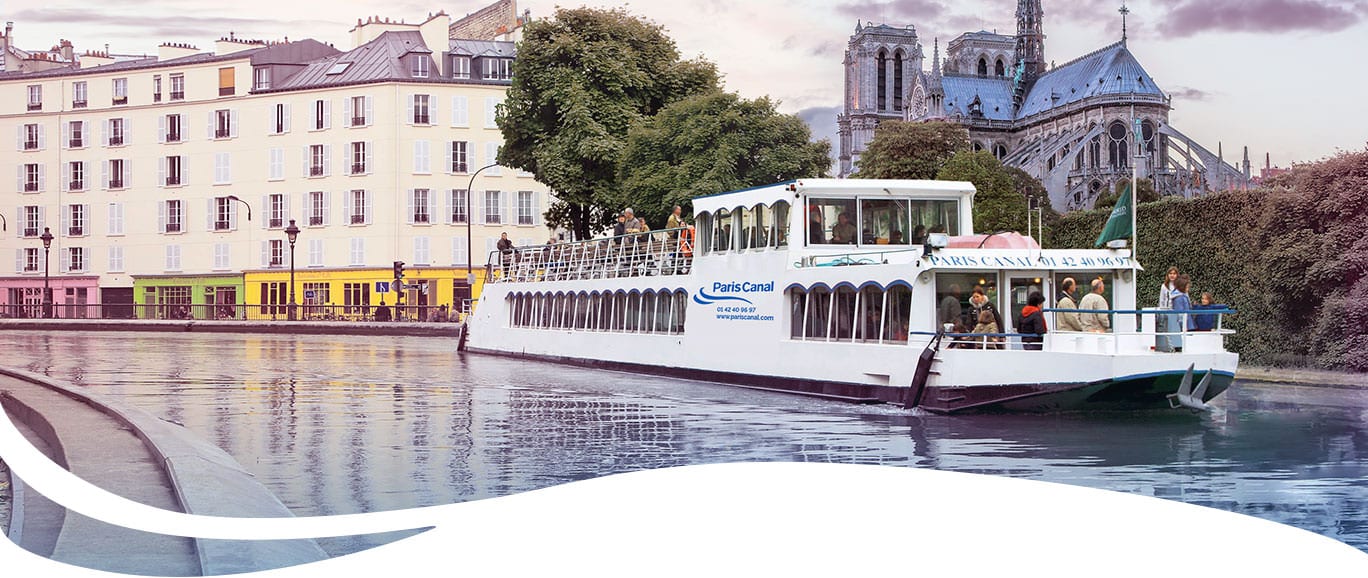 Night at the Museum - EXPLORA Exhibition
At the end of the day, you will enjoy a free visit of the permanant exhibition "BR4IN" (and the the other temporary exhibitions) of the Cité des Sciences et de l'Industrie followed by a dinner in front of la Géode and the Parc of La Villette.

La Cité des Sciences et de l'Industrie is an institution specialized in the dissemination of scientific and technical culture and its mission is to disseminate scientific and technical knowledge to a wide audience, particularly children and adolescents, as well as to raise citizens' interest in social issues. related to science, research and industry.
Few words on the exhibition BR4IN: It is impossible not to marvel at the human brain which controls all of our actions, our thoughts, our perceptions, our abilities, our feelings? In this exhibition, where the atmosphere inspired by the surrealist movement combines the unusual with the dream-like, find out how your brain works and try out its capabilities through a variety of games, tests and experiments.
Exhibition & Sponsoring
BECOME A SPONSOR // BOOK YOUR BOOTH NOW!
This unique event will bring together more than 500 participants: directors, managers, heads of department, engineers, researchers and technicians. An exceptional line-up of guests and speakers will be present for the occasion. The exhibition will allow you to showcase your company, present your latest products and make privileged contacts at this unique gathering of targeted decision-makers.

Maximize your visibility by becoming a sponsor! With corporate sponsorship, you gain unmatched recognition as an industry leader and generate an abundance of goodwill. Consider our booth packages: SHELL, BUSINESS, PREMIUM or EXCLUSIVE (ELITE is a single offer):
SHELL

BUSINESS

PREMIUM

EXCLUSIVE

ELITE

Rates € (Exc. French VAT of 20%)

4 500 €
7 200 €
12 000 €

-SOLD-

-SOLD-

Fitted-out booth

9 sqm

12 sqm

18 sqm

24 sqm

30 sqm

Included badges

2

4

8

10

12

Logo on congress materials

x

x

x

x

x

Ad in book of conference

1/2

1

1

1

Ad in programme

1/2

1/2

1

1

Flyer insertion in conference bag

x

x

x

E-mail banner

x

x

Preferential location in exhibition

x

Announcement as major sponsor

x

Extra badges discount *

- 10%

-20%

-30%

-40%

-40%

Extra Square Meter

500 € per square meter
* As SMEs / Universities & Labs enjoy a lower entry rate, they cannot benefit from this extra discount.
ADVERTISING
Rates € (Exc. French VAT of 20%)

Back cover

Inside

Inside front cover

Inside back cover

Programme (sent once by mail & several times by e-mail)

- SOLD -

950 €

1 100 €

1 100 €

Conference book (Distributed to all attendees)

- SOLD -

950 €

- SOLD -




1 100 €

Insertion of company booklet / goodies in the conference bags**

1 500 €

Conference bag with your logo**

1 500 €

Lanyards**

- SOLD -

Demonstrator or demo-cars within the exhibition hall ***

1 000 € / sqm

Coffee Breack sponsoring ****


2 500 €

Lunch sponsoring ****


On request
* Half Page
**in 800 samples
*** without booth package + advertising in the Congress Leaflet
**** Company name & Logo on the programme + your poster(s) next to the table(s) buffet
Access & Accomodation
conference venue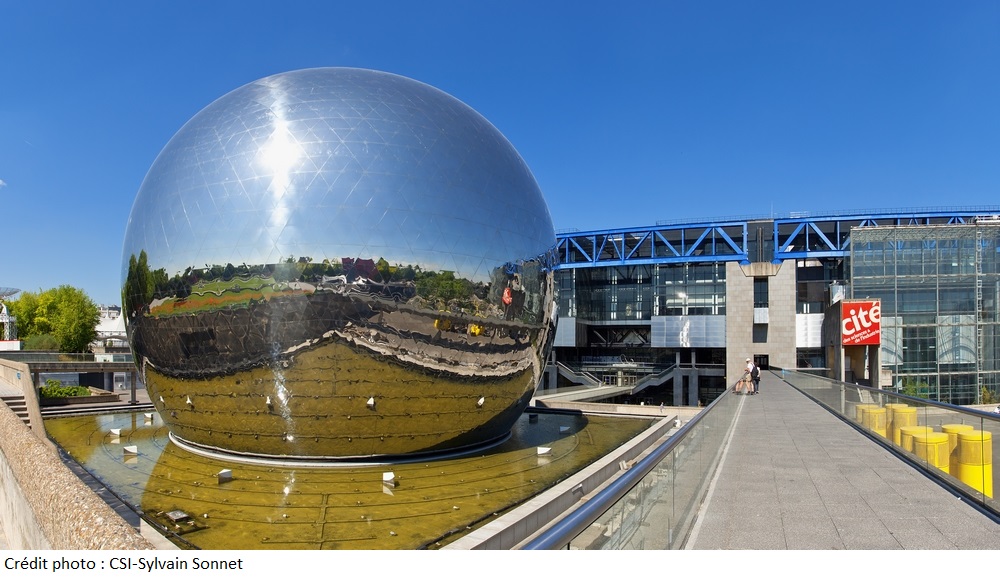 ACCESS
CENTRE DES CONGRES DE LA VILLETTE
Cité des Sciences et de l'Industrie
30 avenue Corentin Cariou
75019 Paris, France
http://www.cite-sciences.fr/en/visit-us/access/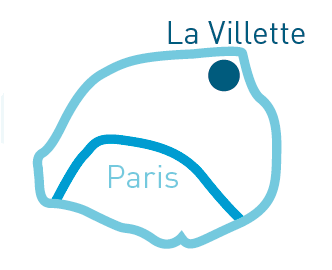 PUBLIC TRANSPORTATION
Metro: Line 7 - Stop at "Porte de la Villette"
Bus: Lines 139,150 ,152 "Porte de la Villette" stop
Tramway: T3b
→ Access to Metro map & Itinerary: click here
PARKING
61 Boulevard Mac Donald, 75019 Paris
Get a discount by booking your parking tickets via OPnGO
→ click here to download the access map
HOTELS NEARBY
68 Quai De La Seine, Zac Du Bassin De La Villette, 75019 Paris
Tel: 01 44 65 01 01
31-35 Quai de l'Oise, 75019 Paris
Tel: 01 40 38 04 04
147-151 Avenue de Flandre, 75019 Paris
Tel: 01 44 72 46 46