International Congress :

SIA Multi-Material - What lightweight for the vehicles of tomorrow?
20 & 21 March 2019
ESTACA - Montigny-le-Bretonneux
Introduction
The SIA - Société des Ingénieurs de l'Automobile - through its Experts' Community "Materials and BIW" is pleased to invite you to the second edition of its Multi-Material congress - "What lighweight for the vehicles of tomorrow? » to be held on 20 & 21 March 2019 at the ESTACA engineers school near Paris.
Two days of exchanges, meetings, networking and conferences around an exhibition.
The objectives of this congress are multiple:
Adress tomorrow's vehicule stakes in a fast moving regulation time and present how automotive industry is managing these evolutions (electric vehicles, autonomous vehicle…)
Understand impact of batteries integration on electric vehicles architecture (lightweight, performances, …)
Share the importance of lightweight management in CO2 emissions and battery operating life
Present innovative product & process solutions to address these expectations in metallic and plastic materials, forming and joining technologies
And thus federate the entire automotive industry around the virtuous impacts of lightWeIGHTing FOR the next-gen vehicles!
This event will be chaired by Virginie Huguon, PSA Group Senior Expert Carbody .
SCIENTIFIC & ORGANISING COMMITTEE
Virginie HUGUON - Congress Chairwoman, GROUPE PSA
Philippe ANTOINE, ARCELORMITTAL
Molly BOISSIER, SIA
Fabien CHARNEUX, SNOP
Laurence DUFRANCATEL, FAURECIA SYSTEMES D'INTERIEUR
Hervé GROS, SIA
Jean-Claude LE FLOUR, RENAULT
Emmanuel LEROY, GESTAMP
Gérard LIRAUT, RENAULT
Christophe MILLIERE, IRT M2P
Mohamed MOUSTAMSIK BILLAH, GROUPE PSA
Jean-François PRAT, PLASTIC OMNIUM AUTO EXTÉRIEUR
Olivier REBUFFET, CONSTELLIUM
Jean-Luc THIRION, ARCELORMITTAL
Programme
08:00
WELCOME COFFEE IN THE EXHIBITION HALL
08:25
Openning Address
Laurence DUFRANCATEL | FAURECIA
Electrification impact & Solutions

Chairman - Jean-Claude LE FLOUR | RENAULT
08:30
Impact of battery pack integration on packaging and body architecture
Jacques MERCIER, Sébastien CHOPARD | Groupe PSA
09:00
Aluminium : the material of choice for electric vehicles
Hervé RIBES, Christian LANGE | Constellium
09:30
High performance, light and cost-effective battery packs thanks to Advanced High Strength Steel solutions
Mathieu AMBLARD | ArcelorMittal
10:00
Phenolic Resins that fulfill Electrified Vehicle requirements
Jean-Philippe SAUVAGET | HEXION
10:30
COFFEE BREAK IN THE EXHIBITION HALL
Challenge of Electrical Vehicle Design

Chairwoman = Laurence DUFRANCATEL | FAURECIA
11:00
Fabrication additive métallique : application moyenne et grande série, stratégie pour l'allègement
Yves FAURISSON | Add Up
11:30
EOS - technology and market leader for 3D printing solutions
Thomas WEITLANER | EOS
12:00
Design optimisation for additive manufacturing: reduce cost using lattice structures
Hélène SAPARDANIS | ALTAIR Engineering
12:30
LUNCH BREAK IN THE EXHIBITION HALL
Multimaterial Joining

Chairman = Philippe MANGIN | IRT-M2P
14:00
Multi-material assembly with carbon fiber (CFRP)
Arnaud GUG | EJOT
14:30
Advances in Adhesive Bonding Technology - Enabling Multi-material Joining and Automotive Lightweighting
Antonio PAGLIUCA | 3M
15:00
High Performance and high reliability Die Attach Material for Automotive Powertrain, enhancing considerable weight improvement and better overall efficiency for HEV and EV's
Julien JOHUET, Cédric VASSEUR | Alpha Assembly solutions & MacDermid
15:30
New development in thermal assembly for composite parts
Richard TOMASI | CETIM
16:00
Closing Remarks
Virginie HUGUON, Chairwoman of the Congress | Groupe PSA
16:15
Registration
Rates are in €
French VAT of 20% is excluded
Registration fee includes participation in the conference, abstracts book, coffee breaks, lunches and cocktail on March 20th, 2019.
If is not possible to send the payment together with the registration form or to pay by credit card, please send an official Purchase Order. Failing reception of an official document or payment on the day of the congress, you will unfortunately not be allowed entry to the conference.
After reception of the registration form, we will send you a confirmation message and an invoice. Please indicate your Invoicing address and/or Accounts Department address and VAT number.
In case of cancellation before February 20th, 2019, 30% of the registration fees will be retained. After this date, the entire registration fee will be retained.
Registered participants who are not able to attend may nominate a substitute. Written notice must be provided.
Exhibition & Advertising
PRE-BOOK YOUR BOOTH NOW !
This unique event will bring together main experts in multi-material field: directors, managers, heads of department, engineers, researchers and technicians.
The exhibition will allow you to show-case your company, present your latest products and create privileged contacts within this unique gathering of targeted decision-makers.
Maximize your visibility by becoming an exhibitor!
With a corporate sponsorship, you gain unmatched recognition as an industry leader and generate an abundance of goodwill.
ESTACA Virtual Tour >> HERE <<
>> PRE-BOOK FORM (First Come - First Serve Policy)
>> DOWNLOAD THE TECHNICAL GUIDE
| | | | | |
| --- | --- | --- | --- | --- |
| | BASIC | SHELL | BUSINESS | PREMIUM |
| Price € French VAT of 20% excluded* | 3 400 € | 4 500 € | 7 200 € | 12 000 € |
| Built-up booth | 6 sqm | 9 sqm | 12 sqm | 18 sqm |
| Included badges | 2 | 2 | 4 | 8 |
| Logo on all congress documentation | | x | x | x |
| Advertising in the programme | | | 1/2 page | 1/2 page |
| Advertising in the conference book | | | 1 page | 1 page |
| Advertising banner in our emailings | | | | x |
| Discount on extra badges** | | 10% | 20% | 30% |
* As the event is taking place in France, the French VAT is due
** not for SMEs & Lab which benefit from a dicount offer

ADVERTISING
Price € French VAT of 20% excluded
Back cover

Inside pages

Inside front cover

Inside back cover

Programme (sent once by post mail & several times by email)


1 300 €

950 €

1 100 €

1 100 €

Book of conference (distributed to all attendees)

1 300 €


950 €

-


1 100 €

Insertion of company's leaflet or goodies in the conference bags**

1 500 €

Conference bags**

1 500 €

Lanyards**

2 000 €

Sponsoring of coffee breacks / lunch / cocktail ***

On request

** in 250 units

*** your logo on the buffets "Courtesy of..." and your advertising banner

Access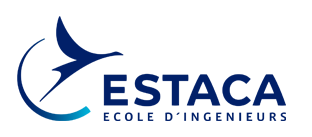 ESTACA Paris-Saclay

12 avenue Paul Delouvrier - RD 10
78180 Montigny-le-Bretonneux
+33 (0)1 75 64 50 41
By Car

Highway A12, N12 or N10, direction Saint-Quentin-en-Yvelines then Montigny-le-Bretonneux
Parking
Parking Q-PARK de la Gare (P10)
route RD 10
78180 Montigny-le-Bretonneux
By Public Transportation

Saint-Quentin-en-Yvelines / Montigny-le-Bretonneux train station
Line N from Gare Montparnasse
Line U from La Défense station
Line C RER
Hotels
2 Place de la Paix Celeste
78180 Montigny-le-Bretonneux
Hôtel Mercure Saint-Quentin-en-Yvelines Centre
9 place E.F Choiseul
Avenue du centre
78180 Montigny-le-Bretonneux