International Conference :

CESA 5.0
5 & 6 December 2018
Palais des Congres, Versailles
Save the date
SIA CESA 5.0 the international conference on automotive electronics, components and systems will take place on 5 & 6 December 2018 in Versailles.
Our goal is to build the bridge between traditional automotive electronics and the new developments in vehicle electrification and digitalization as well as those from the world of consumer electronics and the Internet of Things.
This is a major opportunity to understand how the automotive business will evolve over the next five years, with a focus on products and services that are likely to transition from other markets into use-cases for automotive.
Electronics content is growing in every product thanks to miniaturization of circuits, new business models, new actors and beyond this a changed perception of the environment which has consequences for industry in general, not only for the automotive one.
SIA CESA is an event that explains the technological breakthroughs, technical barriers and other influencing factors for our industry such as standards, rules and laws.
Engineering and business unit managers as well as technical experts from the automotive world will gather to exchange on these subjects with colleagues from adjacent domains such as infrastructure, communication, Telco providers, insurance, consumer electronics and law.
We were 300 in 2016 SIA CESA, we expect even more congressists this year to discuss all those major subjects.
Key cornerstones of our congress will be :
Strong cooperation with the PFA, the French automotive industry federation
The interdisciplinary experience in France supported by demonstrations.
Mobilization of communities, such as smart electronic systems, photonics, mobility clusters and IoT
Technical domain focus :
New mobility: Major Disruptions
New mobility: Connectivity & Integration
New mobility: Development Challenges
New mobility: Technology Disruptions
New mobility: Autonomous Vehicle

Our sponsors and partners will show in a dedicated exhibition their latest products and technologies contributing to the future of the automobile industry.
COMMITTEES
Conference chair

Jochen LANGHEIM - STMicroelectronics

EXECUTIVE COUNCIL


AUFRERE Christophe - Faurecia
BASTIEN Rémi - Renault
CARRIE Heiko - BOSCH
DEVAUCHELLE Guillaume - Valeo
GOHIN Carla - Groupe PSA
GROS Hervé - SIA
MARBACH Luc - VEDECOM

Program Committee

MANIEZ Gérard- NXP Semiconductors
FRANCHINEAU Jean-Laurent – VEDECOM
PRINCE Ladimir - Groupe PSA
SCHIMMERLING Paul - SIA
FRATTY Hector - VISION
REILHAC Patrice - VALEO
ALVAREZ Ignacio - Faurecia
GEELS Pierre-Yves
RIBOT Pascal - STMicroelectronics
AUMONT Philippe - SIA
GUILLAUME Anne - LAB
RICHARD Daniel - Valeo
BASTARD Patrick - Renault
LAURGEAU Claude - Mines-ParisTech
RIZZO Gillez - ACSIEL
BELDA Henri - Vector
LE CALVEZ Gilles - Vedecom
ROINE David - Valeo
BROSSARD Jean Luc - PFA
LEE Carlos - Phontonics Cluster
ROTH Xavier - Robert Bosch
CAZENAVE Franck - Robert Bosch
MATE Jean-Luc
RUNGE Wolfgang - ELIV Baden Baden
DATTEZ Nicolas - MOVEO
MEYER Gereon -VDI/VDE
SENCERIN Jean-François – Renault
DEHAENE Jean-Philippe - Vector
NEBOUT Patrick -Visteon
SEYNAEVE Thierry - e2-CAD
DOUCET Dominique – Valeo
PERIER Laurent - STMicroelectronics
TOULEMONDE Andy - Infineon
EL KHAMIS Kadiri- Groupe PSA
PERRIN Jérôme –Renault
VALETTE Michel - Elmos
FISCHER Francois - ERTICO
PICRON Vanessa - Valeo
VRIGNAUD Louis-Claude - Continental
YAHIAOUI Gérard - Nexyad
Call for papers
Topics to be addressed
| | |
| --- | --- |
| New mobility : Major Disruptions | New mobility : Connectivity & Integration |
| Market aspects in Europe or China | V2X technologies |
| New mobility concepts | Hybrid communication |
| Shared mobility | Software update over the air |
| IoT, car and mobility | Safety, reliability, fail operational/degradable |
| | Smart electronic systems |
| New mobility : Electrification | Precise Localisation |
| Energy mix | Demoprojects |
| Electric mobility | |
| Infrastructure & Charging | New mobility : Technology Disruptions |
| Batteries and BMS | Artificial Intelligence |
| Vehicle electrification in general | Big Data |
| Smart architectures | Human Machine Interaction |
| Industrialisation of power electronics | Cloud services |
| Game changer : New technologies of semiconductors | Cybersecurity / Dataprotection |
| | |
| New mobility : Autonomous Vehicle | |
| Perception and data fusion - Confidence in sensing | |
| Photonics in the car | |
| Highly automated driving | |
| Simulation, Testing and Validation | |
| Demo projects | |
| Legal & Privacy aspects | |
| Social Aspects | |
Important information
All necessary instructions for the preparation of the paper will be sent to the authors
The lead author (one per paper) will benefit a free access to the conference and meals
Conference language: English
The committee will select the most promising papers to be published in the magazine Ingénieurs de l'Automobile
Experts in the topics mentioned who would like to take part in this conference are invited to submit their abstracts
by March 28th, 2018.
Exhibition & Advertising
Join the companies which have already booked a booth!
This unique event will bring together more than 300 participants: directors, managers, heads of department, engineers, researchers and technicians. An exceptional line-up of guests and speakers will be present for the occasion. The exhibition will allow you to showcase your company, present your latest products and make privileged contacts at this unique gathering of targeted decision-makers.
We are thrilled to welcome you at the Palais des congrès de Versailles - a place commensurate to the exhibition & the demo-cars testing that will take place during this 2 days congress.

Maximize your visibility with our booths! Tnanks to those packages, you will gain unmatched recognition as an industry leader and generate an abundance of goodwill. Consider our booth packages: SHELL, BUSINESS, PREMIUM or EXCLUSIVE
SHELL

BUSINESS

PREMIUM

EXCLUSIVE

ELITE

Rates € (Exc. French VAT of 20%)

4 500 €
7 200 €
12 000 €
16 600 €

18 200 €

Fitted-out booth

9 sqm

12 sqm

18 sqm

24 sqm

30 sqm

Included badges

2

4

8

10

12

Logo on congress materials

x

x

x

x

x

Ad in book of conference

1/2

1

1

1

Ad in programme

1/2

1/2

1

1

Flyer insertion in conference bag

x

x

x

E-mail banner

x

x

Preferential location in exhibition

x

Announcement as major sponsor

x

Extra badges discount *

- 10%

-20%

-30%

-40%

-40%

Extra Square Meter

500 € per square meter
* As SMEs / Universities & Labs enjoy a lower entry rate, they cannot benefit from this extra discount.
ADVERTISING
Rates € (Exc. French VAT of 20%)

Back cover

Inside

Inside front cover

Inside back cover

Programme (sent once by mail & several times by e-mail)

1 300 €

950 €

1 100 €

1 100 €

Conference book (Distributed to all attendees)

1 300 €


950 €

550 €*

1 100 €

Insertion of company booklet / goodies in the conference bags**

1 500 €

Conference bag with your logo**

1 500 €

Lanyards**

2 000 €


Coffee break sponsoring ****

2500 €

Lunch, cocktail or Gala Dinner sponsoring ****

On request
*Half Page
**in 300 samples
*** without booth package + advertising in the Congress Leaflet
**** Company name & logo on all congress material as sponsor + your poster(s) next to the table(s) buffet
Access & Accomodation
conference venue
PALAIS DES CONGRES DE VERSAILLES
10 rue de la Chancellerie
78000 Versailles, France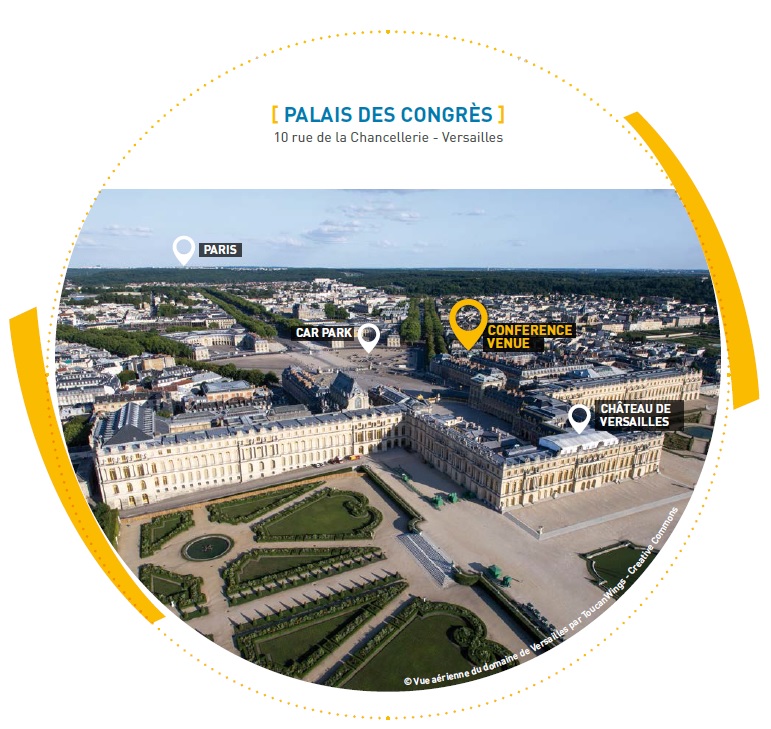 public transportation
From Roissy CDG Airport, take RER B towards Paris and stop at "Saint-Michel Notre-Dame".
Then, take another train RER C towards Versailles Rive-Gauche. Stop at "Versailles Rive-Gauche".
The Palais des Congrès is 5 min by foot.
From Saint-Lazare station (Paris), take a SNCF train towards Paris "Versailles Rive-Droite".
The Palais des Congrès is 20 min by foot.
recommended hotels